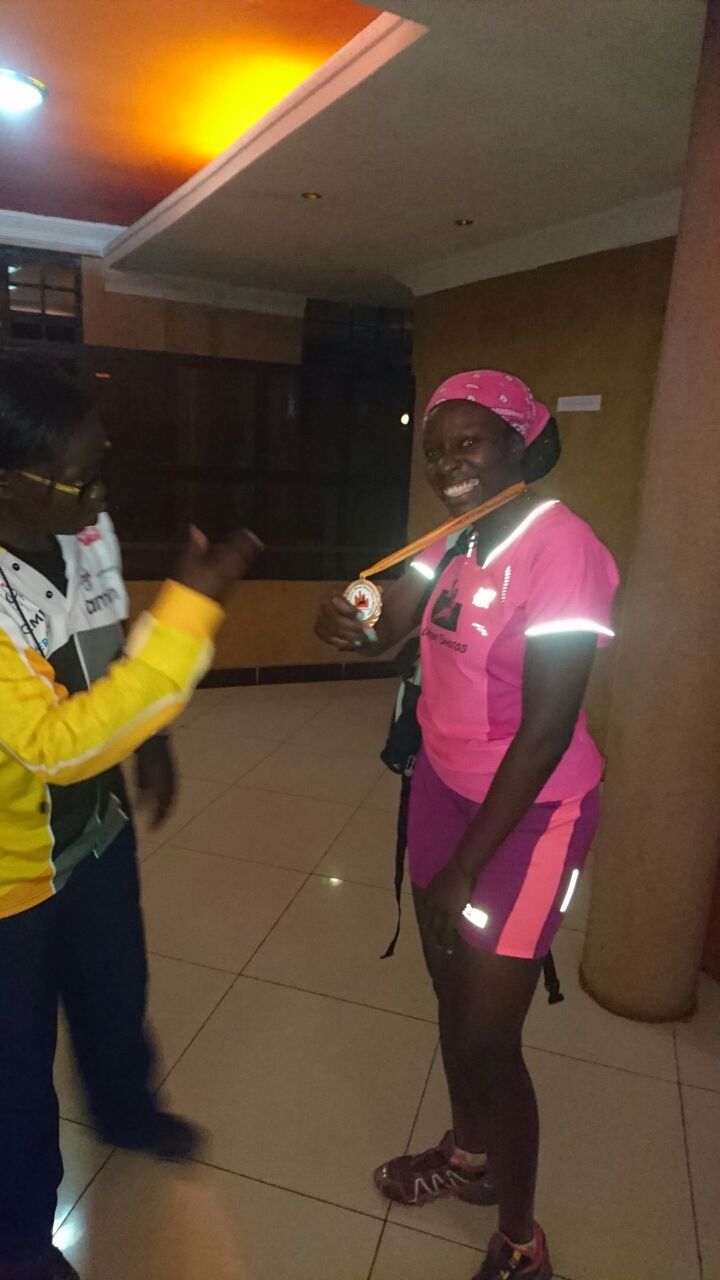 Three pairs of worn out running shoes, grumbling running partners (that woman is too stubborn!), blisters and limping into the spa barefoot because my feet are sore and I am too worn out to be bothered for a massage and mani-pedi after every major run. It's amazing how much mileage you burn when you put your head to it and the year is not over. I have been running a minimum of 50kms a week since January to date, regardless of where  I am in the world. Below are some of the highlights:
MT KENYA ULTRA RUN
This  started with me beginning the run  40 minutes late and that is a story for another day, however  4 kms into the run I saw fresh elephant dung and I started  questioning my life choices, which included why on earth would I choose not only an ultra marathon but one which is smack in the middle of an elephant route. As I was questioning my poor life choices,  I met a ranger  who tried to assure me that I was safe  and my only answer to him was, " watch me!" and sprinted far away from  him and the elephants that were 50 metres ahead of me. My school of thought was simple; in such situations, its always the black chap who dies first followed by the blonde (This  reasoning is thanks to watching C Grade quality Hollywood films). Last time I checked, I don't get blacker than how I look and so I sped off! I  must say despite beginning late it felt good to pass a number of runners and this time I was  prepared. I had a camel bag with water and lots of  Haribo Marsh Mallows.  The run was uneventful but very beautiful, my objective was not to take a boda boda or be carried by the support cars, so at 6pm when I got to Karura, approximately 6kms to end of the run, I saw no markings. Thanks to the adrenaline rush partly due to an overload of Haribos, I saw the railway  line and  thanks to my upbringing in a small town like Karatina, the urban planning was the same…so I assumed. So I ran on the railway line and as I had thought it took me straight to the railway station and what did not come as a surprise was the market next to the station which extended into the main street in Karatina . And  right in front of me was Pork City and Uchumi Supermarket.  I got my bearings and ran to the end of  the line. When I got to the hotel, I was  informed I was one of the few insane ones who did 65 kms!! Lordy …. That's all I can think of at the moment.
ETHIOPIA
The one thing I love about running in Ethiopia, this time  in three towns, Mekelle, Bahar Dar and Addis is the competitive nature Kenyans  have  with their Frenemies. Every single time I hit the street in these towns, they would either join me or ask if I was running for Kenya or Ethiopia, and if I would consider moving countries to run for them. If they knew I was a rubbish runner, that would not cross their minds!
SENEGAL
So when I was in Senegal, the one thing that blew my mind away was what the country had done to invest in sports. Let me  not get ahead of myself… If you have not been to this slice of heaven … this is how it looks and smells like. Dakar has  a mixture of African, French and  Ismalic  architecture. Wide streets, lined  with Jacaranda trees, beautiful mosques  dot the ocean line, and  French bakeries  with sweetly scented  freshly baked croissants  confuse  your senses as  you run. Several times I had a good mind to do a pit stop and stuff myself with croissants and shamefaced continue with the run. At times, I would pass the majestic  African Renaissance  statue, which was built by …wait for it.. North Korea (Who would have thunk??!!) Despite  my overwhelmed  senses  of sweeties  and beautiful scenery, is the  obvious investment  the government has made in  sports. The entire beach front is a sporting arena , which is opened 24 hours and is well lit at night.
Hundreds of sports men are running or playing  all kinds of sports, basketball, soccer, weight lifting…you name it,  and it's happening at the beach front. Hawkers take advantage of this crowd  and are excitedly selling their  sports wares . I asked my driver to explain this interesting phenomenon and he told me that the government  pays and  maintains  the sports parks. I must admit I was pleasantly surprised about this , and I believe this is something  Kenya should do .
ILLORIN, NIGERIA
So it's not the first time I have  run in Nigeria. But this time I was staying in the University of Illorin and of course taking advantage of the beautiful campus I hit the road. Four days into my usual  run before  or after work, I had a meeting with one of my colleagues when he informed me  that one of the lions had escaped their zoo. Here is the thing… this is a warning you tell a hapless Kenyan woman WHEN she visits  your hood, not right in the middle of  the week when you see she has been running  for the last couple of days. Well my reaction was priceless. Let's just say I was happy to have run for four days and, my eyes were permanently fixed on Murtala Mohammed International Airport.
MAURITIUS
Every time I share this experience, it's interrupted with… YOU WERE IN MAURITIUS! To be fair except for the forests, sugar cane plantations  and mountains, it is exactly like Diani. The other thing that was a bit disconcerting was talking to Indians and Chinese who have such pronounced French accents. In my naiveté,  I asked a few whether they grew up in France and that is when I got to know the history of this island whose islanders wiped out the dodo.  Mauritius had no indigenous inhabitants, except for wildlife. So in no particular order, came the Africans (who were former slaves), Indians, Chinese, the British and the French. This island is an absolute melting pot of history and culture and  people are classified as  European, African  and Asian. They are all mixed up  and at times you cannot tell the difference.  The food is a mixture of  all these nationalities and a croissant with fresh orange juice after every run was a must. For islanders, Mauritians love dogs as pets!  Every other  Mauritian had a dog, which I found curious because  you mostly find cats in island towns.
It has a beautiful beach and very friendly people. I was staying  and working in Flic-en-Flac, which happens to be a holiday town and every morning people, had a look like they had drank a bit too much. A hair of the dog moment was so common that it gave me a tickle and  I felt too responsible amongst this crowd.
MT KILIMANJARO
Besides being a runner  I am an avid mountain climber. I am a nemophilist, the silence  of the woods opening up to the majesty of a mountain is addictive. That's why I have traversed  all the major mountains in Africa from the Drakensburg  to the Sinai …errr.. twice. Now lets' focus on Kili… It is really difficult to reduce your speed to a crawl when you are used to  running the same distance, though it was imperative I walked slowly when I was climbing Kili. So what I would do  is get to my camp before every one and go back and get them and this helped also with the acclimatization. Kilimanjaro is revenant, spiritual and just peaceful. Her power and  majesty is felt as you walk through her, and if she is kind you may not experience harsh weather. We were not so lucky, because when I was summiting, it was -18 degrees and windy. We reached  Uhuru Peak and I was disappointed as there was no snow because two years ago I made snow angels and built a snow man on the peak. Now the interesting part after summiting  I told my guide, "see you at base camp," and ran all the way … that was 20kms! Slept at the base camp and first thing in the morning ran all the way to the gate. We passed  our porters and all they could say , "Dada Joy  mbona haraka."  Joy why the hurry? My  response was very simple, "Nataka kuoga!"  I want to bathe! They would laugh and let me pass. Here is the thing there is no room for basic civility like  bathing when  you are mountain climbing and  I was done being Ms Stinky! Will I do Kili again… why not!
NDAKAINI MARATHON
This is how the organizers describe this run. A beautiful scenic run with undulating hills dotted with tea and coffee fields.  What they forget to tell you is that these hills are at a 45 degree inclination with an average of a 450 metres climb and drop per hill. Well if they advertised it this way… no sane person would come for the run and well, the few insane ones with poor life choices would still try it. So I made the 'smart' decision to  drive to Ndakaini. I left Nairobi at 4:30 am, got to the venue at 6 am, slept in the car, had breakfast and went for the run. And it did not disappoint, it was brutal, humbling and of course hilly. 21 kms later finished  the run and …oh  sugar…. Drove back home.
Now I am reliving 2000 kms as I write this  after finishing 65 kms of the Mt Kenya Ultra Marathon and this time I was smart enough not to drive to  Karatina. To do list, limp barefoot (my feet are still swollen) shamefaced  to the spa, hairdo , mani- pedi and a full body massage  awaits .
Here is to another 2000 kms.