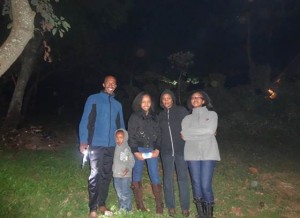 Date: Saturday September 14, 2013
Some of us spent the just concluded weekend at Ndakaini (literally). The event was the 10th UAP Ndakaini Half Marathon. My family opted to sleep at the banks of the Ndakaini dam, which also happens to be the source of the water that is used in Nairobi County. We booked ourselves into the self-catering Muchiri Cottages located at the banks of the dam. Ndakaini is about 80km from the city and takes about 1hr 30mins of easy driving to get there from the city.
My family and I had diner at the Cottages, then went for an enjoyable night walk under the beautiful sky at the banks of the dam, before turning in for the night. Early in the morning, the day started with a beautiful sun lighting up the spectacular landscape. As we went for breakfast at 7am, the elite runners were already warming up and stretching.
I reckon about 5,000 people took part in the event this year with about over 1,000 runners attempting the challenging and hilly 21km course which actually is a run around the dam at an altitude of 2040m. This being my 4th consecutive Ndakaini run I was pretty ready for it. Ndakaini Marathon always reminds me how far I have come since I started running for life about 3 ½ yrs ago. It's one of those runs I really look forward to.
The 21km run started promptly at 8:30am, with elite runners sprinting off into the distance. The rest of us mortals followed at a saner pace, and did our best not to succumb to the steep hills this course is known for. 2Km to the finish line, I had a painful stitch that was starting to slow me down but it immediately disappeared at the sight of my very cheerful and motivating family.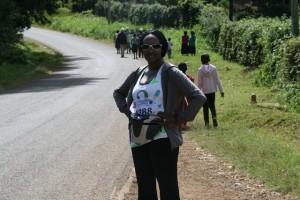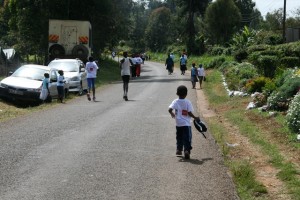 Talk about moral support! See what I mean about moral support and motivation? Even my boy Udi was trying to chase his daddy!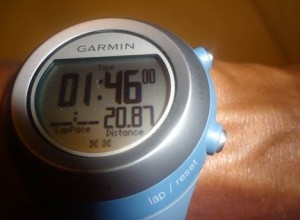 Somehow according to my GPS running watch, the course did not measure 21Km at the finish line! Nevertheless I'm thankful to God for an enjoyable run out there and returning home with yet another improved time. This was my 4th consecutive Ndakaini run and I have always used it to gauge my improvement and to remind me where I have come from: –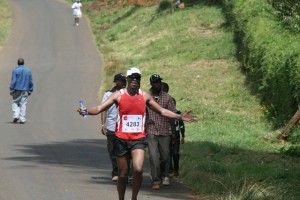 2010  – 2hrs 12mins
2011 – 1hr 55mins
2012 – 1hr 51mins
2013 – 1hr 46mins (even though about 200m short!)
I hope the few swaras that graced the occasion also had a good run and everyone got back home safely. See you all at Shiku's place on Saturday and we can catch up and exchange notes.