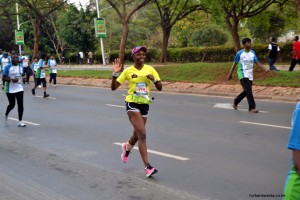 First, I have to 'fess up and say that, before this year, I had never run the Nairobi Half Marathon. I have run other half marathons, but whenever the Nairobi Marathon came around, I either ran the 10k or gave it a miss altogether. This intro is not quite so random – it becomes relevant later on.
The half marathons I ran before 2015 were mostly unpleasant and really difficult because I would never really dedicate myself to building up the mileage and fitness for them. So I would run them and curse the whole affair for days after the fact, until my body finally recovered. I did run fairly consistently, but I was typically a 10k runner and only very occasionally would I run a 15k Saturday Swara run. That changed in 2014, when I began to challenge myself to longer distances and discovered that there was huge gratification – a great sense of reward and accomplishment – in distance running. In December of that year, I decided that 2015 would be the year I ran my first full marathon.
With my sights set on a marathon victory, I trained for the Kilimanjaro Half Marathon 2015 and ran it in 02:09:37 and was fit enough that I actually enjoyed the race and did not suffer regret and agony after. I continued training, building up mileage and confidence that I could and, indeed, would run the Nairobi Marathon (full) 2015. For accountability and to surround myself with encouragers, I told the Swaras, my family, friends, colleagues, my Instagram community…everyone! I set up a training program on Asics website (recommended to me by Jael from a conversation in Arusha) and was following it committedly and experiencing improvement week-on-week. As soon as online registration opened for the Nairobi Marathon, I registered for the 42k.
Then I developed an injury.
Undeterred, I started physiotherapy (in addition to regular foam rolling, which I had already been doing) and continued training. The physio was working but, as you can imagine, progress was significantly hampered by the fact that I was training through physio, so it was 5 steps forward, 2 steps backward. I managed 27.5k in Iten and thought, "Yes, if could do this, I will be well in time for StanChart." Not so. When I attempted my 35k run, which would have been my final long run before going into taper, I strained my leg so badly that my skin bruised from the inflammation in my muscles. At that point my denial came to an abrupt end and reason kicked in: even if I managed to cover 42k in that state (which was unlikely), I would most probably damage my knee and that simply wasn't worth it. A marathon was off the cards for me this year.
The disappointment was crushing. Even I didn't realise just how badly I wanted this personal victory until I realised I wouldn't be able to even attempt it, after all. I got over it; I rationalised it by the fact that I had never run the Nairobi Half Marathon anyway, so I may as well do that and collect that medal. See where that random intro becomes relevant? I registered for the Half Marathon and stopped running to just allow my leg to heal.
In the week preceding the Nairobi Marathon I ran a couple of short runs (7k and 8k) to just get my body back in rhythm, then decided I would run it simply to finish and get the medal – and hoped that it would be a pain-free run.
Race day
I was nervous on the morning of the race because I was anticipating pain and the memory of it made me literally cringe. I wore my elastic knee support around my ankle, like a sock, in case I needed to pull it up over my knee at some point, to help me get through the race.
I met Irene at the assembly bay and was excited to see her as we hadn't seen each other since Kilimanjaro. As we chatted and caught up, I forgot my worry about my knee. The half marathon was flagged off and we let the 'stampede' crowd go as we chatted and suddenly the announcer was making the last call for the half-marathoners and that was our cue to set off.
I set a comfortable 5:50/km pace and settled into my rhythm, all the while conscious that I was waiting for pain. 3k…no pain…5k…no pain…I spotted Abdi and happily waved for his camera…9k…I stopped waiting for the pain and began to simply enjoy my run.
I finished strong, pain-free and with my knee support still sitting at my ankle like a sock – I didn't use it. I finished in 02:05:48 (by my Garmin) achieving a new PR. I collected my medal, bumped into Loise and we went off together join the Swaras supporting the 42k runners.
In retrospect, I learned
A good race is a good race. The fact that I didn't get to attempt my first marathon didn't keep me from enjoying my half marathon
Training is never wasted. Despite not running for 3 weeks preceding the race, the mileage I gained while training for a marathon delivered an effortless half marathon PR
I have friends and family who will only ever run if their lives are in danger, but they have been great encouragers and will continue to be
The Swaras really commit to your goals. On race day, almost every Swara I met asked me, "What happened? Weren't you doing 42?!"
I'm not done yet. I will run my marathon. And then I will run many more!