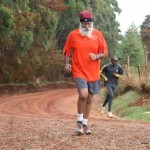 Date: July 23, 2011
It was cool morning when a group of dedicated Swaras, lead by Wahome, Mutua, and Nduku gathered at the Total Station venue near Hillcrest School. The terrain was set in the beautiful suburbs of Karen area. Wahome was the main trail master. At 7.40 Wahome explained the three routes – 8KM, 12KM AND 22KM – there were no takers for 8KM! And Wahome commented as to why he ever bothered with the short of 8KM! My friend Wahome, SWARAS are hard core runners and all the trail masters should now consider the SHORT BEING MINIMUM 12KM! We were told that the route for all the three distances were marked.
After about 10 mins, all the Swaras were on their way as the morning sun was peeping out to make our day and run brighter.
MZEE KIJANA, opted for the 22KM. We crossed the road and MZEE KIJANA was nicely running at Fran's pace and nicely conversing with her, though this time the group was lead by Wahome and some other fast runners. Soon Fran left MZEE and joined MAMA Nduku and both left him behind. The group ran well together until the turn off for the short and middle approached. The FLYING MACHINES took of so fast that MZEE was again left on his own to follow the marks for the long run! NEVER THE MIND, MZEE IS USED TO IT! He appreciates that all the youngsters are doing so well.
MZEE nicely followed the marks. After passing Kilimani Junior School, came to Kifaru road, a murram track, with trees on both sides, later with a right turn, ran along a concrete wall for at least half a km and then reached a rocky down hill, praying there was no river to cross! Thank God! It only brought the memories of Ngongathan's first hill from Cona Baridi. Having gone down and up that rocky patch joined a tarmac up hill road called KABOLTIC ROAD (please excuse if got the name wrong). Running that road, one could see the beautiful hills – thought those were NGONG HILLS and truly they were when one could view the windmills as the run progressed. What a spectacular view! Followed the marks and reached SIMBA HILL ROAD, and just as was passing the VP's residence, he was coming out of his gate, and you know what, his escort car stopped to let MZEE pass! Then came the dreadful Malima Road, and well done Wahome! MZEE thought as at half way of this MILIMA, the marks turned into TWIGA HILL ROAD. It was a bit long stretch until turned left into MBOGIANI ROAD, pass Co-operative College, and finally the famous HANDY'S SHOPPING CENTRE turn off into murram road again. Carried on running and now reached the never ending MBAGATHI RIDGE. Can you believe? NO SWARAS IN SIGHT ONLY HORSES, I MEAN HORSES being trotted on that road. Beautiful road to run though and then joined, guess what? AMARULA LANE! Pole, MARULA LANE. This was also a bit long stretch, until reached the corner to Karen Blixen, turned right and into Ndege Road, left into open field and again into KARONGO ROAD, real dusty road with cars zooming with no consideration for MZEE! As this road ended a good long arrow showed to proceed in the open field. This field was so well marked and following the marks, one reached the murram road, but to a DEAD END! The caterpillars digging the road had erased the marks. MZEE in his wisdom, found a way to get down the big wall and turned right until he reached the end of FANA ROAD, turned left into KARREN ROAD, carried on and reached the Langata Road junction and OLE! Seeing the TOTAL petrol station and sprinted!
When MZEE was sprinting to the petrol station, he was thinking that every one would have left as it took him 3hrs 25min to cover the 22KM (could be longer) distance. But to his amazement, he found FRAN, NDUKU, MULENGE, NDUNGU welcoming MZEE with a great applause and FRAN actually coming forward to shake his hands in completing the grueling long run. Mutua was also waiting in his car and left as soon as he saw MZEE and told he was rushing for his official duty.
Thanks to all the SWARAS who came for the run, and MZEE'S HEARTFELT GRATITUDE TO THOSE who waited for him finish, and understand those who had to leave because of other commitments.
A very special and mega thanks to Wahome and Nduku who spent about three hours the previous late afternoon in marking the routes! These were so well marked, that there was no chance of any one going astray and getting lost! The chalk was even splashed on tree trunks and electricity poles at turning points!
 Mzee Kijana just followed the marks and completed the run.
Chairman Ajaa, this how the routes should be marked, time permitting. However, you can see that this MZEE KIJANA needs quite a lot of training to improve his endurance and join the FLYING SWARAS! 3hrs 25mins was not a good time and definitely needs improvement. Needs your expertise!
Please excuse MZEE KIJANA for spellings and grammatical mistakes!
If you felt you were bored reading, then you have never started reading in the first place!