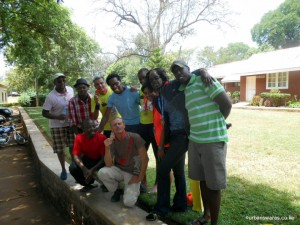 Your average Kenyan guy who prepares a laundry list of "ten things to do before I die" probably achieves, if I hazard a guess, only about half of this. Said Kenyan man, I would bet, would have running a marathon somewhere between bedding Beyoncé at number 4 and becoming richer than Chris Kirubi at number 6, if you know what I mean, with a more realistic hope of catching Beyoncé's fancy than running the marathon in ones lifetime.
So in essence, with this backdrop, I resolved that the Swaras would form a large part of my January 2015 resolutions, no more solitary Arboretums and Karuras in 2015. I was to up my game, move up a gear and try and run with these super heroes who perform feats of magic every Saturday morning. I intended to start off with maybe a "ka ten km every two weeks or so si ni sawa?" approach. See I used to think waking up before 9am on a Saturday morning was miracle enough but clearly within this group I would quickly learn to up my ambitions.
This group has super heroes who have lost 1/4 of their body weight and now rub shoulders with the elite of the running world (big up James for the amazing feats you have accomplished), and amazing mums/dads, regular guys that have achieved tremendous results through Swara runs. This is a group that one judges by appearance at peril, because this group is nothing short of amazing. You see no one has ever given me the Swara bible of training; all this group does is pick a variety of amazing runs, marks them (almost) perfectly, starts them (almost) on time every time, and then gives (almost) perfect mandazi and tea after your run. Then that's it, get on with your Saturday, then come back next week for more of the same. Yes, there is the new 'Swara' folder in my outlook mail that gets copious amounts of reply to all mail, and the aches and pains one bears on Sunday/Monday after a run, but slowly I have found myself moving from 10km to 15km, to 20km, and then to a regular 25 km every Saturday, and just when I was gloating to myself that I run more than a half marathon every weekend, voila; I signed up for 42km in Kilimanjaro Marathon!
I thought, oh well, why not; let's see how we get along; what's the worst thing that can happen? The worst is actually quite interesting. There is the clothes that suddenly don't fit, the stern look you get from family when you go out for yet another run, the quizzical "is that you" you endure when you run into long time friends, accompanied with the customary "are things ok with you", really code word for "dude, do you have AIDS? wtf, how much weight have you lost?". All of which isn't too bad because this has been balanced by all the benefits one gets from better health, less alcohol, more sleep, and er… mmm, lets just say more err more lol. I seriously digress. On to Kili.
Tapering for Kili was a mess for me. The last week before the run on the Tuesday, I went to Jaffery's and did my first Fartlek thingumajig; surely anything called Fartlek can't be good for you, no? Anyhow, I did my own version; run around twice, sprint in between once, for a total of 5 km, and I must have looked like a right idiot to the usual Jaffery crew; "kwani who does he think he is" type of thing, ati sprinting for us here. Then on the Thursday, I couldn't take the sedentary life any longer and did an 8 km at Karura, where by km 3, I was panicking because I normally run with music, and didn't on this run, so I kept thinking I was out of breath when I listened to myself. So by the time I showed up at Silver Springs on the Saturday, I was feeling concerned about my prospects; "lets just aim to finish, why don't we" type of thing, no ambitions for time.
The road trip however was great, lots of enlightening discussions with seasoned marathoners, our ululater-in-chief being amongst those who gave me useful advice (thanks!). King repeating numerously how we are mad to sign up for 42km, and general discourse which calmed the nerves with food freely shared and a general sense of "we are all in this together" contributing to a sense of well being by the time we landed in Moshi.
Now Moshi I must confess has more than just a passing importance for me. It's my wife's hometown, and I have been welcomed with open arms by her people who have now become my people, so to tank in Moshi was not an option for me. And we have a little joke in my home between my wife and I that my surname 'Ligale' in Maragoli language means a train, and a train is 'gari la Moshi' in Kiswahili. So my name literally is Bryan the train of Moshi. Clearly this train had to perform great in Moshi, at the risk of wrecking good family relations with the in-laws lol.
Truth be said, the accommodation we had in Moshi encourages one to spend more time in the dining area and only retire when required; big up to the Lutheran Annexe crew! When I retired for bed having clear instructions ringing in my head, breakfast – 4.30am, start of run – 6.30am, first bus to Nairobi – 11.00am (me never, I thought !). I thought the sounds of my alarm would wake me, however there was a local band playing loud music forever, mosquitoes primed to partake of myself, and to cap it all, the matron of the annexe waking me up at about 2 am to explain to her how I found myself in the 'sweety' (suite) room … what a laugh; anyhow lets cut to the chase here.
The race:
Come 6.27am, I found myself with the urge to relieve myself, which I did right there and then at the starting line in as discrete a manner that I could; nerves clearly. 6.30am and we were off. My strategy was simple, on almost all the runs with the Swaras, Kevin Mwachiro and I more or less have the same pace, so stick with him and I would be fine. The weather; perfectly still, cool and with the backdrop of kilimanjaro … wow.
As we turned onto the main road just before the roundabout we encountered the 21k Swaras ambling to the start and their cheers added an immediate spring to the step, and so the conquer 42km mission began.
I felt comfortable, even though I occasionally glanced at my watch and realized our pace was hovering about 5.30 per km, against my aim to keep around a steady 6:00min per km pace. As the crowd thinned out, I kept thinking, no discomfort, so let's stick to it. The first water point challenged my first strategy. They were giving water in cups not bottles – so one would have to slow down to sip and fill up the bottle I had in my hand; crap ! Especially as I had effervescent energy tabs that I intended to shove into the neck of the bottle and let it mix as I ran. Anyhow … we'll make do, I thought, slow down, top up the bottle in hand and we will be ok. Ndungu pulled up at some stage here, drew alongside and that's the last we saw of him.
The crowds that lined the roads were amazing; they cheered, and as is often their forte in Moshi, they poked fun too. The kids ran alongside and everything seemed it would be fine. In no time, the elite group were back upon us having reached the turn off and come back down the road at the point we were at km 7 (Gosh I hate those signs, counting down every excruciating km !). I thought we were doing quite well. We met the leading Swaras, and cheered them, and by the time we turned, I thought to myself; wow we are doing quite well.
The 10 km or so back into Moshi was uneventful, save for the cheers we reserved for the Swaras we encountered who were on their way. The bodas bodas were a menace, and some unruly cars broke the blockade. However nothing scary happened, and as we got back into town, I noted the time; we had done the first 20km in approximately 1hr.50mins. I thought bloody great! We may be onto something here …. or not. Oh well. We quickly started the anticipated ascent that lasted 9km, every step becoming more labored than the last. This was becoming challenging. The only hope was to focus on the view of the mountain and extract every ounce of will power out of the body. Still it wasn't enough. We stopped at every water point we encountered, took on some fluids and soldiered on. We were playing an interesting game of exchange the leader of the group ,with other runners who had banded together to assault the mountain. Some Japanese guys, a mzungu mzee, and this guy who I swear had a backpack strapped to his back, as though he had just come down from the mountain, and here he was beating us up the hill and stopping for a selfie every so often.
The cramp started setting in, and I thought no way dude, shake it off, its not there, stay focused. Just about this point, Mugambi pulled up from nowhere and took up the challenge to show us the way… and show the way he did. Finally, mercifully we got to the pick ups with the mist spray and as they hosed us down, I felt this surge of energy; we had about 9 km to go, all downhill I thought, so I convinced myself; Bryan, how many 9km have you done? You can do this in your sleep, go for it!
And go for it I did. I started pounding the descent averaging under 5km per hr, and suddenly this Tanzanian guy pulls up alongside, asks me for some glucose, which I didn't have but shared an energy gel with him, and almost in payback we start pacing each other. I'm thinking Kevin must be right behind me and we were all going down at pace. As the descent bottomed out and I looked behind, I noticed that there was now some distance between Kevin and I, and the dreaded question that has no right answer; slow down, or keep going came to mind. My take; there is no wrong or right answer, it doesn't feel good leaving a running partner at that stage, yet to slow down when the adrenaline coursing through the body spurred me on may have resulted in my not being able to perform. So I kept at it and turned onto the last home stretch; "hotel street" where I encountered the already medalled 21k Swaras, whose energy of their cheers and the smiles and high 5s were amazing, buffering me from the aches and pains precariously claiming scalps, some stumbling, not running anymore, and to add insult to injury, the roads were suddenly full of cars and human traffic and to finish strong would call for serious resolve.
Finally the turn left towards the stadium entrance arrived and a burst of energy saw me sprint to the finish; the smile, the feeling was absolutely something i will always remember. I whooped with joy as I crossed the line and a tear or ten perhaps coursed down my cheek, and when I looked at the time, 4.07 hrs, i was so filled with a sense of accomplishment.
I waited for Kevin without whom I would not have done the time much less finish the race. Kevin, big up really, nashukuru sana, and look forward to the next one. We congratulated each other for our combined achievement and gingerly made our way to stretch in a corner. We were joined in this by a soon to be Swara, Tayllor, and as we stretched the journey to reach here played in my mind. Those long training runs, the sweat, the agony, the sacrifice , it was well worth it all.
Now after some days, the glow remains but there are lessons there; comradeship, without which success is impossible, the "no man is an island" thing, remains to me the single biggest lesson. Every step leading to the success had many facilitators; my indulgent family who let me prepare, the fantastic Swara administrator team, from Otora marking wonderful routes crafted by Ajaa and team every weekend, to Susan and Jael making all the plans go swimmingly, to all others in the planning committees that volunteer of themselves to ensure Swaras who turn up for runs on weekends enjoy themselves, without which I would be still solo in Arboretum and Karura.
You know the saying; it takes a village to bring up a man, it takes the Swaras to bring up a runner. Thank you all for your efforts, big and small. My maiden Marathon completion is dedicated to you all who made it possible.
This is not where I say Boston here I come… on to that laundry list then.