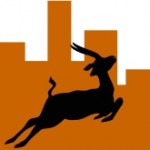 Date: May 26, 2012
We set off at 5.45am. Ameet picked me up and we were all excited to face the challenge. We picked up Mike, a few elites, and Ferrah, only to face an accident where a matatu hit Ameet's car and ran away(chicken). Ameet saw a Hummer and thought we might have hit the PM. Fortunately we were all safe, and in true Swara spirit, all Swaras stopped to assist in all that they could. I felt bad leaving Ameet to sort out his car when he had been so kind to take a few of us to the Magadi Run. As they say the show must go on, so we had to depart to face the gruesome trail set ahead.
We reached Eureka Hotel, parked our cars and got into two cars, packed like sardines to face the challenge. We all sat in the car with different kms we all wanted to do. We felt tough and all agreed on a minimum of 15km. I sat with Gerald and Aida. We had to drive through the entire distance and drop people off according to the distances they wanted to run. Being the shortest distance runner we had to sit in the car and drive up to 30km mark where some super elites started from. As we were driving down we could see the hills steady inclines. Gerald and I were reducing our distance from 15 to 12.5 to 10km, and at one point Gerald went down to 7km. There was no way a Swara could do such a short distance- even though I had the same sentiments in mind. We finally agreed to 10km. Only to be dropped off at 15km mark and were told we would be picked up at 5km mark.
For those who missed Magadi run,
it is the mother and father of all runs.
I went with attitude only to face altitude.
I went feeling cool only to boil there.
This has to be the first time in my time with Swaras that everyone with the exception of Ajaa and few elites walked part of the course.
Magadi is hot, hilly and altitude. I managed 11km only at a time of 1hr 33min despite stopping to drink a soda, and gulping down an energy gel on the way. I saw the car and thought this is my last chance. If i say no and go ahead, i might just die.
It felt like I was highjacked and the driver decided to throw me out in the middle of nowhere and had to make my way back. Now I feel like an ultra marathoner to have run in extreme conditions.
On the other hand we had elites who completed 60km, hats off to them. Their legs are the size of my arms.
Another cracker has to be Ndichu who was full of steam as he set out to do 25km, and was on his death bed at 17km. He had not even reached the killer hill at Olepolos.
At the Olepolos Hill we waited in vain for Mike who was adamant to do 30km. Wahome decided to check up on him only to see Mike come up that gruesome Olepolos Hill – I mentioned to him only 12 km left at that point I think Mike could have strangled me. All he could see was a seat in the car. His last words in the car; don't tell me how much is left, I am done.
Molly, another hardcore Swara – she can tackle hills without any effort- she's amazing.
Final conclusion — all true Swaras must do this run once a year.