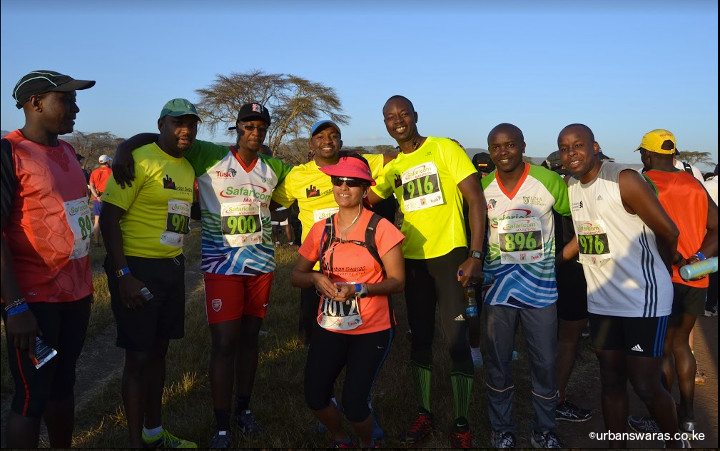 Inspiration
If I said I had plans to do a full marathon within the first half of this year, I would be lying. Lewa Marathon would be the last place to attempt and do my first full marathon. You see I have attempted to do half marathons at the Lewa not once but twice (in 2012 and 2014) and in both cases failing miserably. So by now you get my point, Lewa was the last place I would even think I will try to do a full marathon or so I thought.
Actually this year, I wasn't even sure I would participate (even as a spectator) at the Lewa since I had missed on the short window available to register. So when my good friend Bernard mentioned he managed to get some slots through Safaricom Dealers Association, I quickly signed up for the half marathon. This time with a plan to conquer or let's just say do it under 2 hours (that meant no walking of course). I knew I was injury free and I was at my peak, thanks to the Saturday runs with the Swaras. "This should be a walk in the park" I told myself.
When I mentioned to Mwihaki (My Nike + Challenger and I mean CHALLENGER! -this girl can run) I had joined the band wagon to Lewa, she asked one question, "Are you doing the Full or Half?" I confidently told her, "the Half…………". At that time, she had not shared with me the fact she was doing the full marathon. She was happy for me not because I had registered for the half marathon but for getting a slot at the Lewa. And then everything changed when she broke the news she was doing a full marathon. I was in shock at first and she broke it down how I should have registered for the full because my running stats on Nike + App showed I could do it. I immediately got challenged and I asked myself "if she can do a full marathon, why not me?" That was my turning point and I was convinced to change from half marathon to full marathon.
My friend Bernard arranged the change from half to full (he later admitted to me he was skeptical on what I was doing). However, it did not click to me what I had just done, until I started to research on how to run a full marathon. I even used the coach on NIKE + App to take me through the training process only to be shocked when it gave me a seven week crash program with long runs so close to each other. All materials I googled did not give a seven week training program for a full marathon, but I had to start in the middle. Mwihaki even tried to send me photos of pages from her book (I guess she knew she was responsible for her actions). Nonetheless, I took up the challenge.
Training
The training and psychological torture is one that will be edged in my memory for a long time. During the seven weeks prior to the race day, my body and more so my legs went through some beating never experienced before. It was not easy with the rains pounding Nairobi during the first three to four weeks upon starting my training. The unpredictable rains ruined my planned runs which were mostly morning. I therefore shifted to do evening runs but it would also rain and I would end up canceling my runs for that day altogether. One Saturday morning, I was doing the usual runs with the Swaras and it drizzled and I got wet and cold. That evening I ended up with a flu, which changed my training program significantly. I remember I did not run for the next 4 days to enable me recover as quickly as possible. By this time, I knew my plans to conquer Lewa were out of the question. With only three weeks to go, my coach (running App) was indicating I should have done 50% of the runs -I had done only 25%. Never mind, I was still determined, because when the "the Magadi death run" came up, I knew this was the run that would seal my fate and confirm if I was ready for Lewa. I therefore attempted to do 40km, but without much success beyond 35km (that's a story for another day, with a revenge plan up my sleeves). Even if I did not accomplish the 40km run that day, I considered my achievement not so bad.
One week to the race day and Mwihaki sends to me the final tip which I must say really helped during and after the run. The tip observed one has to take lots of carbohydrates, hydrate well, stretch, stretch and stretch. I've never been so bored with stretching and the water intake that week was too much, which made the washroom one of my most frequented rooms. The eve of the race day which is also the travel date is finally here and I manage to squeeze a 3 km run. By this time I had done 75% of what was recommended from the coach, "not too bad, considering I did not use the App on all my runs" I consoled myself. Together with my wife, we pick Rasmus and Bernard and we set off for Nanyuki. We got to Nanyuki at 2pm for a quick lunch and proceed to Lewa but not before grabbing some Chapatis (a must have for me, before any runs nowadays). We got to the Lewa Conservancy in good time and immediately proceeded to the registration desk. At the registration desk my name was missing under the Full Marathon list. It's only when they checked on the team participants list they found my details. That meant my registration details had not been changed from half to full marathon. When I enquired on this, I was told everything was ok, and I could do the full marathon (despite the reassurance my results were placed under the half marathon list). I still had doubts as I walked back to the car and finally to the camp site where we spent the evening.
D-day
I will be forever thankful to some Sawaras like Susan and Ndungu who taught me how to have breakfast hours before a marathon. A cup of black tea, Chapati and a banana is what I mean. This combination of a meal had helped me before during other long runs but this run was different, it was much longer. Lewa Conservancy roars to life as kids from the community rush towards the start line and spectator vehicles snaking towards the park. The morning chill bites my already exposed skin as we walk towards the start line with skimpy shorts (this time I remembered to carry the right gear for Lewa). I meet up with some Sawaras at the start line and we have some group photos before the race is finally flagged off at 7:20am
As we start, the first 2kms is generally slow (at least for me) as runners jostle for space by trying to outdo each other from the crowd. The dust from the crowd welcomes you to the Lewa marathon as it subsides after 3km when the crowd gets thinner. After 4Km, my pace stabilizes to 5.40/km with no crowd and fewer people on the trail. Jael catches up with me and after exchanging greetings she notices I am not running my usual pace. So she asks "what is your time?" I reply "I'm doing a full". I go ahead to tell her that I had no time set for the full and my aim is to finish strong. For the next 2Kms we continue chatting and she gives me a heads up on where to encounter the hills. Jael is an experienced Lewa marathon runner because true to her word after 10Km I encountered the first of the many hills.
I could remember Ndungu's words "a marathon is 90% Psychological and 10% Physical", at 10Km, I mattered to myself "that was just warm up". However, when another thought crossed my mind that I shall be doing the same hills after 30km I shuddered. Hill after hill I continued at a slow and manageable pace knowing the same hills await me on round 2. At 16kms the hills subsided just as Jael had mentioned.
At 20Kms where the deviation point for the full and half marathon was, I had done 1h: 52mins and I suddenly became excited for achieving the half in below 2 hours. A thought goes through my head "I could do this in 4hrs". "Naaaah!" another inner voice speaks to me and continues "Let's take this nice and easy". By now I had approached 30kms and I was on the horror movie called "Hills Season 2". For the next 7kms while continuing to hydrate at each water station I did the hill runs as I looked down to avoid the intimidation from the steep the hills. I knew I was done when we got to the steep decline at 37km and the marathon was over (at least psychologically). The hills were all done and it's a matter of time I got to the finish line, I encouraged myself.
The next 5km towards the finish was the longest I have ever run. I mean, I never seemed to get to the finish point and it reminded me of the animation movie Shrek 2 where donkey kept asking "Are we there yet?" Luckily the spectators were amazing when words of encouragement like "just a mile to go!" and "you are looking strong" filled the air. Despite the encouragement the finish point was nowhere at site and I felt weaker and weaker. At 41.5km (according to my watch) there was still no sign of the finish point. I even slowed down to confirm I am on the right track only to see a sign ahead indicating "1km to go". That is when it dawned on me the course may not have been accurate. But why worry, Otora has done this to us before (no pun intended) and the only thing to do now is to keep going. I crossed the finish line with a time of 4hrs and 2 mins with a distance covered of 42.95km. What a sense of relief……
I knew I had done it well, when I crossed the finish line and I did not collapse. I remembered Mwihaki's tips "….do not sit immediately after the run but pace around and stretch". That really helped because days immediately after the run I did not have sore muscles. I have learnt a lot during this experience which I hope shall inspire those who read this article. There is nothing impossible in what you want to achieve in this world, you can achieve if it, if you only change your mindset.
Thanks to God and all the above named persons. I will remain ever so grateful.