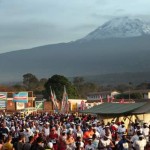 Date: March 3, 2013
On the morning of departure, I personally made my way to Silver Springs with Jimmy, (who barely a month into his Swara Association), was determined to, and did make his first trip with us.
Once at Silver Springs we settled down for a Pot of Tea (Me), and a Cappuccino (Jimmy) when Wahome walked in, with Kellen, who both got a take away. On the way out Wahome mentioned to us that time was tight, and we might miss the Transport. I smiled back, and took another relaxed sip.
Its only when we got back out into the parking lot that i realised, one Swara Shuttle was almost occupied and ready to go. Luckily, there was another one going to Moshi, so i could still afford to have happy memories of my morning Chai.
I think we had occupied two seats booked by others on this Shuttle, so Lucy and Jael kindly gave theirs up to look for more Transport, which they found.
Personally it was a peaceful drive to our pit stop close to the border (what is its name,? i may remember before this account ends).
The first shuttle had already gotten there, its occupants having eaten and were almost ready to depart when we arrived.
On our way to eat, Surinder mentioned that some food was still remaining on the table, so my footsteps quickened.
Leonard, myself and May found two Chapos, still hot and which disappeared quickly. I'm not sure whether May wasn't very hungry, or perhaps she couldn't see the plate beneath our fingers, because she didn't eat much of that.
Lucy and Jael arrived a little later, and went to fuel up too.
With there being no issues at Border Control, we set off into Tanzania.
I was fortunate to have a great view, as i was sitting right in front, a view which included the fabulous Mount Meru and instances of lone herds of cattle, blah, blah, blah,…., crossing the main highway. Luckily, our Driver had seen this before and navigated them smoothly.
Our next stop was Impala Hotel, where once again passengers of the first shuttle had already arrived, with some having taken a brief tour of the Poolside and were ready to go again.
Leonard, May and I waited at the Reception, with me at least, struggling to resist the aroma of Tandoori Chicken being prepared or eaten. I was successful in resisting it, and we left shortly for Moshi with and in, Lucy's and Jael's original shuttle, but not before Leonard's keenness in sensing its impending departure. I was playing it close.
Shortly before getting to Moshi, Lucy got on her mobile blower (why do some people call it that?), and requested that the first group proceed to the Stadium's environs and get us the Race essentials.
They did and we got to the Hotel at about the same time. Once there, and whilst the rest waited in the lobby, Susan, Jael, Lucy and Surinder got things moving as quickly as possible. Katwa was going through the Hotel Brochure, and trying to match its content with what was around us, we found some resemblance.
We were given our Key cards as they were prepared, and it was announced that Dinner would be served at 7.30.
Dinner included Pasta, Spaghetti, Mince and a wide variety of drinks, both soft and hard, with Hamish and Sarah going for Kilimanjaro Beer (how apt).
After a relaxed dinner, we retired to our rooms at leisure.
Personally i had a good sleep, was fully awake before the preset alarm, and due to the town lights creating some light in the room, i managed to eat my pre run food without having to flick on the light switch,  thereby hopefully causing as little disturbance to Jimmy as possible..
Some chose to be driven to the Stadium which was at least 2 1/2 Kms. from the Hotel. (Thanks to the Swara Organizers for that). I personally chose to walk there, as did Hamish and Sarah. On my way there the Full Marathon had already begun and I managed to see Patrick who looked just as fresh as he did when I saw him later during my Run.
By my timing standards that weekend, I got there relatively early, (10 minutes before the start).
I don't think the adrenaline moment of a Marathon that's just begun, will ever escape my body. There were the unsurprising quirky remarks during the early stages of the Run, with one person loudly enquiring who amongst us had injected ourselves that morning. No replies. Some silent looks followed. Hmmmm….
As a half marathoner, i found it impressive that each Kilometre covered was marked, not so Full Marathoner Wahome, as I later discovered. The run also gives me a cosy feeling, the scenery is beautiful, crowd support is close, enthusiastic support staff, great music at the Water Points and it having an active appeal abroad.
It was heartening to see Surinder tackle the course, including the first part that is generally uphill.
Back at the finish, despite having taken water when needed, i was nevertheless relieved to see more water  in the goody bag, which also included a Medal and T-Shirt.
Congratulations to Wahome for completing his umpteenth Full Marathon, the soft-spoken enigma that is Katwa, ever fresh Patrick, Munyao who did the Full in 3hrs 44 mins and Gakii, for all completing the Full (my apologies if anyone was left out.)
Jael maintained her previous time of 1hr 55 mins, despite not having done up-hill training as much as she would have liked, Linus and perhaps others, as they were only able to get to the Stadium after the Half had started, and therefore had to quickly focus.
The way back was lively, livened up for some by Wahome, who produced bottles of his merchandise, for us to indulge.
After another meal back at that place close to the border, we made our way back to Nairobi, safely having arrived at Silver Springs.
Amongst others, we missed Nadine, a multiple participant in numerous Marathons, including Kili.