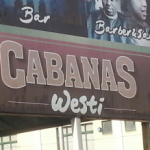 Date: April 20, 2013
It was past 7:00 a.m. as Jimmy and I fast approached the Cabanas. I wondered what non-runners would have thought as we weaved in and out of the one-way lane. Jimmy has displayed his Kili Marathon Medal in his sitting room, the first of many I hope.
We got to the Cabanas at 7:06 a.m. according to my car clock, and it appeared as if the route description and grouping was done, with the sizeable group about to set off. It was nice to see amongst the regulars; Mukuria, Rajesh, Farah and Paul there too. Fortunately as well, the group hadn't left yet. As we drove in and towards the parking, Fran announced that we had 2 minutes to get ourselves ready, swiftly reduced to 60 seconds by Ajaa. Still reasonable I thought. As a result, my stretching involved getting out of the car.
So off we went, and our first landmark was City Park. I must commend the route marker/s for being able to set routes in un-imaginable ways. Mike and Ajaa I assume, play a vital role in this. Now, every so often on various Saturdays, and as part of the run, a Swara Migration takes place over a bodies of water. I've called this a Migration, because on the other side is even more to look forward to. Due to the leaping ability of a Swara, it is not unusual to see all leap safely across, but unusually this time, at least two Swaras, Surinder being one, did enter the waters, possibly to test whether any Reptiles were lurking underneath. No animals were harmed if this was an experiment. I wasn't there to witness it, but I later saw Surinder looking unperturbed and determined and indeed did the 25k route I believe.
After having gone through the park, we hit the road again and this was the continuation for me, of a beautiful run, past some areas I rarely drive by, and the weather was awesome too. Later on, I turned into Eldama Ravine Road and saw a trail of stationery cars. I was curious as to why this was, it wasn't after all Uhuru Highway or Mombasa Road. Then I saw unamused Drivers starting to turn back. A trailer attempting to enter into one of the residences had partially blocked the road. As unfortunate as this was for people behind their wheels, it gave me more appreciation for running, as us runners can negotiate almost any road obstacle. Those thoughts reinvigorated me, as I was beginning to tire.
As I got back to Cabanas a short while later, Fran and Jackton were already in the parking area and I later joined them for some stretches. During these stretches was when I discovered the reason for Fran's recent globetrotting. If I remember correctly, Fran works for a multinational Training Organization, and as a result had only recently been to Moscow and Cairo, sharing her expertise with multiple audiences. She was leaving for Nigeria that weekend and onwards. I found it great to hear of an example of our Members also excelling in their Professional careers.
As I made my way to the Cafeteria, more Swaras were already there, digging into Mandazis, Tea and Coffee, and Sausages. As well as collecting the Cash for food and Drink, with which Vivian helped, I also appreciated that Nduku was willing to collect cash for transport to Iten.
We continued to chat and enjoy the offerings.
On my way out, I heard Fran mention that for those who will not be going to Iten, the alternative run will take place from her House. Thanks Fran.