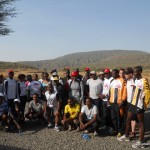 Mt Longonot: the hike, the run, the walk, the dizzy/nausea & dehydration spells, the photo taking & the picturesque view.
Congratulations to the facilitator of this run/hike – Amai. It was very well organized – in true Urban Swara fashion. But that's as far as I go in all smiles & a hearty hats off towards Amai. If I thought having Amai organize this run and not Ajaa would mean a gentler, less rigorous trail up the mountain and round the crater then I was highly mistaken. I should have known that they are identical twins & thus expect, hell, high water, sulfur & brimstone, & the works.
But such thoughts did not fill my mind as I lined up with the rest to listen to the instructions before the hike run.
Having been away from the Swaras and also away from athletic activity due to a heavy workload for more than a month there was no way I was gonna run up that mountain. Also, being one of the official designated photographers that day for the club, I came mentally prepared to thoroughly enjoy myself, enjoy the scenery and capture the moment in digital film. My idea of enjoyment was get to the top, go round the crater n return back in the designated time of less than 3 hrs without straining…
Before I set off I remembered my 1st climb up Longonot the previous year in Feb with the Swaras. That day I did run up the mountain n the experience was killing but I still dint have too many issues n reached the top n descended down without much ado. With those thoughts in mind I said this time I have to reach the top and go round the crater. I had very happy thoughts as I set off.
I had read the emails sent out by Amai & Ajaa (I blame them both) on the distances to the top n round the crater but obviously the emails DID NOT capture the real distance, nor the actual trail.  '13 km round the crater (6km) once and back'. That was NOT the truth Swaras. And let me explain why in this write up.
The climb to the top was not very eventful except for a few schoolboys who joined us spitting along the way as they made their way to the top. I don't understand some school rules. The high school boys were on an athletic outing yet they had to climb up the hot dusty mountain in full school uniforms: bright pink shirts, blue trousers & black leather shoes. Ajaa, Amai, & Wahome, you need to talk to the headmaster of that school.
When I set off I carried 1 litre of water, a few packets of small ginger biscuits that are sold by street vendors, Amai/Ajaa's small 250ml orange juice, a small bar of chocolate and 1 or 2 bottles of water for some other people, that they handed to me since I had a small duffle bag. I mention this contents coz that is what kept us alive as we crawled round the crater.
To go back to the beginning abit. I must mention one person's attire. This guy had BRIGHT green hiking gear, complete with what looked like a deep sea diving snorkel tip on his right shoulder for sipping water or whatever it was he had in his bottle. I suspect it was a mixture of amarula, vodka & red bull as he was in very bright chirpy spirits before the hike n run all the way to the top and back down without stopping, unperturbed & happy.
While going up the mountain n taking pics as I did so I made friends with 2 people, Shiru, still quite new to the club & Ernestine from Cameroon. I must make mention of Ernestine. She arrived in Kenya the previous day from Cameroon n it was her 1st time to Kenya.
Rauol & JP & company did not allow Ernestine to rest but brought her along for the hike. After all we are Urban Swaras and even if you arrive on a Friday n dint get any sleep we invite you to join us on Saturday morning for our run. After that we can sort out jetlag, muscle cramps, back pain, the shock of experiencing Kenya from the top of a mountain, etc.
Kudos Ernestine. What energy levels she has. She climbed up the mountain without much of a sweat, and when we were going round the crater we became too slow for her so, we parted ways n said our goodbyes. Had I known what the trail was like I would NEVER have allowed that to happen and especially not to a first timer to the country.
Now lets go back to that email Ajaa & Amai sent saying its just 6km round the crater. What they should have said is that the actual trail is 6km BUT, watch out for peaks & valleys, non-passable areas, rocks, etc.
Shiru n I dint carry enough water and that almost killed us. I had carried ginger biscuits as a by the way and that turned out to be our lifesaver. They were an instant combatant to nausea & dizziness. Chocolate did not help. I had promised myself I would not touch Amai/Ajaa's juice but he must have forgotten he gave it to me coz he came cruising round the crater n asked me why I am not 'capturing the moment'. Overcoming dizziness & dehydration I managed with shivering hands to take a few pictures of him scaling the highest peak of the crater without so much as the butting of an eyelid.
At some points as we crawled round the crater I could not believe the trail. It certainly didn't look that difficult when I did an ariel view from the top. What a lie that was. What a lie!
We didn't have enough water nor enough store of biscuits n climbing up some peaks meant instant atmosphere sickness. I wished for the umpteenth time that I had carried the coke n juice n weetabix I had left behind in the car. And of course at some point we took Ajaa/Amai's juice sharing the last precious drops between our 2 selves.
At other points round the crater there was no sign of animal or bird life. Add on to that, that we were completely alone. The people ahead of us and those behind us could not be heard or seen. It was at that point that I was filled with a feeling of dread n sickness, and I thought ' I am gonna die on this mountain'. The worst part about it is that once you start going round the crater you have to go the complete round. There is no turning back. Oh yes, you can turn back actually n do that ugly piece of crawling over that awful high peak.
There was nowhere to go, there you are in this scorching noon day heat, sick to your stomach, dehydrated, dizzy, starving, looking into the middle of the crater down into a valley u cant descend to, looking over on the other side n not seeing any houses, just Shiru n I and pebbles in our shoes n our aching muscles and NOWHERE near the end part or path of descend.
So, round the crater we went. When I was just feeling its over, we saw 2 guys infront of us. Instantly, our mood changed. The tiredness & out of breathness was forgotten, n we actually chatted with them. Of course what we wanted to know is if we had missed the trail down the mountain. We found out we didn't have far to go, boy were we glad n continued on.
The descent was not too bad apart from the pebbles in our sneakers – real killers. We had to remove our sneakers often to get rid of them. And yet in spite of that we still limped coz of the excessive heat beating down on us n our burning feet in closed shoes. We tried the bare foot walk like the Maasai's but that dint work. We definitely had ' I have been staying at home in socks & shoes' feet.
At some part in the descent I left Shiru behind. I just wanted to get over and done with it. Apologies, Shiru, & thank you so much for your company. Kudos for completing the trail.
Did I mention that when we were going round the crater I got 2 missed calls from Amai? Did I also mention he also called as were we descending? I took only one of the calls n could hear nothing on the other side due to the altitude. But I only took the call coz of Shiru. The times he called we were at the most difficult parts of the trail. There we are dizzy, starving & dehydrated and then we pick up a call? Safaricom shouldn't be having boosters in some places.
I reached the bottom all sick n dizzy only to find the whole Cameroonian entourage waiting for Ernestine. They knew the 3 of us were together. To reach the end and find out she had not reached almost gave me a heart attack.
I was too sick to deal with it but I told them (in faith) that she must be somewhere n must be on her way down. I left them ALL waiting anxiously for her and they did not move until she appeared over the horizon and into their waiting company.
As I made my way to where the rest of the Swaras had been waiting or over 3hours I realized how important it is on such trips to go in groups of 3 or 4 or more unless u are an experienced mountain deer & summer bear like Ajaa, Amai, Raoul, n our very able Austrian friends.
It is also so important to eat well the night before and eat well the hrs before the hike. The importance of water n ginger biscuits cannot be emphasized enough.
I want to thank the Swaras for their team spirit. When I realized how long we had taken on the mountain I had assumed the Swaras would drive off and leave us with a designated driver n maybe a cook as they went ahead as we had another program after that. But they dint do that.  We were 2.5hrs behind schedule, some were tipsy & in high spirits but they were all there in true team spirit. And we drove as a team the 6km to our next destination.
Amai & Ajaa (torture chamber masters), and the Urban Swaras committee: I am so glad for all the experiences I am having with the team. It's kind of like having a baby. When u are birthing that baby, u promise yourself you will NEVER have another but a year or so later you are back with another baby. And no I don't have any children and never have had; its just to let you know that being an Urban Swara has added spice to my life n given me never to be forgotten experiences that will live with me forever.