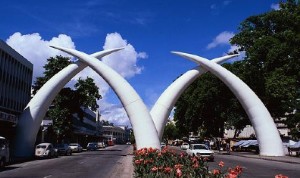 On November 10, I finished the Mombasa Triathlon in a distant, but respectable, 17th place. By distant, I mean that I was the only non-elite competitor in the entire competition. So I guess by respectable I mean that I get credit just for showing up. Thankfully, after viewing the 15 elite men (from South Africa, Poland, UK, USA, Italy and Kenya) and one female elite, the pressure was entirely off. The whole race was tailored to their needs, and not the "age-group" competitors (for those lawyers among you – is "age-group" a discriminatory term?).
So after the starting horn for the elites, I was left alone to contemplate my navel and my strategy of simply finishing the race. The latter was carried out, but not without some interesting obstacles presented by the local weather and wildlife. The mile swim,
immediately off the coast from Fort Jesus, was fine, aside from not being able to see the markers floating in the water. Or the tiny jellyfish that feasted on my mzungu skin. The bike leg (40k) passed by without me being lapped too many times by the elites. But halfway through, with my head in my handlebars for extra push, I was attacked by a wayward chicken. It flew directly into the side of my bike, splattering the gears and water bottles with feathers and blood. I was able to keep going, but it was not. I sought no sympathy from the elites or race organizers, and none was forthcoming anyway. Pulling into the transition point for the run (10k), the full heat of Mombasa began. Yet, confident in the training I had received from the Swaras in the last few months, I started at a blistering pace. After all, if you can run 15k at Magaadi, you can run 10k in Mombasa, right? Well, yes. But let's just say I turned off my GPS watch half-way through and focused on drinking water. I felt secure in the knowledge that there was no other timing system to mark my "run".
All told, it was a great experience, and I am certain to compete again next year. I urge you all to consider joining, if only to keep me company. If that is not incentive enough, then I can promise you some excellent chicken barbecue. My treat.
See you all soon.