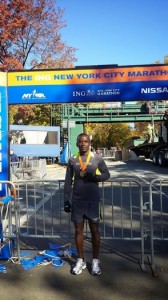 Date: November 3, 2013
I wrap up my road races this year in New York in 3hrs 13mins 41secs. Indeed it has been a colourful running year for me and couldn't have asked for more. Coming in the backdrop of a personal best in Chicago marathon 3 weeks ago, New York marathon was always going to be a big gamble and I am over the moon to have finished in a decent time without an injury. But boy, my body is hurting!
The course has its fair share of inclines especially over six landmark bridges with a good number of turns and twists hence not a fast one. But I bet it's the very cold weather (between 1 & 2 degrees Celsius) and the heavy winds ( 20 miles an hour headwinds) that did the damage even for the champs. But Kenya still rules the world of marathons and I had my moments in the sun running with the greats in the game.
Regardless, a sublime city to run passing by iconic landmarks with lovely crowds and music all the way except over the bridges where there is suddenly deafening silence and you can't help but feel the rhythm of thousands of vibrating feet. My runners high was crossing Queensboro bridge, one of the quietest spots, into Manhattan where a fanatical vocal crowd was waiting with Frank Sinatra's  "New York New York" playing in the background. What a feeling, I got goose pimples from the wild cheers and it's right there that I knew I was going to finish the race one way or another. For me, I bet there is no better and unique way of exploring New York City but by running through its five boroughs; Staten Island, Brooklyn, Queens, Bronx, and Manhattan.
Apart from being honoured to carry the Kenyan flag during the marathon weekend opening ceremony parade, one of my highlights of the race was meeting with Sydney; an Australian running for Toby's recovery and Shoe4Africa. I was able to pick her out from the crowd just before the gun, because she was wrapped in a Kenyan flag and carrying placards with Toby's name. We ran the first mile together and she was such an inspiration! We love you Toby and pray that soon you will be back on your feet doing great stuff.
Three items off my marathon bucket list this year; Paris (the city of light), Chicago (the windy city) & New York (the city that never sleeps). Once again, I salute Urban Swaras running club for making me a marathon junkie! Special thanks to Nduku for the overwhelming support and advice through the year, you are one of a kind Tata! What does next year hold for me, you ask? I delight in not knowing. That's one of the beauty of running, it's full of surprises! What I know is that every additional mile I do just makes me dream bigger. Below is a link that captures my journey from Paris to New York. 
https://plus.google.com/photos/116082603173164702022/albums/5942880134265624593?authkey=COePydGTwsmRLA
Run till you drop!