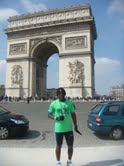 Trust me, if you ever think of running in Europe, then Paris should definitely be among your top list destinations. With 38,690 runners finishing the race this year, it becomes the second biggest marathon in marathon history only behind New York's record of 46,759 in 2011.  My recent experience in Paris was unbelievable. Coming out of an injury that had put me out of action for almost a month, I was not on top of my game but managed to run a PB simply because of the awesome atmosphere of running in one of the most beautiful cities in the world.  
More importantly the race organization is simply on other level, with personal engagement from the time you register to the race after-party with a unique french touch all the way making the marathon not an event but a journey of adventure. If that is not enough motivation, then consider the tourist attractions that the city offers and you have more than you can bargain for as a sports tourist.
At the moment, entry is open but with the high number of participants in 2013 and the security challenges in the wake of recent Boston terrorist attacks, it is likely that sooner rather than later Paris Marathon will introduce lottery or  qualifying time entry to properly manage the number of participants. So guys, this is the time to give it a short, a once in a life time experience I swear!
My chase of World Marathon Majors begins in Chicago this Halloween. The  sold-out Chicago marathon registration website crashed down shortly after about 30 minutes of opening. This led to the suspension of the exercise with only 15,000 entries remaining to reach the cap of 45,000 runners at the time. Those who were not lucky by the time of the crash (about 15,000) had a second chance through a lottery. I was among the lucky 15,000 runners. Its possible, who is coming along? 
Keep running.