On Saturday, 4th April 2015, I stand among 11,000 runners who have travelled from the farthest corners of the globe to take part in the marathon dubbed as the most beautiful marathon in the world.  As I read the names of the runners and their statistics, I am more than awed by the sheer number of times some of the runners have done this marathon.  I read some bibs – Susan Half 2 Ultra 7, Oscar half 1 Ultra 22 and I think to myself, if I attempt this run again, and that is a big if, my  statistics will  read Loise Half 0 Ultra 1.  Here I am, at the start line of my first ultra, with butterflies in my stomach, and I can already see my bib  on my second ultra,  which is crazy as I have vowed  that I will run this marathon only  once.
But let me go back to the beginning…..
The preparation for this marathon started in mid last year, when we, my training buddy and friend, Ferrah and I started playing around with the idea of taking part in this great marathon.  The idea graduated into commitment when in early December, we registered and paid for the marathon.   This was after we ran our first 50 km in Ndungu Kahihu's run in Karatina.  We thereafter stared training for it, which saw us tackling crazy distances in extremely hot weather.
At the beginning of the year, there were several runners who were interested in taking part in the marathon and at one point I remarked that this year the Swaras will be ably represented.  Avani and Niraj would be tackling the 21 kms.  Sadly, a few days to departure, Ferrah got an emergency  and she had to cancel.  And alas, I was the only Swara left to run in this year's Ultra.
My departure from Nairobi and arrival in Cape Town was full of frustrations.  My flight was delayed for several hours and could not make my connecting flight to Cape Town.  At one point, I even wondered whether I had travelled in vain.    I finally got to Cape Town at 4.00 p.m. on 3rd of April, and was at the Registration Centre by 4.30 p.m. where, as luck would have it, my registration number could not be traced.  Talk of when it rains, it pours.  The organizers had to print another set of bib and provide me with another timing chip.
I got to the start line at about 5.30 am.  As I stood at the back of a huge crowd of runners, butterflies were fluttering furiously in my stomach and I said to myself, this is it, this is what you have trained so hard for. In a pre-run advise from Chairman, he had told me if I run in just under 6 min per kilometer, I would be able to make the 5.30 time as there would be 8 kms which were downhill and I would be able to shave off a few minutes.   I knew that if I ran this run the chairman's way, I would not be able to make the sub- 6 hrs let alone sub 5.30, as the route had been changed due to the recent fire in the mountains.  So I decided to run my way, which was 5.30 and under per km where I could, as I knew for certain that I would not be able to make the sub 6 minutes per kilometer on the hills.
The firing gun went off and we took off.   My aim was to run 10 kms in under one hour.  At the 10 km mark, I had done 55 minutes and at 20 km  I had done 1 hr 50 mins.  At 30 kms I had done 2hrs 47 min  and I thought to myself, Chairman's time  might be attainable after all. At 26 kms the serious hills started and for the first time I wished we had run the Magadi run during my training period.
At 40 kms I had done 3 hrs 47 mins  and I thought to myself, a sub 4 hrs  is achievable for the full marathon.   At  50 kms I had done 4hrs 53 mins and at  5 hrs I had done 51 kms.  All I had to do now is 5 kilometers in under thirty minutes.   At that point, my thigh muscles started to vibrate, which is a prelude for cramps, in the muscles, I mean.  I prayed Lord, please do not let the muscles cramp on me, not now, just five more kilometers and they can cramp all they want.
As I ran the last kilometer, I told myself  – I had done it, whether I made the time I was hoping to make or not I had done it.  I had  trained and ran  the Two Oceans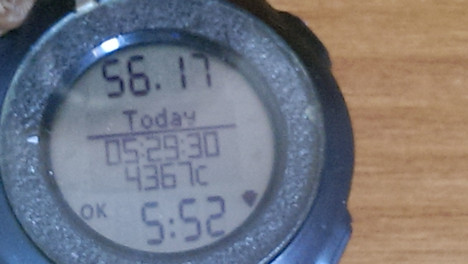 Marathon. AND  I made chairman's time:
If I was Liz I would have been screaming my lungs off, but since I am not, I just pumped my arms in the air and let out a 'yes'.
The support on this marathon is amazing.  The water points with water, coke and energy drinks, packed in satchets of about 100 millimeters  were every three kilometers.  Over and above, the residents came out and braved the cold to cheer on the runners and some came bearing goods.  I ate a salted potato, chocolate, and sweets all from the residents.  There were live bands playing huge speakers blaring music and even two school bands.   Seven radio stations and one televisions station were broadcasting  live from the route and when one passed, they would call out ones name and encourage you.  Such encouragement came in very handy when going uphill.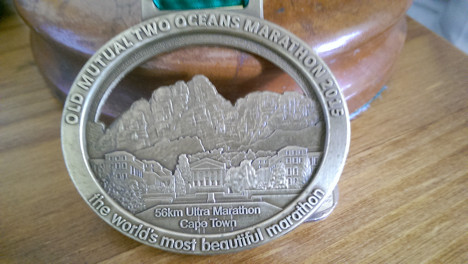 This is an amazing marathon.
My very heartfelt gratitude go to the Swara family at large for their encouragement, to Otora for his support in numerous ways from great marking to sweeping an carrying our energy drinks and ensuring they are availed to us at the exact point we said we needed them.  Last but not least to our Chairman for sacrificing his Saturday runs to support us. Thank you all.