Venue: Monmouth Beach – New Jersey
Official Time: 5:08:25
Date: April 30, 2017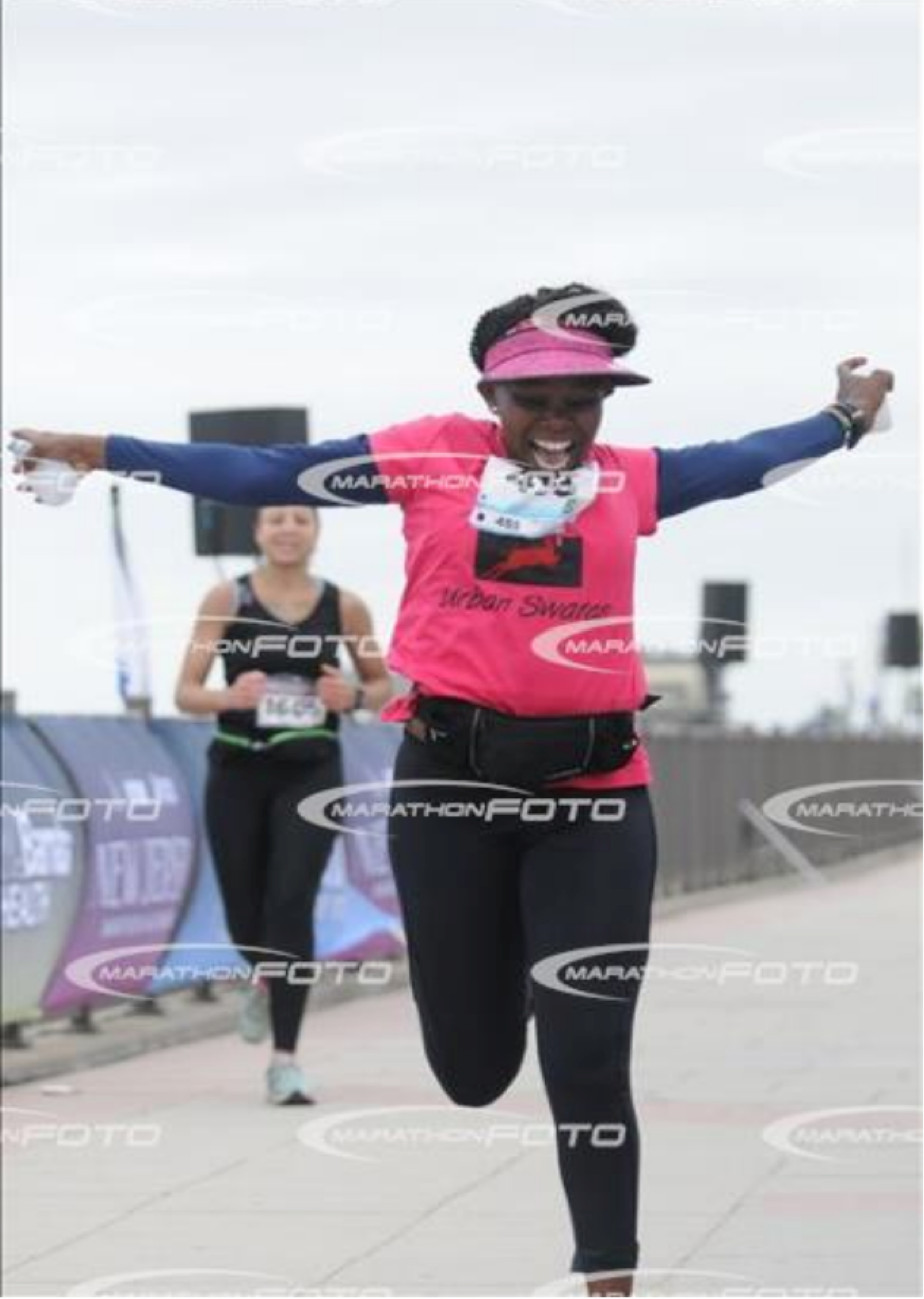 Running a marathon has never been in my bucket list. Actually, as I picked up running 5 years ago and ran my first half, I was quite clear that I will NEVER EVER run a marathon.
The most running I did was 21 Kms and if a run extended I would look for transport to the start. I met Mwhihaki as she was training for her first marathon, Lewa, and despite all her drive I knew I would never do that. Come March 2017, I set off for Ololua run to do my standard 15km. I passed Avani at 3k taking it slow, it is hard to miss her with her Camelbak, Visor and shades. At 6km she joined me struggling with Otora hills and we started a chat. I told her I was doing 10k as I was done. Her advice was just take it slow, you can do it. 3hr 51 mins later I finished the 25k. Just like that I was hooked!!, I had broken the 21k barrier.
Chairman's run was coming up and being an April baby, I decided to make it a birthday 36k run. The next few runs kept increasing the distance above 25k, time not being a priority, the worse laughable time is 2.22.17 for 15k in Mt. Kenya. Chairman's run was my longest at 33kms (below my 36 km target) at 4:42.
Armed with 380km since January and coincidentally being in New Jersey in April, I decided to enter the New Jersey Marathon on April 30th. All test online gave me a time of 6:18:45 to finish a marathon. The Jersey Marathon had a cutoff of 6:30, so I knew was good to go. Three weeks before the marathon saw sporadic training, poor social choices in diet food and drink etc, but then again, I was on holiday, not there for the Olympics.
The Run
I could only sleep one hour the night before. I was up by 4am, had chapati and rice and set off at 5am to the venue one hour away for 7:30 am run with plenty of time. The temperature at Jersey was an average of 2c, but I was lucky the days forecast was 11c, which my Kenyan body can handle. I was placed at corral 6 with cutoff of 5 hours. I went to have a look at corral 1 to check out if there were any elite Kenyan. This race, not having an attractive financial reward, did not attract any. A guy approached me and said he was a Kenyan living in US and we exchanged pleasantries. He was looking to qualify for Boston, so I wished him well. At the start line, there was the normal chatter, and I realized I did not know the direct English translation for "Swara".
The race started well, and I had a good pace. Did 10k, my fastest in 1.00.25 (famous 25 seconds to beat sub1). I took all advice and ensured that I did not run to fast. I stayed with the 4.30 pacers group. The track was flat and being at sea level, it was an easy way to cheat into the marathon club.
I took all advice and hydrated at all stops. They had sports drink, Gels and Water (major mistake!). I don't drink much water due to chronic stitches.
At the 19k mark the half team went to the homestretch and left the marathon team to do the extra 20k loop round the beach front. I was so energetic and felt the first half was child play. Residents cheered from their houses. There were volunteers who were so motivating along the track with nice quotes that I read as I went. All I was focusing on was the beautiful run, and I was on track on all parameters and was feeling good.
I reached 35km at 4 hours and I knew I was on my way to sub 5 hour marathon.. yipieee. This was 45 minutes off the Chairman's run. Suddenly, it struck!!! A chronic stitch, I could not move. I sat off for 5 minutes and reduced my pace from 6:50 to 9-10 minutes. I decided I was not dropping off and took it slow. The 7 kms were so painful.. I wished there was a 35k like Swara runs, so I could get off. I understood why they say the last 7 are hardest. I watched as pacers for various group passed me. Finally at 40km the stitch went and I ran to the homestretch. I finished at an official time of 5.08:25. My excitement was almost like I had done a sub 2 hour marathon. I finished!!!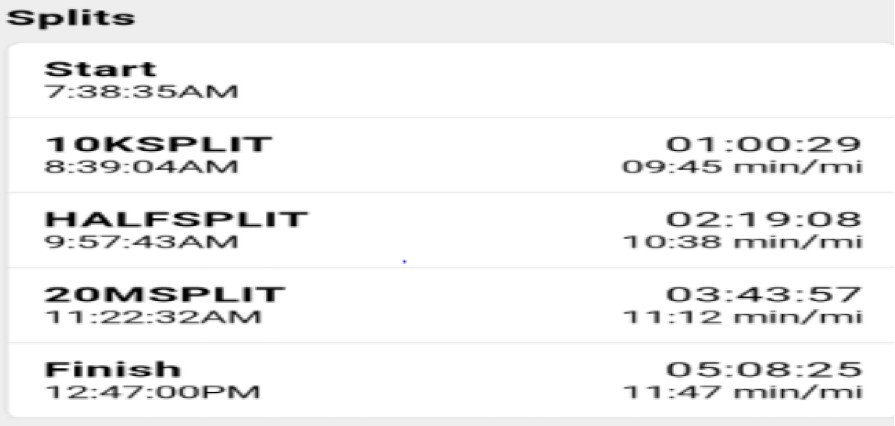 For 3 days I retired from running, but now I'm looking for the next marathon.
Lessons:
Know your body, too much hydrations means stitches for me.
Run your race and have fun. It is not competitive for me 🙂
Marathon is about the mind, not the body
I can eat a double fudge cake and big chocolate milkshake after the marathon.