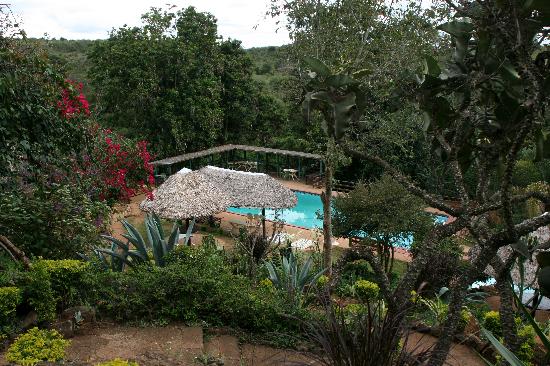 Last Saturday's Swara Run took place from Maasai Lodge, famous for me for the rocky dip before the stretch back home and it didn't disappoint this time either. It was hosted from afar by James Waliaula who by the time the run began may have been in the 40th Kilometre of a run somewhere.
Driving to the lodge with the sun in my eyes and on a murram road, I decided to exercise caution and slow down lest I puncture a tire. I was driving along when this saloon car approached from behind in haste, and as the driver passed me, he seemed a bit annoyed that I was slowing him down. I realized later that this was a Swara, a new face. I have never before seen someone so anxious to get to a run.
In attendance amongst others was Peter; already of course a full marathoner with a possible eye on the Two Oceans Full now, Tito; who may also be preparing for something as big, judging by the increase in his distances, Sean; having done 80 k's of course last Saturday only but back for the following weekends run; and Loice; we'll what can I say that hasn't already been said…..a great example of an endurance runner perhaps.
Anyway, as we were mingling around at the start, Ajaa came running towards us, looking concerned and began his short and sharp introduction. I caught the time on my watch as I went to turn on my GPS, a minute after seven already, no wonder there seemed to be panic. To my pleasant surprise, my GPS came on almost immediately. Perhaps it's getting the drift now. The whistle blew and we were off.
I started off near the front, but was very soon passed by Jude who tries to practice striding without his heels touching the ground. As I watched him disappear into the horizon, I was a little out of breath already. It can be exhausting watching such speed on legs. I was soon running with the excellent trio of Raoul, Annabel and Sean as we made our way through what was fairly flat terrain, rare where Swara Runs are concerned. I felt good for the maximum distance but had in the back of my mind the adventurous dinner I had consumed the night before. Advice perhaps if needed, keep it simple the night before a run.
And my fears were slowly being realized as we ran on, forcing me to part ways with Raoul at the 20k and "L" split. I began to walk after abit so as to ensure that I kept it in till the Lodge, the bouncing up and down was doing me no favours. I walked past a group of kids, one of whom shouted "Run like the others!," and another added "Wacha tu, huyu ame choka." I smiled at his logical thinking as I walked on. There was still the rocky dip to cross which I was looking forward to, as it's so unique. A little walking around searching later, Mugambi and his friend whose name I forget, assisted me to the clearly visible marks. I must have wandered off. With the Lodge not far off, temptation got the better of me and I managed to comfortably jog the rest of the way. Perhaps things had settled.
Back at the Lodge at the Swara Makuti, runners were already indulging in the lovely breakfast with David and Joshua humoring Susan saying things like we should get certificates of participation at Swara AGM'S, and that it would be a nice thing to put on one's C.V. being a member of the Urban Swaras. I too, was amused. The banter continued after that.
I left shortly after 10.30, whilst some stayed behind to carry on indulging with the Swimming Pool looking inviting.
Have a great week everyone and happy running.