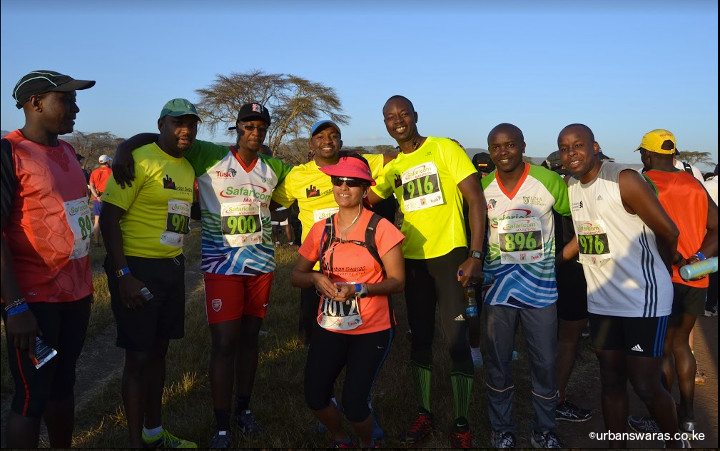 Camaraderie – I always liked that word. Probably because the first person I heard "butcher" its pronunciation was a boss I really didn't have much time for….. His version –  'Kamadey' brought short lived mirthful delight to me before he re-exerted his 'bosshood' to me; or perhaps I like it because its something that if done well brings a genuine smile to the soul. The word does however sum up the just concluded Lewa weekend. More on this later.
The experience started a couple of months back – with Jael's email exhortation – confirm your participation now or perish …. Luckily for once I did – spur of the moment; confirm just then and won an opportunity to participate in my maiden Lewa experience.
Come the Lewa pre-week, frenetic Whatsapp activity in the form of who will ride with whom etc. and despite my attempts at passive locomotion – being a passenger – were scuppered despite my best efforts and I had to drive. It turns out this was probably the beginning of my blessings.
So I turned up at Avani and Niraj's pad with nary a duffel bag stuffed with running gear and a change of clothes. How lucky I remembered to even carry my toiletry bag. And a towel. You see being a Lewa newbie and having long ago cast the thought that camping meant real camping – i.e. pitch a tent, light a fire, sleep in cold etc. …. all before a run!
I had conjured up this impression that what I had packed was all I needed. Clearly I thought being a Swara conferred upon oneself a luxury tent, complete with turn down pillow service and a chocolate mint to soothe the sleep the night before the grueling ordeal of the run the following day. NOT QUITE. (Note to self-Bryan always read the small print in Swara emails)
So I find myself carefully loading something like 5 bags between Avani and Niraj into the pick up before Avani gets the courage to ask me – "Bryan – you pack so light for Lewa – you have your sleeping bag, tent and everything in that bag?"
Cue dry mouth, pretend smile – what? I thought this is all I need?
Dry laugh back from Avani, half 'you idiot', half 'wtf' what do you think? Where is your sleeping bag and your tent!!! "How do you intend to sleep?"
Cue more dry mouth…..
Err …. Mmmmm
Niraj – quickly to the rescue – all bass (yeah I got you covered dude) to Avani – "Get Bryan the yoga mat and extra duvet – that should be enough for him to sleep" to which I sheepishly respond cheers guy – that will work nicely.
Quick call to David Kingarui – Dude !!!!!!! You didn't tell me I need all this stuff !! to which he responds – don't worry I have an extra tent in the car ……. I mean … cue BIG smile – what chances – within 5 minutes – problem sorted ….  CAMARADERIE.
We make our way to pick Jael in Kileleshwa, who had made her way there to sort out matters of state importance – our FOOD for the weekend.
Turns out our chef du jour had spent the night on the town, on the booze HARD! So when Jael called him at first light to confirm he was on the way to Lewa – his slurred response did not inspire confidence in her at all. So she had gone to confer with Lucy as to the next course of action. Together problem sorted (CAMARADERIE) and only after we were sure we would have a meal that evening we set off.
The Journey was excellent, great weather, good company and most importantly wonderful lunch at the Wasp in Nanyuki – where the DJ was amenable enough to share with me 8GB of music (CAMARADERIE)  – nuts that's a whole lot of music.
We finally arrived at Lewa – imposing, vast – intimidating. All the people, all the security, ALL of it. WOW. We register and eventually settle on a spot to set up camp. ALL of us Swaras pitch in, from finding wood, setting up each others tents, eating together having a laugh, joking and eventually calling it a night for we all knew a RUN awaited.
Pad
Now, not being a fan of loop runs where you run the same thing twice, two loop 21's say (as if there isn't enough bush to run in in Lewa surely  – all thousands of acres of it) I figured a half should just about do for an authentic experience ….
As we had breakfast and the Swaras put on their game face, complete with swara shirts on, I kept thinking to myself – wow – what an experience this is, cold, crisp air, the CAMARADERIE of it all … being part of the Swara collective. How lucky.
This is not where I give an in depth experience of the run … there were several newbie 42k club members who I am sure will do this, or if they won't surely those with obscenely good times – 3.15's or obscenely bad times lol ( is there such a thing ?) will give their accounts of the actual run.
However I will say this – LEWA is tough …. It's dusty, hilly and hot. Even the downhills going by my black toes are grueling. The path tests the mettle, and to beat any personal bests one must really be on song.  I came across all kinds of runners en route – impeders (you know the ones that see you coming to overtake then they suddenly accelerate, slow down and stand in your way), and royals and the societies dedicated to appreciating their rears– (Google Pippa for more on this lol) and Swaras.
There is something very heartening to see a Swara T shirt in the horizon – for me it triggers competition – I feel the urge to reel them in – to catch up and to do better.  Well. If you can catch them that is.
Mercilessly it ended.
And we stretched together, walked back together, sat together, not quite showered together thank God – and had a great day together.  Drinks were had, laughter too, more eating more laughing. Precious moments.
Drove back together too.
CAMARADERIE –  Thesaurus it and you will get the following words.
Friendship, Amity, Companionship, Solidarity, Comradeship.
Great weekend it was all.
Thank you especially officials for the unseen that makes it all happen. Volunteers too – Ameet without your chillout tents we would be toast.
Onto the next. And may the CAMARADERIE continue.