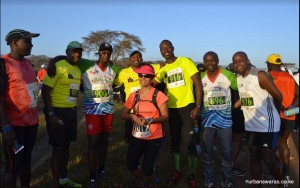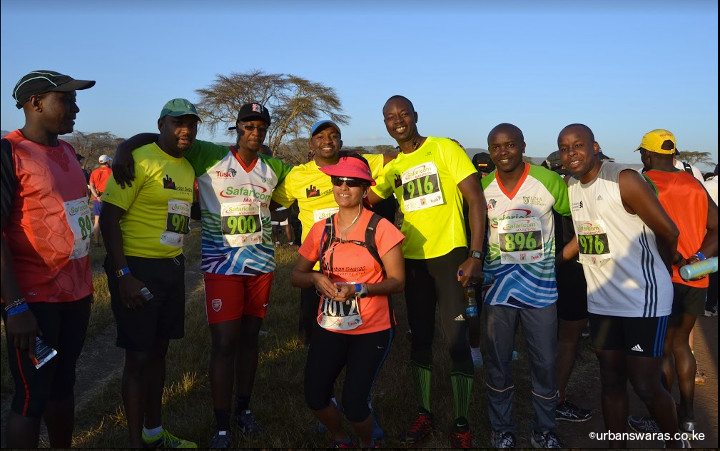 It was a remarkably good run – well, in my books. You see, there were no surprises for me seeing that I caught on the Lewa bug a few years ago. My first experience was *** where I did my first ever 21km in 3.30min ?. At the time, running wasn't a big thing in Nairobi, and not for me either though I was a gym enthusiast. I therefore did about 15km total before going to Lewa. Huge mistake! The dust almost killed my lungs, the sun almost cooked me, and the hills were evil and endless. But that was too long ago to remember the details…but clearly it left a good lasting impression on me to get me going back for more.
And then August 2014 I decided to add 42km to my bucket list but didn't get that done until now.
When I told people I was going to do my first and last 42 this year and would be doing it in Lewa – the usual question that followed from those who've done it before was – why Lewa?! I guess this is the real case of 'better the devil you know'. I custom made my training with Lewa in mind but of course without the sun. The sun in Lewa is unforgiving! One would have to go and run in Isiolo or Turkana or places like that to get the real experience beforehand.
So, armed with my holy grail of marathon training by Tom Holland, I begun my training in January 2015. My friend who's done a marathon before and several halves swears by this book and says for best results you must follow it to the letter. But what constitutes best results? For me (guided by Tom) best results are finishing the race injury free and quick recovery. Many people tried to get a desired time out of me but I steered off that. I didn't want to get discouraged at K30 if the desired time didn't look feasible. I just focused on moving… and indeed I achieved the best results.
But let me back up a little and talk a bit about the whole preparation process. They say that if you want to go faster you go alone but if you want to go further you go as a team. I started running with the Swaras in January and was amazed by how fast people run….and how excited they get by long and tough runs. The excitement caught on. I didn't participate in many runs in this first half, but two that got my head spinning were Tigoni and Ngong Hills. I still think Tigoni hills are way harder than the Lewa ones despite the weather being much better. I have a planned revenge mission lined up on this one! So, back on training, I did my weekly runs with Daisy (thanks chica) whom I met through the Swaras, and did the long runs on Saturdays with her or the Swaras. Then there was Davis (kudos bro), another Swara who kept me inspired and motivated through Nike+. (Might I add that I challenged him to do the Lewa full marathon 7 weeks before the run. He accepted the challenge and did it in like heartbeat – 4h!! I'm yet to figure out how he did it). I totally believe in strength training as that is the one way to avoid injuries. I've come to learn that running doesn't mess your knees, or back or hips or anywhere else, it just exposes your weak areas. Tom Holland gives series of strength training targeting different parts of the body. I'm going to be using these plans for a long time to come. Anyone out there wondering what is the best resource to go for, I can vouch for this one.
But besides the physical training, the hardest one was the mental preparedness. Willing myself to wake up early and hit the road at 6am or the gym at 5.30am wasn't easy. The blankets tend to have a life of their own at 5.15am and become super clingy! Seeing the hills in mind's eye got me out of bed.
I clocked +650km prior to the run and woke up on June 27th feeling super ready to get this over and done with. By which time of course I was sick of water and carbs!
And so, 5h24m later I was done! I quite enjoyed the experience and was glad of the accomplishment – the excitement was beyond words. I did under-estimate the amount of energy you expend running in Lewa. Now I can confidently say that I am one of the few people in the world who have done a full marathon – wooohooo! However, I must add that this was a one-time plan and have no desire to do it again. The amount of time it takes to train (both physically and mentally) is serious. I leave the floor to those aspiring to do it, and those who've added 56k to their bucket lists. Respect!
In spite of it all, I had a great time and recommend Lewa to all regular runners. It is a great work-out and a nice change from the usual training trails.