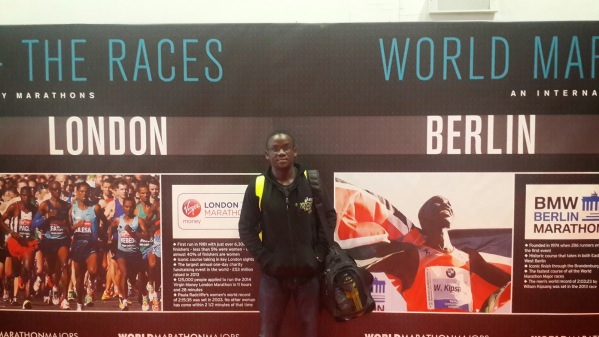 In many ways, this was one hell of a weekend that no doubt lived out the hype that goes with the London Marathon. Let's start from the beginning. On what would have been my last taper run before boarding the plane to London, I sprained my ankle pretty bad about 100m from my doorstep. All I could think as I limped off to my humble aboard was that Jael must have passed her bad omen to me and indeed bad things happen to good people!  With almost a perfect preparation, I was so gutted to get an injury last minute.
To run or not was a big dilemma which later got sorted out when I realized that my cheap plane ticket was not refundable and a weekend in London was better than engulfing myself in Nairobi with self-pity. A last minute dash to Kariakim's got Collins to re-align my ankle back into position and the possibility of hooking up with Kim in London for a last-ditch effort to review my injury, gave me some much needed confidence to board the plane to London.
The marathon exhibition did not disappoint and in seeking  Kariakim's services  sans frontières, I got to taste the VIP treatment that goes with the first family entourage. Kim was humble enough to attend to my injury in his hotel suite on the 6th floor of Intercontinental London overlooking St. James Park. For a moment there, I forgot my pain as Kim attended to my ankle only a few metres from the presidential suite.
As I soaked in the experience, a presidential security detail passed by and confused me for an elite runner. I obliged and played along assuring him Mo Farah will be no match-up to my V8 engine ready to burn the London streets. He was so excited and requested for a selfy, thank God his radio came to my rescue and he had to rush out as "Kamwana" had just checked in.
Fast-forward to D-day, and here I was brave enough to gather at the start assembly area despite my intermittent ankle pain. Except for the pain and low confidence, it promised to be a perfect day for running. Somehow, I found myself in front of the pack behind the elite runners and I immediately regretted my ambitious sub 3.05hrs entry target. The atmosphere around this area was pregnant with intimidation and I had never felt out of place like that.
With Geoffrey Mutai (fastest man over the marathon distance), Wilson Kipsang  (world record holder), Stephen Kiprotich (reigning Olympic and world champion), Tsegaye Kabede (defending champion), Mo Farah (double Olympic and world champion over 5&10K), and King Haile himself as the pacesetter, this was arguably the most competitive field ever assembled in men's marathon history.  And even for the elite runners, the level of anxiety and fear in the air was palpable.
Some will prefer a more glamorous place, but I had my brush with greatness standing behind Haile Gebrselassie in line for a potty in the warm-up area. Come to think of it, only in marathons can this happen, a rare chance for everyday amateur athlete to take the field with the best in their sport. It was then that I appreciated what a privilege it was to compete among such peerless world-beaters.
The ovations for the top elite runners 5 minutes before the gun were electric with Mo stealing the show and off we went. Running blind on what to expect with my left ankle, I decided to cut the chase and go for a sub 1hr 30min semi marathon and later see what happens, I feat that I comfortably accomplished leaving the 2.59 pacesetter on my trails.
After 21km, I found my rhythm and it suddenly promised to be my best race ever despite the odds. That is until Km 34 when suddenly my ankle gave in and the wheels started coming off. It would be an understatement to say that the final 8km felt like the longest and most painful run I ever did.
As the 2.59 pacesetter whizzed by at Km 37, I felt as if I was on a reverse gear and had literally exhausted all the mental mantras in the book to keep me going. There was nothing left in the tank as I hit Parliament Street with about 2km to go and I was ready to throw in the towel and accept the fate of walking the last 2km.Then I remembered there was a mouth-watering clash between Liverpool and Man city, a potential title decider, going down at 1.30pm. Being a Liverpool die-hard, I was not about to miss this match and as I made one last push, I realized the cheering crowd was growing louder and Buckingham palace was slowly rising in the horizon.
That is the moment I knew I was going to make it. It all comes down to this final moment, with all the preparations; you can finally see the finish line. Engulfed in wild cheers from the crowd, there is sudden rush of adrenaline as I sprint up the Mall to cross the finish line in an official time of 3hrs 12min 25sec. To reach the finish line is always an emotional new experience regardless of how many times you have raced before.
With a bit of disappointment, I smile to the cameras as a pretty lady puts a medal over my neck. But then again, there is a sense of achievement as I collect my goody-bag knowing there is nothing I could have done differently in my preparations. I quickly head to the nearest pub for the game with a sense of satisfaction that I had given it my all and that's what counts. Liverpool is 2 goals up as I enter a lively pub with a group of young mates (a new vocabulary I picked up in London). All are in red tops and I know I am in good company. One asks me if I just finished 42km, and I proudly show them my medal and add "don't forget the 200m, its 42.2km mate!" Everyone bursts into laughter as it is made clear that drinks are in the house for me.
On the flight back home, I reflect on my experience of running 3 marathon majors in the last six months. It then dawns on me that it's not crossing the finish line but rather the journey in preparing for each race that is magical. Here I come………..Berlin!