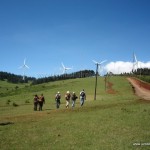 Date: April 5, 2014
Last Saturday the Swara's ran from the A.P. Camp in Kibiko, Ngong. With me was Trail Fox Otora; who makes our running so much easier through his dedication, Patrick; a participant in mind boggling challenges back in Europe, and Farah; who in February completed a Nine Day Boot Camp in the coastal weather of Watamu. Upon reaching there I saw only a handful of cars yet, but knowing from experience how Swaras tend to arrive, I expected a convoy soon.
And soon enough that's exactly what happened. Also at the run amongst others was Tito; whose played Club Rugby in the past I believe if not currently too, Mitch and Kimmie; soon to do the full distance at the Two Oceans Ultra, Linda; who always seems to join us when we run in Ngong Hills; Amai; the hockey coach and a strong runner, Susan; whose aiming for a sub 2 in this year's Lewa whilst moving up in terms of distances she's running.
As the briefing running continued, I could still hear Ajaa's voice as I put the finishing touches for my run behind a stone wall. Briefing over, Ajaa made the now familiar go motion with his arm in tandem with the blowing of the whistle. A small group had formed at the front consisting of Timothy, Richard and Mitch at least. I found myself running alongside Patrick as the clouds broke swiftly, and he wondered aloud as to why he couldn't hear me breathing. I assured him, though I'm sure he didn't believe that I wasn't dead, that I was simply trying to control my breathing.
Further up we went toward the windmills and the weather suddenly changed to fog and mist all around us. I guessed such weather changes are unique to the Kibiko run. Patrick and Samuel, the latter who may have arrived a bit later, went ahead steadily toward the windmills, after which a few seconds later I heard the familiar blast of the whistle. I wanted to respond by asking Ajaa something as an excuse for a breather, but nothing came so I plodded on.
The descent began soon after, and breaking the quiet were booming loud footsteps it felt. Looking back, I saw running buddies Amai and Mutua striding steadily on a narrow path and not wanting them to break their stride, I gave way. Soon after, I was running alongside Timothy, who looks well on his way to doing a full marathon. We thought we were following the route for the 20k's but it turned out we weren't as we had only covered 13 k's by the time we reached the gate to the Camp. The actual distance for 20 was 26. You certainly tend to get added value for your distances with the Swaras.
Tim and I decided to cover the rest of the distance by running toward the Valley, bringing back memories of my earliest runs in Ngong with the Swaras. This included the climb on the way back where so many Swaras have tested themselves. My enthusiasm probably at the start of the improvised route meant we did 21 plus. Apart from the bananas and water, on offer were homemade cakes by Monica and brought by Leif, met by widespread approval, and an offering from Pam too.
Before leaving I recall amongst others, Raoul coming in, who got on a Boda Boda after completing his intended distance of 30ks', Susan who I'm guessing did the intended 20k route judging by her finger wagging as she finished; additional mileage completed, showing how far she's come, and Ajaa, who's always smiling at the end of a run regardless.
Our carload left soon after.