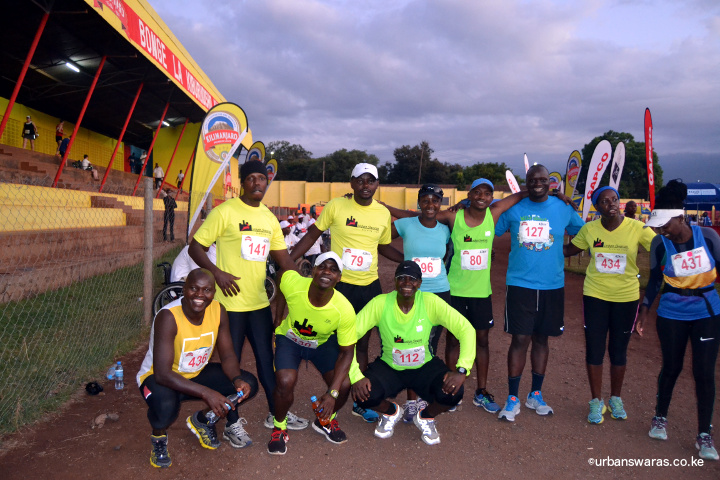 Its one day shy of a week after the Kilimanjaro Marathon as you sit down to muse over last weekend's happenings. Providence decided to hand you the busiest, most hectic week it could muster just after your 42 kms, the Monday after not spared.
You are unsure whether you can still recall the details of your outing; so you do a test run of your memory and ah, you are not a complete dunderhead; you clearly recall that you travelled down to Moshi on Saturday the 27th, you further recall that seated to your right was the eminent swara wordsmith and encyclopedia; Ndung'u Kahihu. The rest of the swaras populating the seats behind…
So you close your eyes to see more clearly and put together the following;
A Pilgrimage
Arrival at moshi is at five-ish. Swaras are soon all over. The estimate experts put on their thoughtful faces and approximate the swara numbers as upwards of sixty, easily better represented than some of the 'home runs' in Nairobi. Swaras have clearly found their Mecca.
A sizeable number of swaras have been here before; you are one of those for whom this is the Maiden Kili. As they lounge waiting for dinner, recounts of previous Kili experiences are shared in plenty. The nucleus seems to be a certain 9 km hill section. You adjust your running strategy accordingly.
One advantage of the swara runs is that one gets to know fellow swaras with paces similar to their own; you are pleased to notice that there are enough swaras with paces in your neighborhood ; Victor, Timo, Davis, Elvis and Kuria. You'll be in first-rate company.
Settling In
Ameet has done a splendid logistics job; the man deserves a Nobel…
Thanks to the said Ameet, Swaras settle in at Lutheran's as part of the crowd takes up accommodation in that other hotel. You notice a peculiar eating habit in the Lutheran section come dinner, there are claims that the food is 'little'; you look at the volumes on the subjects' plates and suddenly realize you do not know the meaning of little. Second helpings come in handy.
Breakfast is organized for and served at 4:30am, you notice one Swara destroying Chapatis like there is no tomorrow-(he expressly warns that this info shouldn't be leaked in a write up)… You eat your fill noting to leave no space.
The Run
Davis in his "killing two Kilis….' has captured this part very well, so we'll just skim over…
The start point is about 2.5 kms from the hotel, you warm up with Davis to the start line.
Kilimanjaro marathon is literally run at the foot of the mountain. The famous hill section is basically you going up one of the mountain's toes and down the other side.
You do not have a PB yet, so all you need to do to get one is finish. And with the hill stories you do not have ambitious times in mind.
You start off with Victor Paparazzi, chat up a bit, he falls back to reorganize his phone cum camera; you're persuaded to think that Victor does not 'take photos while running' he 'runs while taking photos' and ends up with a 3:36 time on his first full marathon (shudders). Timo catches up with you after a km and you decide to latch onto him. He maintains a very comfortable and even pace of slightly below 5 mins per kilometer.
The run is well organized but you have to learn taking water from the cups. In the end you realize that you just have to stop to drink up. Then there is the Coke (soda, not drug) and glucose offered, not to mention the water shower you run under and the water spray…
The roadside is splashed with substantial numbers of onlookers cheering you on all the way, super….
After the 10kms the monstrous Kilimanjaro is slightly to your right, sitting there with her signature white wig, seemingly eager to pass judgment to these mortals stepping on her toes…
You get to 21 kms in 1hr 39mins and think, 'hmmm, that was fast' but you don't feel it.
The hill starts and you slow down appropriately…at around 23kms you are back to running alone.
Davis shows up at 27 kms in his trademark hill sprint. The guy clearly will never have patience with hills. You say 'heck, life is an experiment' and decide to hang onto his coattails, you have to increase your pace substantially to keep up but you hang in there all the same.
You get to the top of the hill and your lungs have felt the effect of 'keeping up with the Davis'.
The 10 kms descent is tricky on your knees, but the two of you fly down the hill at some impressive pace…the 21 kms crowd growing with each passing km.
With less than 2 kms to go, the 'what if' part of your mind suddenly comes awake and you think; 'what if I sprint the remaining distance?', 'What could possibly happen?'…No answer.
So you sprint hoping to find an answer at the finish line…
Swaras dot this last section with medals weighing down their necks, they cheer you on energetically, Antony Mwai offers you water, Ndegwa runs kidogo with you, Nduku snaps away, a voice in the crowd says 'go swara'…..
You cross the finish line, you have your first Full Marathon PB, you have your first medal, you've run your first int'l marathon, the deed is done.
Enough swaras have powered in to post impressive times; Davis, Victor, Timo, Elvis, Kuria, Emily et al…. Ashok seems to have missed his post 7 hr target time, no worries, he always lives to fight another day.
So with the Kilimanjaro musings over, you run with the first lady tomorrow, its during this run last year that you first saw the swaras…21 kms has to go down in commemoration.
Congratulations to everyone on your Kili exploits and all the best tomorrow if you're chasing something.