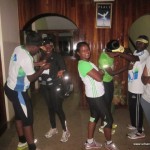 This is Monday, and as promised, follow the link at the bottom to view photos; right from departure on flight TPG something, something, something, piloted by the very interesting pilot Cockar, with whom Ndinda made a good acquaintance (I have no idea how the other flight was piloted); to the various stops on the way to Moshi where at one stop a good number of you disappeared into the bushes in a bid to reduce body weight ahead of the run, and at another some of you went behind the curios and ate and I had no idea people were eating!!! (though I identified myself with the Cameroonian contingent and had very sweet mandazis to show for it)
The photos will also have you reminisce on how you (am not naming names) hid from the nutritionist and ate ice-cream, only to regret it at the 8th Kilometer the next day. It is a pity I was not able to take photos at that spot because most of your ice-cream smiles were wiped out, and instead I saw painful, courageous smiles. (Listen to the nutritionist next time!)
Then there was this place where we stopped over for lunch and soon realized that you had to go to the kitchen and fetch your food. This is where I made a clear distinction between the well-mannered Swaras who waited patiently to be served, and the rest of you who took over the kitchen. Again, no naming names, though I took mug shots of all of you, and we can tell from your photo whether you were patient or giving the waiter those eyes….
It is evidenced here that we all picked our race numbers, though some were heard to demand for the goodies of the 42km that were reserved for Wahome, Raoul, Tata, and Katwa. The moral of the story: If you want a cap, run the full marathon next year.
At dinner that day, most of you were quite humbled, and only Raoul and Tata showed any real signs of life by going for an evening jog. Most went to greet Nakumatt and use their smart card points. The next morning all I saw were sleepy people, bracing for the run, rain and all. At this point the camera went to rest, though in retrospect, I should have just carried it and continued taking photos during the race because what I did at Moshi cannot be considered as running.
However, all is well that ends well because no matter where Swaras go, they find their own dessert. First you raided the tree with those fruits will small red sweetness(I forget the name), and the very next day on the way back you raided that Mango tree, yet you had been introduced as dignitaries when the driver radioed ahead for your lunch!! Is there a fruit deficiency in the club?
Congrats to Tata, Wahome, Raoul and Katwa for the 42k well finished. Congrats too to all of you who did your personal bests, Courage to all who really tried, and comfort to those of us whose legs disowned us at a very critical moment. There is still the rest of the year left to leaner, faster, better.
Ladies and gentlemen, enjoy:
https://picasaweb.google.com/113557796482913374054/MoshiMarathon2012?authkey=Gv1sRgCM-Gqsyf6K73dw