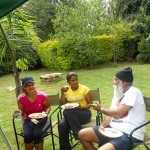 Date: August 6, 2011
Early morning MZEE KIJANA looked at the sky and saw sun was trying to force its way through clouds, but realized that the run was in Karen, so rightly the weather was cold. Right weather for long distance runs. Mzee loaded his car with KAROGA STUFF and reached Wahome's residence at 7.05AM and to his amazement there were about 12 Swaras already parked in his compound! Normally that wouldn't be the case! Even our respected senior Mutua was there with his official car parked conspicuously for everyone to notice of his arrival. MZEE in his usual manner whilst going around greeting fellow Swaras, came across a very familiar face, and realized it was the RUN-WALK-RUN REZ CREW LASS! This time she was in a navy blue T shirt with Sarova Hotels insignia, blue track trousers and white shoes with visible white socks. She laughed out and told MZEE that she had vowed that this time it would be RUN-RUN-RUN!
So now, as we were waiting for Wahome to brief us about the routes, MZEE's eye caught Francesca trying to force open Mutua's car! What the hell Mutua thought, and ran to rescue the situation, only to learn that she was only trying to open the car to keep her bag, but she was doing it wrong way. He showed her how easy it was to open the car and told her the policemen never lock their cars especially in secure compounds!
Around 7.50am, Wahome commenced his briefing – distances SHORT 16KM, MEDIUM 22KM AND LONG 30KM. There were three new comers who wanted shorter distances about 8KM. So Wahome obliged  immediately by designing SHORT SHORT distance of 8KM. BANG 8.05AM, every one proceeded out of the main gate with Nadine leading the pack as usual followed by Amai and other flying Swaras  Squad. MZEE started at a slower pace accompanied by LINUS who promised that this time he would accompany him throughout the run. The runners turned right at the Karen Plains Road. This stretched on and joined a murram road and then another long straight stretch of cabro road until finally a right turn over a bridge and connected to a hilly tarmac road and finally connecting to main Langata Road. On crossing the road, the route was now same as the TOTAL run of 23 July. So we all followed the markings all the way, running a long stretch of tarmac road, cabro road, leading on to murram road called TALMADA ROAD. This road had three P's off roads – PAFU, PALA AND PONGO – Luckily there was no fourth P as PONGO ROAD curved right and markings turned left into GRANTIS ROAD. Another straight patch all the way hitting the tarmac road where the SHORT, MEDIUM AND LONG DISTANCE run split. The SHORTS turned right, whilst the MEDIUM and LONG turned left. Now the real run started for MZEE and his running companion LINUS who actually running at his pace also made MZEE to run a bit faster. NO COMPLAINS!
Having passed Wahome's favorite HARDY'S SHOPPING CENTRE, straight on to junction of KIFARU LANE where now there were no marks for the medium run. While both LINUS and MZEE were contemplating which direction to take, a maroon Toyota Land Cruiser stopped and the driver, another MZEE started questioning LINUS as to what he was doing in those parts of KAREN. LINUS confused immediately called MZEE KIJANA and introduced him to the MZEE DRIVER, who happened to be LINUS's FATHER IN LAW! MZEE KIJANA comforted MZEE FATHER IN LAW that they were only running in that area, which was healthy and sign of fitness, and this manner his daughter would be happier with is son in law. Being very pleased with the response, said CARRY ON RUNNING! With a sigh of relief, LINUS and MZEE decided to follow the marks of long run and proceeded towards KIFARU LANE and then the route was really long through TWIGA HILL ROAD, MILIMA ROAD, RIGHT TURN NEAR CHUI LANE, until now we again came to proper markings. The long had to carry on straight towards CO-OPERATIVE College and the mediums turned right into MASAI WEST ROAD. LINUS and MZEE who were doing the MEDIUM(22km) carried on to MBHOGANI ROAD, LEADING TO KAREN ROAD, all the way passing Karen Country Club, finally crossing the Main Langata Road to the other side of the Karen Road and eventually finishing the run in 3hr22min. By the way, as LINUS and MZEE were turning right into small road leading to finishing point, they were joined by WAHOME coming from the opposite direction from the long of 30km.
MZEE KIJANA did not waste much time, realizing that it was almost 11.30am; quickly had his recovery drink was all set to KAROGA. All arrangements were set and laid out by MZEE's good lady and his son who had arrived Wahome's Residence, whilst MZEE was struggling to finish the 22km. On insistence of MAMA KIJANA, MZEE obliged for a quick shower and then CHEF MZEE KIJANA WAS ready for the KAROGA. AS every one was enjoying the snacks – hot mandazi and samosas – flowing out of the kitchen and the table laid out with fruits and juices, MZEE was surrounded by MR and MRS WAHOME who were very keenly watching the secret art of KAROGA, and their SON PAUL was sitting with MZEE'S son and making notes! So with MZEE'S MOTTO OF POLE POLE, the KAROGA was in progression! FIRST TIME MZEE HAS EVER KAROGAD 30 CHICKEN AT ONE TIME!
Indeed, after three good hours, the KAROGA was ready and the rest of the food, CHICK PEAS STEW prepared by MAMA KIJANA from home, rice and salad prepared by MRS WAHOME were laid out. Everyone filled their plates with veggies from the table and proceed to the SUFIRIA STILL ON JIKO AND HELPED THEMSELVES WITH THE KAROGA. How it tasted? LET SWARAS BE THE JUDGES!
After every one had eaten and got re-energized, all were enjoying free flowing wine, whiskies, amrula, gin etc. Good stories, plenty of laughter, gossips etc. It was really a great afternoon! MZEE KIJANA had to leave by 5.30pm for DSR (Domestic Social Responsibility). MZEE KIJANA later learnt that the Swaras did not leave until 9.00pm and the HOSTS wanted them to stay on as next day was a holiday! HOLIDAY? OOPS YES! IT WAS SUNDAY!
MZEE KIJANA takes this opportunity to express his heartfelt gratitude to MR AND MRS WAHOME for having let the SWARAS host the run followed by KAROGA at their residence. It felt like as if we all picnicking in a country side. MAMA KIJANA would be annoyed it she was not mentioned for having made all the arrangements for KAROGA ingredients, off course at MZEE'S INSTRUCTIONS and cooking the chick peas stew what in Indian cuisine is known as ALU CHOLE.
Nduku Tata joined in just as MZEE KIJANA was about to depart. She together with VICEROY was also appreciated by MZEE KIJANA for their logistics in the arrangements of snacks after run and other meals.
Madam Coordinator, who had joined for the feast, looked perfectly well, only to confess that it was her knees that were giving her problems and not the thighs! It was then agreed by VICEROY and MZEE KIJANA that she be sent to MRS WAHOME'S petrol station for KNEE LUBRICATION SERVICE (WITH TRACTOR GREASE), FEET BALANCING AND ALIGNMENT so that she could join us for the next run and carry water and fruits for us.
MZEE KIJANA says a MEGA ASANTE to LINUS who actually accompanied him for the full run, but missed out on KAROGA as he had to leave early. Bravo and Alix, the only Cameroonians, also had to leave early. You can be rest assured that MZEE WILL make up for it, including the CHAIRMAN and notable absentees AVANI and AMEET!
MZEE KIJANA ALSO thanks CHAIRMAN AJAA who called him early morning to wish all the SWARAS a good KAROGA SESSION.
NEXT RUN ON SATURDAY 13 AUGUST AT FLORA CAFÉ, WAYAKI WAY.
SEE YOU THEN
MZEE KIJANA