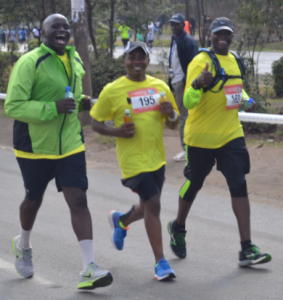 The simple picture message sent by Ashok on Saturday read: "A marathon is an event where everyone is equal and ordinary at the start line… but a legend is born at the finish?." And sure enough a number of legends were born at yesterday's Standard Chartered Nairobi Marathon.
I was? privileged to be among the Swaras who were making their full marathon debut, together with my training partners Lawrence Kibet, Kenneth Muchina and Karanu Waweru. Other debutants include Marrion Kimani, Anthony Mwai, and I believe MK and Brendan too. I am not sure who else from the Swaras team, but feel free to add to the list. So there we were lined up at the start, set and ready to make history even if only at a personal level for most of us.
Now, a bit of a background: for the longest time since we started road running with my mates, we kept telling ourselves that one of these fine days -when we grow up 🙂 !- we'd do the full marathon. Easier said than done I'm afraid as distance & endurance running is not for the fainthearted, something that we know all too well from the many Swara runs where Otora has worked his magic again and 25km turns out to be 30km, or the no-hills easy run promised by the Chairman turns up some surprisingly steep sections just when you had run out of juice, so on and so forth… So, in the run-up to this year's Nairobi Marathon, the question top on our minds was, "To grow up or not to grow up?"
Of course, everyone has their own reason(s) for running, something that the organizers never fail to remind us. For some, it is to prove their mettle, others to improve on their PBs and yet others to push the boundaries of what they have a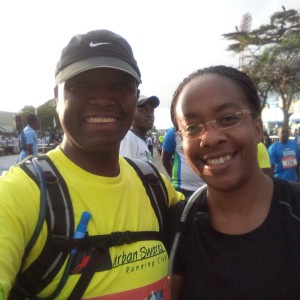 chieved before. Now, I cannot speak for my mates as to why they felt it was about time to do their first full 42km [they are of age and can speak for themselves!], but I had one compelling reason myself: you see, having turned 42yr old in September, I thought it an apt way of marking that milestone by doing one km for every year I have walked this earth. I was joined in this quest by a classmate from college who had the same idea too…
D-day was finally here, and since we had prepared in the usual manner with increasing intensity and then tapered down in the last 2 weeks or so, we were fairly confident that we'd manage it. I couldn't help noticing though that the crowd that had turned up this time was a little thinner than last year's and that the usual fanfare before the off was also lacking. There was no warm-up session, the sound system was a little suspect, not much music to get us psyched and I don't even recall hearing any starter pistol being fired before we took off! May be it is just me, but methinks the organization this year was a little below par as they could certainly have done better…
And so we set off and were soon doing the usual loops in the CBD before heading out to Forest Road via Museum hill. It was at around this point that we encountered the elite field already returning from that loop on the other side of the road. It was smooth going at this point in the run and I remember us discussing whether the police chopper that was hovering overhead was part of the event or it was patrolling the area for security reasons. On the return loop from Pangani we encountered the half-marathon elite pack near the Limuru Road overpass and I was mildly surprised that they had narrowed down our head start in such a short time!
Anyhow, we breezed through the first half of the marathon that had no surprises really as it was the same as last year's route. We kept telling ourselves [my team & I] that the first part was only a warm-up and appetizer for the main course that would be served on Mombasa Road. Now, the second part is a different ball game altogether. This is definitely the bit where the men are separated from the boys, and some of us who had hitherto thought we had come of age were rudely reminded that we still had some growing up to do! Those four loops on the section of road between Nyayo Stadium and Sameer Business Park really take it out on you. Well, there was nothing else for it but to try to leg it even when the going got tough.
Suffice it to say that even on a relatively flat course a full marathon run is not an easy undertaking and can be quite brutal. Although the conditions yesterday were perfect with cool weather and overcast skies for the most part, I still found the going hard from around the 36km mark when both my legs seized up and I had to take it easy from that point on. I had already fallen off the pace with my mates and was basically now struggling and straggling on my own. Eventually I just had to walk-run-walk until the finish, but was grateful for the company of Loice Mbogo who had caught up with me at that point and we psyched each other up to the finish.
Many thanks to the support team who were strategically positioned to hand out some much needed supplies to the runners. They were such a godsend and were also pressed into service to massage my tired legs after they rebelled and refused to take orders from my command and control center! The mobile team on bikes and the paparazzi also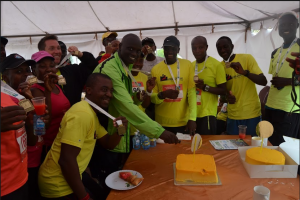 deserve a special mention. The breakfast at the Swara tent was simply to die for. Oh, and there was even a cake to be cut in honour of the full marathon finishers and to add to the celebrations!
All in all it was a memorable outing and the arduous experience of a first marathon was well worth every minute. While it is highly unlikely that my time of 5hrs 5 minutes will have caused any ripples in the world of distance running, that tiny step of running a full 42km marathon is indeed a giant leap for yours truly. It may also be safe to say that the likes of Dennis Kimetto, Eliud Kipchoge and Wilson Kipsang will not be losing sleep on account of my entry into their domain, but perhaps some day in the not too distant future they may have reason to watch their backs!
I take this opportunity to also offer my hearty congratulations to all those who achieved some personal target whether big or small in yesterday's run. I believe that we did ourselves proud and flew the club's flag high with our own individual efforts. I remember Anthony asking me after we finished if I'd ever do it again, and my considered reply was that if anyone had asked the same during the run especially between 30-40km, I would have forsworn ever doing a run that is longer than 30km! Of course you can bet that I'll be out there sooner than later pushing the envelope on endurance running, so see you soon on the Swara trail 🙂