Some things usually look impossible, but the more you think about achieving them the more they get vague and then clearer as the days get nearer. It's true, all dreams are valid. Here is my dream and how it became valid. Here is how not to set limits but go beyond them.
It started just after the Stanchart Marathon, when clinching a PB goal of 3:30 came so close with only 6 mins off (for some elite runners 6 mins is a long time). My resolve was to avenge with another run soon after. The nearest run was MTN Uganda, but that was too soon (one month a part). Not impossible but I was 50-50 since the date coincided with Ndungu's Mt. Kenya Ultra Marathon, which I did not want to miss. After consultation with some of my mentors M.K, and Ajaa I was totally sold out to the Mt. Kenya Ultra run. And what a run it was. I'm not sure what words can best express the run, but it was one of my best and longest runs (7hrs). As I deliberately digress, for those who have not done this run, it's A MUST DO! My thoughts for the Kilimanjaro Marathon must have become clearer during this run and the training had just begun.
Talks of climbing Mt. Kenya came up during one of the Swara runs with one Ken and Shem. A follow up on when we can do this led me to getting contacts for some guy who organizes such expeditions. The contacts revealed Mt. Kilimanjaro climb was the first during in his calendar and this was slated in February while Mt. Kenya was second in April. I was totally sold out for both. However, there was one problem, Mt Kilimanjaro climb was one week apart (15th to 21st Feb) from the Kilimanjaro marathon (28th Feb). In my mind, I was not sure if this was even doable. A quick check with my close Swara friends (they know themselves) to get some encouragement and company did not yield any interest. I remember Joshua warning me it's dangerous to stop running for one week before a full marathon. "Your legs can forget to run again" he warned. I chuckled not knowing if he was joking or serious. It seemed I was all alone in this and finally I decided to give it a shot, after all "what's the worst that can happen".
I have never trained so hard in my life. I normally rest in December with few or no runs during the month, but this December was different, I only rested for about 5 days during the Christmas break. When the first Swara run in January was announced with a maximum distance of 20km I thought that was too short. I needed to do 30km as the dates for the two events were less than two months away. I therefore came up with my own route, though I did not get to 30km but I ended up doing 25km -not bad, huh! With only a month to the climb, I did not get an opportunity to hike any Mountains or hills as most Saturdays were full of exciting Swara runs. A last minute organization to hike Mt. Longonot with some guys on a Sunday did not materialize. However, I managed to squeeze in 36km run in Tigoni and two 30km in Ngong hills. The two areas being of high altitude should work for the climb and run, at least that's what I convinced myself.
The day of travel to Mt. Kilimanjaro climb I squeezed my last 5km run and I was hopeful I could do this. The next 6 days events are documented separately. However, in short I successfully summited on 20th Feb albeit with a struggle to turn back at 5,000m. The Highest point of Mt. Kilimanjaro is 5,895m.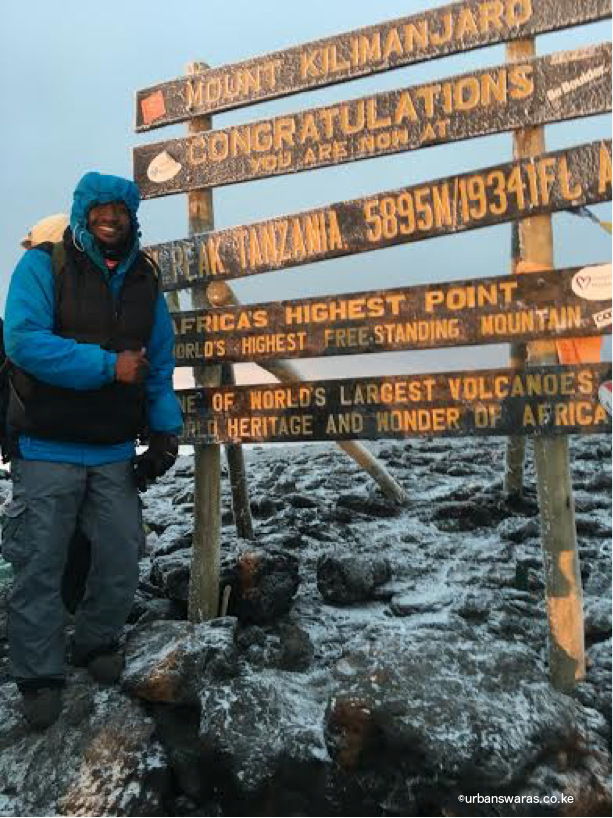 Two days later (one day to descend and the other day to travel back), I was back running. It was those runs where you are guilty of missing 6 days of runs knowing the challenge ahead of you in 5 days' time. So with all the guilt and some little caution not to get an injury, I did 20km on Monday and 15km the following day. There was something peculiar about these runs, I noticed my pace was naturally faster but my breathing was heavier, could this be a good or bad sign? I'm not a person who focuses on the negative so I chose to remain positive telling myself this is a good thing. I did a few other runs before I left for the Kilimanjaro Marathon on Friday afternoon.
The Marathon day was finally here, and a feeling of nostalgia crept in me as we headed to the start point with Joshua. This distance from the hotel to the stadium was approximately 2.5km and we covered it as a warm up as we exchanged what times we were looking for. I must say, I was not being modest when I told Joshua I had no time in mind and my aim was to do it below 4 hours due to the fear of my performance after the Mt. Kilimanjaro climb. As we got closer to the Stadium, we came across other swaras and one could tell this is one well attended Full Marathon far from home. With such a good number of swaras I should have some company from the beginning to the end, I told myself.
Shortly without much warming and after our official Paparazi AKA Tata Nduku took some lovely photos, we were flagged off. The route leaves Moshi Stadium and heads downwards towards the town and then along the main road to Dar-Es-Salaam for approximately 8-9km before turning back to the direction of the stadium.
As we exited from the Stadium within the first kilometer stretch, we met participants of the 21km heading to the start point and shouts from Swaras ranted the air as we passed them. There is no such good feeling to hear cheers from fellow Swaras even when one has done less than 1km, it's an awesome feeling. The next 4-5 Kilometers I was pacing with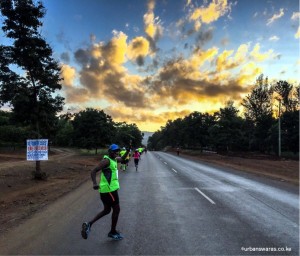 Emily, Elvis and Victor, I told you -good company right there. It's also at this point I noticed Tim pull a first one to settle ahead of us with Joshua approximately 30-40m ahead. Victor is one special one, when some of us are running with as little items to carry as possible; the guy decides to wipe out his phone and take photos. Who does this? Anyway, I admired this act and I want to thank him for the memorable photos he took during the run.
I think it was at 7-8km when I realized I could not see Joshua and Tim. Elvis had also pulled ahead of me while Victor and Emily were on my tail (not sure how far behind). Since I am so used to running off-tarmac, I did just that where I could get some soft ground cushioning. This continued for a while both on and off tarmac. I'm not sure if it really helped but the soft landing on non-tarmac was a good feeling.
As I approached 11km where one makes the turning back to the Stadium, we exchanged glances with Tim and Joshua who were neck to neck. Shouts of STRONG! STRONG! ranted in the air again. I noticed they might have been close to 200m ahead of me. Once beaten twice shy, I can't risk the thought to catch up with them. My pace was excellent and I was actually doing better than what I had envisaged. We were now neck to neck with Elvis who by now had reduced his pace. I don't remember talking much with him but the thought that we were doing this together was all that mattered. It's until at 20km I noticed Elvis had fallen behind me, it must be the gradual hill which would take us another 10 to 11km that must have started punishing him. This is where the marathon begins, I told myself. Having read the previous year's articles about this stretch and having attempted it last year when I made my debut on the half marathon, I had an idea of what was ahead of me. All the same, I did not think it was such a challenge. I covered each kilometer slowly but strong with the aim to get to 30km without stopping or walking. However, I obeyed all water points quenching my thirst moderately and cooling my head by pouring at least a cup of water over my head at every stop.
The temperatures were quite high for everyone. As I struggled up the hill I noticed Tim cooling himself at some water point up ahead. By the time I got there he was gone. I cooled myself as I continued with the uphill task and it was at the 25km mark where I managed to catch up with Tim and I could see he was really struggling on the hill. We exchanged our usual "strong strong!" phrases before passing him. I guess it was after a kilometer later, when I caught up with Joshua and just like Tim he was struggling with the hill not that I wasn't, but the struggle must have been more difficult for the two champs. I am not sure if the Kilimanjaro climb had done something to my legs or it was the acclimatization which did the trick but whatever it was, I don't mind "smoking" it again. Joshua is one person who does not easily give in. Despite the struggle on the hill, we ran together for another 4km until the hill was done. At 31km downhill we were still neck to neck with Joshua, we exchanged a few words here and there not much probably to conserve the little energy we had.
We continued together for another 10km not too fast and not too slow. One guy tried to destabilize our pace before we regained it at the last water point where we quickly hydrated and continued leaving the unknown guy behind. We must have been remaining with 4km towards the finish and we continued together for another 2km when I could not match Joshua's pace. I could see some sense of remorse as he told me "tuende" which in French means Let's Go! But I could not match the pace of this guy from Nandi Hills. I told him not worry and he could go on and it's like he was waiting for those words. The guy just took off like a Car with a V8 engine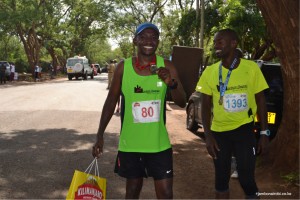 on a freeway. The last 1.5 Kilometer seemed the longest. They all seem to be the longest in every marathon I have ever run. Anyway, I finally get to the finish point clocking 3hrs 25mins 58 Sec –a new PB. Joshua clocked 3hrs 25mins 24Sec. Congrats Joshua! And to all those who inspired, challenged and motivated me to achieve this rare fete…. A BIG THANK YOU AND GOD BLESS!