Some Intro
Graceland girls' school opened doors to its pioneer class in 2007 and had its first candidate class in 2010, it is a one stream close knit school in which out of 30 students per class, an average of 5 are fully sponsored. A total of 50 students have so far been beneficiaries of the annual run proceeds… The school is neatly tucked away by a river in Chaka, Nyeri County, at the foot of the ever watchful Mt. Kenya.
Graceland is also the upcountry digs of one Wachira Nderitu's family, a Swara himself, and founder of the school.
Lots of things make a run; the biomechanical leg pushing and lung pumping bits counts for only a little part. So this recollection will attempt to cover the associated events before, during, and after the run.
Eve of the Run
With the host having pre-sourced for accommodation and offered dinner complete with wine accompaniments, all you had to do was complete your 8 to 5 routine in Nairobi and make your way to the school. You arrive at 9ish pm to find dinner underway, around 40 runners are already making little work of the sumptuous dinner from Mrs. Wachira's Kitchen. Wine flows aplenty.
The dance floor is opened. Dance moves are on display, the Deejay lays them all out; from the golden oldies- where the moves executed by the older citizenry betray their younger days' escapades- to regional representations including some Mugithi tune, a kanungo session, the easterners' fundamentals…
Everyone has a talent, you are famous for your spectacular inability to move in rhythm to any tune. So you sit tight and enjoy the show. But not so fast, it soon transpires that the ticket to leave the dinner venue for slumber venue would be a dance; no dance, no leaving. So you all throw in a jig and off to campsite…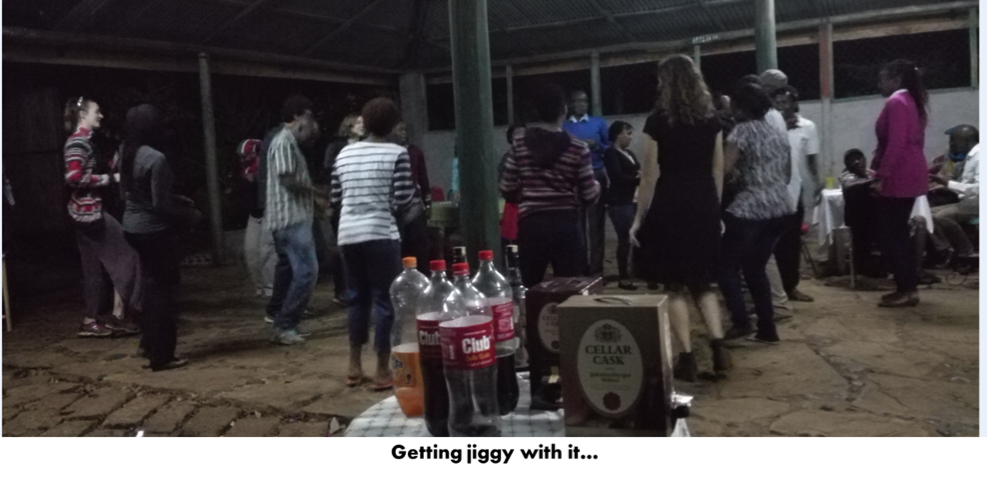 D-day
D-day starts with a spirited wailing around the campsite by members of the female species led by the very able lungs of Nduku- they attribute the wailing to an electric malfunction resulting in some cracking fireworks; you don't buy it, they are warming up their lungs in prep for the run. Anyway, your sleep is aborted, you lazily crawl out of the tent, have a semi-heavy breakfast by the River and decamp to Graceland. This is also the best opportunity to take in the imposing Mt. Kenya views before the cloud curtains are drawn.
The school teems with activity; school kids from the neighboring schools, Swaras from Nairobi, Swaras from Nyeri, friends of the school and more runners.
The run is flagged off at 09:45hrs. The start is a steep hill packed with humanity forcing you to weave in and out, not that you'd go substantially faster, that steep is really hill – sorry, hill is really steep….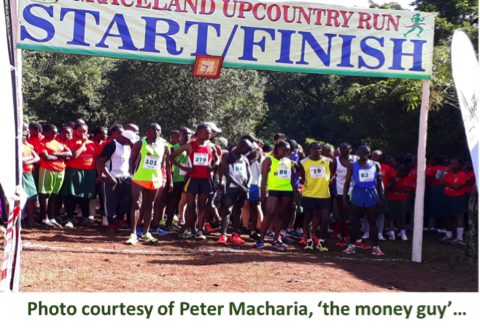 At the top of the hill, 25k parts way with 15k. You are left in a 4 Swara mean running pack; Victor Kamau, Sam Nyingi and Dylan the Johnson. You feel a sense of belonging.
Dylan keeps chatting you up but you are soon out of breath, responding in between laborious gasps… its probable he's testing you, you earlier had to vehemently defend your place in the 'recreational runners' category seeing that your name originates from the elite backyards…
You get to the tarmac, 6 km done, end of hill. Your three running mates crank up speed, you can't keep up, your sense of belonging ebbs and your three erstwhile companions effortlessly dump you. You look at your watch to confirm your pace and realize you are doing 4 min 40 sec to the km, decent speed, the three are clearly on flight mode.
The tarmac makes for some good running, with the forest to your right and the Aberdares making the horizon up front, not to mention that it's all downhill except for one jolt of a hill. You find regular water points and some very welcome cheer from the girls.
Tarmac ends at 15k. The transition to uneven terrain kills your speed, you soon come up to about 6 ladies who have a nice story telling session going, not a care in the world, maybe because they have hijacked the sweeper ambulance crawling slowly behind them.
The 6 ambulance ladies are a doorway to the 15km masses. There's usually a kind of energy boost associated with overtaking other runners, apparently it doesn't work when you are going past walking 'runners'. You are tempted to walk but rebuke the temptation.
At 18km you are in the precincts of Chaka Ranch where there are more 15km walking masses, a merciless hill in the coffee plantation, a supersize bull determined to grow into an elephant (anyone took a photo of the bull??). At 20km your legs protest, you walk for 100 metres, but the thought of walking the remaining distance is depressing so you dig in and squeeze a run.
Chaka ranch ends at around 22km and the 3km you have left seems like a life sentence. By this time you just want to be back under the cool shades of the more than ample trees at Graceland. You come up on a Swara Lyma, and soon after Chirie; another Swara appears from a random road, she had apparently felt that the 15k she was signed up for was too short and decided to take a detour topping it up to 20k. You run with Chirie until she decides to put in a slight kick, you can't respond, and for once in her life she speeds on ahead of you. With such an achievement, you expect she'll hold a press conference soon after to broadcast the feat…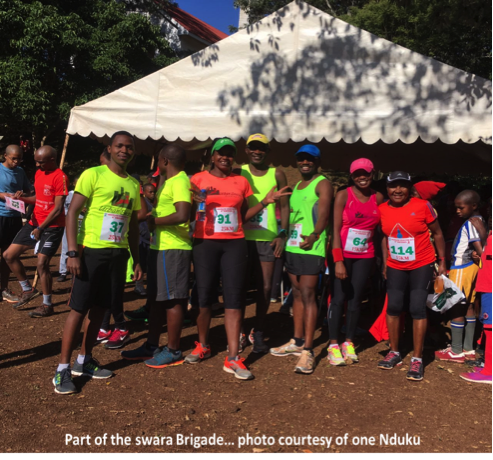 The long awaited Graceland gate at last, you roll down, by this time you are doing a rare 7 mins to the KM and hit the finish line. You can at last lay claim to your Red Rose and your heart is at peace. 2 Hrs 15 minutes on your clock, 7 minutes slower than 2016. Not good.
The 3 Swaras that had no patience with you are standing around chatting like they're just from a lazy morning jog. Sadistic lot.
Victor finished in 1 hr 45, followed closely by Dylan 2 minutes later…
Runners stream in and the run eventually winds down with a few leisurely 25 km runners like Ajaa and Felicita finishing about a week later, and, saving the best for last, Le Patron checks in after approximately a year, his 25kms safely in the bag.
The Spoils
Entertainment, prize awards to the fast footed, tokens of appreciation to triumphant Swaras of different categories and the ceremony is over. Just one little outstanding matter…the lunch…
At last, long long last, lunch is served. Where? Across the river, that river that runs through the school, the one with a neat little dam, complete with two boats bobbing idly on it. You don't want to picture that here is a school where students could actually row and probably fish on a random Saturday afternoon, you're too hungry.
So over the bridge and into the clearing where you partake of the very welcome lunch treat. You can hardly blame your eyes when immediately after they beg for a nap. But sorry sir, Nairobi beckons.
And so, again, we await Graceland the 7th Edition.