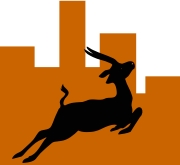 The Graceland upcountry run 5th edition cannot go unmentioned. It is one of those runs with a conscience; there can hardly be a nobler cause to running than educating someone…
Humans are supposedly selfish, so apart from the obvious cause, one can be allowed to add a secondary goal, like make this a speedwork prep for the upcoming Kili marathon. This swara did just that.
The Graceland Girls' school has a homely forest setting, the school buildings tucked away within a forest of indigenous trees set in a valley. The school is approached from the top- I kid you not- from where you can only see the forest canopy, prompting you to ask the guy at the gate; 'where is the school?', and he looks at you perplexed and tells you to 'follow the loudspeaker'.
As you roll down, following the loudspeaker, suddenly buildings peep out curiously from behind the trees and here you are… It resurrects painful memories of your 4 year jail time (high school was the politically correct term) where your captors could spot you from a mile off with nary a shrub in sight…
A few swaras have showed face, the rest of the herd show up in no time but by the time the run is flagged off you look worried, seems your speedwork drill isn't going as planned.
This is why; being largely a random paceless runner, you planned that at Graceland it would be prudent to have a scientific pace for your speedwork. Victor would be the ideal pace, having run with (but mostly after) him for the last few months; this is that paparazzi fellow who takes those super photos during all difficult and scenic runs whilst maintaining an effortless pace as the rest of the swaras puff and pant up slopes and over boulders…
But Victor is a no show, neither is Davis who has lately been missing in action, nor Elvis who could be substitutes. Timo is here, but you know your limits.
The run is flagged off, there is a 14 k and 24 k run, that hill that you rolled down is what you almost vertically go up for some hundreds of metres. Outside the gate you take the 24 k turning, no one in front, the elites took flight long ago. Most runners are doing the 14 k, while the 24 k is almost exclusively a swara affair, apart from the elites and a few brave souls.
So at the 24kms turnoff, you take a downhill that immediately negates the hill you've just tackled, you get to a river and a second hill dosage is handed to you. You climb for like 2kms then it flattens out and… Whoaa! The Mountain in all her imposing grandeur is thrown right in your face, you feel like you'll run straight into her…so you slow down… no accidents this soon…
The grand view more than makes up for the hill…no cloud cover, nothing, the rugged peaks and the glacier tucked in their bosom nudge at you and you romanticize getting into hiking gear and taking on the mountain already… the run organizers must know people in very high places to pull off such an unobstructed view…
Before you know it you've changed course and hit tarmac, the road is lonely, kept company only by the forest. The road is relatively flat and meanders quite agreeably… you feel like this evenness will go on till kingdom come, so you pick up speed, your mind wanders, the Aberdares sitting dreamily in the distance. You only encounter a slight hill after a scenic hairpin bend.
Now, the water stations were on point, the school girls manning them cheering you from a mile off lending wings to your feet, and once you're gone you'd tell there was someone not far behind when a new set of cheering erupted…. The only thing they should not do is curtsy, because when one curtsied you felt the age old chivalrous need to bow but checked yourself just in time lest you kissed tarmac.
The tarmac always ends. You get to a rock strewn stretch that needs you to execute some steeplechase moves. Before you're done, you run though a coffee plantation, around a dam, through a farm you find hard to describe and then Chaka ranch…
You wind down the run, free falling into the school and to the finish line where you are handed a real life Red Rose!, and you try to recall whether a rose has ever been handed to you, your mind comes up empty…not to worry, you can't remember because you're worn out after running for a cool, hot 2hrs 7mins…
It's a prize fest for swaras, Jael coming home first overall in the 14k ladies edition, Emily coming in second in the 24k ladies (and first among the swaras- so she bagged two sets of goodies), followed by the other two suspects Loise and Ferrah. Chikani bagging the prize for the top 24 kms swara finisher. The other close finishers being Kuria (is it?) and Ndegwa. We congratulate and envy you guys in equal measure.
And so we wait for the 6th edition…