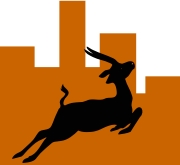 Graceland was a good run…one word how to describe it, it was hot, hot, cool ( okay, sorry three words). Hot timing- Valentine day, Hot day – the Sun, Cool place – the place was just cool overseeing Mount Kenya.
The Graceland started on quite a high for me where I offered lift to take the bunch to Graceland, considering there were bunch of roses as give away for the Valentine girls and none for the Valentino.
For the many who started a day before, including myself, it was such a wise decision.
The evening at Wachira's place or may I say grand Palace, was so relaxed and warm, enjoying tea and snacks siting together and listening to stories on a lighter note, laughing, joking and just having fun. Some history lessons too about Kenya and its life style.
Just to describe the palatial place, built in the forest evidently also owned by Wachira, has a tree house, open bar cum dining overlooking the forest, a beautiful garden, and the house build like a Palace. There is also a school, incidentally a Secondary School, with 130 girls studying there, some from elite families.
The Swaras kept coming in till as late as 8pm. A good bunch of at least 15 of us already gathered for the run a day before.
What I realized from most of those coming in, they were trying my mobile for direction, but unfortunately the mobile service played foul and no one could get through. Fortunately they still managed to find their way.
The evening food… the pasta and the pasta sauce was just amazing, and the Nyama Choma was so soft the meat just melted in your mouth.
Not to forget mentioning the schoolgirls in the background kept practicing till late evening for the event; that showed so much dedication and a lot of preparation for the final event.
In the morning while the rest of the gang came in from Nairobi, we got ourselves registered.
Before the start of the run, we were treated to a cultural show performed by the schoolgirls; they are so talented. I think it was part of Wachira's plan to start on a lighter note. He knew we were all going to kill ourselves in the heat and the effect of the hot blazing sun.
So off we started 10am, and well crafted mountain climb right at the beginning to test our mountain climbing skills, ohh! That is one of the toughest starts I have done in any marathon, not that I have done many.
The best man, Wahome too remarked he usually does not sweat for a while after he starts and he was sweating with the blazing sun and the start point having a steep climb.
It was nice to wish some of the Swara girls Happy Valentine on the way.
Within a few kms of running with a gradual climb, you come to a point where you see Mount Kenya right in front of you, and the feeling was so amazing seeing the mountain like that, as if it is so close and that is the point you are heading and will be climbing the mountain in awhile. The weather was so clear you could see the top, and felt super running, as you enjoyed the breath taking view.
As the run continued, we got an experience of running on tarmac and this again was a gradual climb. The good part is there was not much traffic, so it felt like the road was blocked by the organizers for the run.
Every three kms we were welcomed and cheered by these wonderful Graceland schoolgirls, beating the drum and shouting, screaming, telling you to keep going. They danced for you, they ran a few meters with you, they sang for you, and gave you water which was a blessing in the blazing heat. They put a smile on your face and when you kept going, they screamed Happy Valentines day.
The trail then veered from tarmac towards a forest and more farms houses. I was cheered by some small kids running with me and wishing me the best. I also came across a gentleman in high spirits (literally) who started running with me, speaking in Kikuyu as he showed me the direction. The locals too started enjoying the "high spirited" gentlemen running with me; I too was amused. He stopped, possibly wanting more spirit and me wanting more water, but the best part is we were both on a high, me with my running and he with his own inner self.
The interesting part of the 24k run is it felt like participation was exclusive for the Swaras as there were hardly any other runners doing this distance, and the most important Swara, our girl Jael, (we all know why is so important), Money Honey of course, who had planned to run a 14k ended up doing a 24k and won it. She is amazing :-).
Swaras were definitely the guest of honor and were given such a royal treatment while we ran in the sun and conquered Mount Kenya (from a distance). Each member finished the race and made Swaras proud. Wachira had so many prizes to distribute. Kudos!
I did the cold water shower (for the first time) after the run and must tell you guys it was an experience, felt the aches and pain and the tiredness just flowing out of my system and so relaxing while showering…I advice all to do this after a run….so refreshing.
We were invited for a lovely lunch. While we had lunch, we had such colorfully dressed ladies entertaining us to the fullest by performing Kikuyu cultural dances and singing. They waited for us to finish our meal and then politely pulled most of us on the floor.
I must say Zach had quite a few moves, on the field (running), on the presentation floor being the performer and then on the dance floor doing the Kikuyu dance moves, quite an entertainer. Not to mention I had to follow his car at night to the hotel (please don't get ideas) and he was fast on the rough track…super driving skills, I did not know the way to the hotel…(what were you thinking?). Ohh! forgot to tell you also… he was the most lucky guy traveling with four girls; in fact the highway cop too got worried when he stopped them and peeped into his car and found four lovely ladies. He questioned in Swahili, where is this Mzungu taking these girls. (Friday the 13th and the next day Valentine, Woo-hoo!!!)
I had some interesting moments with Wahome too on the topic of Valentines (again please don't get ideas) while we were running. The gentleman is extremely young at heart. Imagine discussing the matter of the heart with Wahome while you are doing a 24k run in the hot blazing sun that too on Valentine day…super!
I met some new friends who were part of Swaras and must say when you spend that extra time with them in such occasions, you realize how much of a family Swaras is to all of us. Interesting it is not a virtual family or a family by blood or culture, class, creed, tribe but a feeling that is there when you come for the run that makes you feel the togetherness just by running together…wonderful!
All in all very gracefully hosted at Graceland and we are grateful to Wachira for being so gracious to us in the most graceful manner…Thank you. Full marks to Wachira and his team for organizing this run, and extremely thankful and grateful to his family for being such wonderful hosts.
Congrats to all who won at the event. Three Cheers!