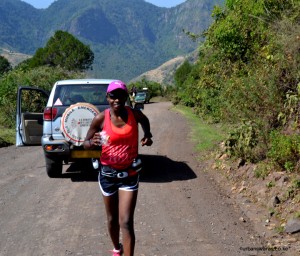 I have long shied away from participating in the flagship endurance runs (Magadi and Fluorspar) because I simply didn't believe I had the mettle for it yet – and I was probably right. In 2014, I went along to Magadi, but only to drive route support on the day.
This year, emboldened by a combination of completing the 63-day Insanity Challenge and embarking on training for my maiden full marathon, when the Fluorspar run came about, I thought it was time I upped my ante and tested my newly-accomplished fitness and endurance levels. In the week (perhaps two) preceding Fluorspar, Ajaa began sending through Swaras' accounts of the previous years' Fluorspar runs. I read each one as it came, and was horrified and entertained in equal measure. I wasn't sufficiently horrified to be scared off it though; still, when Susan sent through the payment details to kick off confirmation I had to dig deep to be sure that I really did intend on attempting this run. Without giving myself time to talk myself out of it, I made my payment within less than 5 minutes of Susan's email. Bullet=Bitten.
If I said I was excited about Fluorspar, I would be telling a lie. I spent the days in the run-up to the event contemplating all the horrible things that could happen. Foremost on my mind was the fact that I'm in physio for an injury and while I'm making definite progress, it's rather slow and I didn't know whether I could run more than 21km before the injury called time-of-death on my effort. I wanted to attempt 30km at Fluorspar. Eventually, I arrived at the place where I knew the worst that could happen is that I would end up sitting heat of the day, waiting for rescue. I could live with that. I didn't stop contemplating horror, but my sense of dread was far less stifling.
I'll skip to the venue now, but first: my appreciation to Ameet and Surinder for the rides there and back.
The Accommodation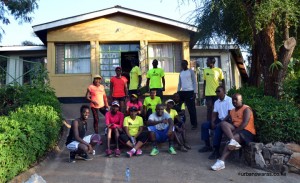 We arrived at Sego and I had no grand expectations of a welcome drink and a cold towel; it made a rather delightful first impression. Later, I would discover my resident spider, deafening crickets, broken toilet flusher, trickling shower and non-functioning instant heater. None of this took away from a pleasant experience, though. The spider lived in the bathroom and I just made sure I always located it first so that it wouldn't scare me when it scampered (I kept reminding myself it was more afraid of me than I was of it). The screeching crickets…well, what to do, right? The broken toilet flusher – a bucket from 'housekeeping' took care of that easily. The trickling shower…45 minutes per shower – well, it's not like I had to be anywhere in a hurry, right?
The Night Before the Run
I still dreaded it, but in the company of the Swaras, I began to catch their enthusiasm. I enjoyed hanging out the evening before, getting to know Swaras whom I only heard about or read from on email and put faces to names. It was a pleasant evening and after Ajaa's briefing, most of us called it a night to go to bed early. I was serenaded first by my singing neighbour (I remembered to compliment him on his singing voice the following day) and then harassed by screeching crickets. I did fall asleep, eventually, and slept rather well, all things considered.
Run Day
I had set my alarm for 5am, but my singing neighbour's equally melodious alarm roused me half an hour early (did I mention that Sego has very thin walls?) I didn't mind – it gave me a head-start on my pre-run panic – yes, the dread was back.
I don't usually eat before a morning run and all the literature, and seasoned opinions advise against anything different before an important run. I decided to take risk and eat a light breakfast, particularly because I was set to run longer than I ever had before, so I figured this merited breaking my habit. If there had to be consequences, I would rather deal with the consequences of having eaten than of a run hampered by hunger.
I joined the Swaras (including Nduku, Mercy, Jael, Ndinda and Maurice) who had decided to start their run at the lodge. In hindsight, that was my best decision of the day. The first 10.5km was an easy stretch of gently undulating hills, that allowed me to warm up and find my pace for the remainder of the run, as well as boosted my confidence for the climb that was subject of the dreadful stories. It also let me test my knee and get a sense of how it would hold up, and by the time I started the climb, I felt confident that I would make it to at least 25km.
At 10.5km, I reached the foot of the hill and began the climb at a steady pace and with confidence. I had Jael in my sight and she seemed as light-footed as a gazelle. She suddenly picked up her pace – because I'm pretty sure it was not me that slowed down – and before I knew it she was around several bends and far out of sight. The hill was gentler than I anticipated and I actually enjoyed it. Every so often, I would realize that I was enjoying this run and I'd get a silly smile on my face – I expected many things on this run, but enjoying it was not one of them!
At about 17km, my knee began to feel weird – not painful, but uncomfortable – so I slowed down and eventually decided to walk 0.5km of every 2km stretch. That alternation worked pretty well to keep me moving while keeping my knee well below a pain threshold.
Every so often, I'd come upon a small group of children walking downhill and they were hilariously splendid motivators. At one point a little girl ran at me clapping her hands and shouting (in Swahili), "Stop walking! Run! There are others ahead and they've left you far behind! Run!" With a laugh, I broke into a jog and she called out after me, "Yes! Like that!"
Otora caught up to me at about 20km and I still had enough water, as I was wearing my hydration belt, but I gratefully took a banana from him. At about 25km, as he went back downhill, he gave me two watermelon slices and took my picture. I was approaching burnout by this point and considered jumping into the vehicle, but decided to keep going until I simply couldn't.
That didn't take too long. At 27.5km, I was done. Just like that. It was like someone pressed 'EMERGENCY STOP' on a treadmill. I paused my Garmin, ended my run, walked a few metres to a shady spot under a tree and sat down to finish my water and wait for the next rescue vehicle. David soon came round the bend behind me and it seems he was looking for encouragement to stop too. He joined me in the shade and we introduced ourselves and struck up conversation. Before long, blessed rescue came with Mercy at the wheel accompanied by Jael…I was so wasted, I cannot remember who else was in the vehicle. They were like trail angels, offering refreshment, encouragement or rescue, depending on what was needed.
At the top of the hill, we joined other tired, exhilarated Swaras and the celebratory mood of accomplishment was simply fantastic. With Jael leading us, we stretched, then hung around chatting, snacking, hydrating and cheering on other Swaras as they completed their runs. Nduku and Katwa were among the Swara's who came in to a victorious finish while we waited there.
Not long after, on the drive back down to the lodge, we took in the full measure of the distance we had covered. I was so tired that I kept on nodding off – literally – hitting my head, a few times, on the headrest in front of me.
I set out to run 30km, I expected to achieve 25km and I achieved 27.5km. I felt so proud. I think can say, "I am an endurance runner." I'm not done with Fluorspar, yet – I will return. For now, though, I'll hang onto these bragging rights until October 25th when, God-willing, I will be able to say, "I am a marathoner."
Swaras rock! I'm proud to be one.