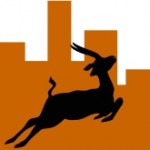 Date: June 2, 2012
After an eight month hiatus from running with the Swaras due to a mixture of travelling, clashing timetables and laziness, I decided to hit the road to usher in the month of June.
Having recently enticed my sport inclined friends to a day of rafting, an adventure that ended in swollen body parts, bruises and sore muscles (a result of our captain with a Jack Sparrow complex that led us to tip over at every rapid), no one was willing to join in on my latest quest to test the limits of body endurance.
Now I must confess that my recent exercise regime has been limited to sprints on the treadmill and various outdoor sports. But this did not cow me, after all I am named after one of our greatest female athletes "Jelimo". Actually she is named after me considering I graced this earth before she did. Anyway timelines aside, with a hero's name and having been born in the plains that have spurred many great runners, I was assured of some genetic advantage, or so I thought!
Bright and early, I downed some milk and a cereal bar, grabbed my sister's iPod, and headed to the starting point at Flora café. A good number of runners were already on site, and before long the route options were communicated. Macho mentality in high gear, I opted for the 12km, believing 6km to be child's play and an insult to my brethren from the running plains.
A first time candidate on the Flora run, I listened keenly to the route.  The route sounded familiar until the  terrain marked with coffee trees, my internal Google maps echoed destination not found….. I would survive; all I had to do was mark my fellow 12km participants.
The whistle was blown and off we went. It started with a pretty flat terrain and I used this opportunity to set my pace. The terrain soon transformed to a steep descent and ended at a small stream, and as they say what goes up must come down, this time the inverse of physics applied, a steep ascent from the stream unfolded. The first challenge!!
I got this covered, a smug smile etched my face as I easily climbed out to join the main road. All was well until I met the next challenge in the name of the Naivasha Road ascent… eiessh  now someone call the geological department , I think there is a paranormal phenomenon of accelerated gravity on that road!!!
Body engine on full gear, system overload, speedometer dropping now this is my interpretation of what Firestone meant when they coined the phrase "Where the Rubber Meets the Road …."
I soon resigned to counting electricity poles to urge me forward, but alas the poles to the peak at the ILRI roundabout seemed to have multiplied, five poles to destination…… system shut down, I could not take it no more, damn the poles, I decided to walk…. pace walking till the bridge, some muscle relief, it was time to hit the track again. You would think the downhill terrain that presented itself would be a relief. Now I understood why some people hate running down slopes, torture galore as muscles tensed to the downward spiral that unfolded.
Why did I sign up for this again????? Soon the hill to the animal research center began, and as fate would have it, it was also time I learnt why borrowing someone's iPod is insanity. The playlist suddenly drifted into some sort of classical/orchestral musical pieces…..no offense to orchestral music lovers but that piece had staccato violin notes that were aligned to the muscle spasms I was experiencing, just the piece hell's gate keeper must have on his torture playlist!!!
Enough was enough, I unplugged my earphones and embraced the noise of passing traffic whisking along Kabete. Thoughts of resigning and jumping into the nearest matatu crossed my mind but clearly I had taken off legs first, brains later, and forgotten to carry any emergency money,  only a bottle of water in hand which I must say got heavier as I went along.
Step by step, I anxiously searched for the elusive coffee trees which I remembered denoted proximity to the finishing line. I think I have a jinx with all things coffee related (a story for another day). No coffee tree in sight I decided the world would not stop revolving if I walked the rest of the way and that I did, having marked my brethren in red jackets as my location pointers (sorry after the long break am not familiar with many Swaras, to be amended).  Whenever I would lose sight of the red jackets ahead of me, I would quicken my pace to ensure my horizon was dotted by red before I returned to my pace walking.
Engrossed in my thoughts, I suddenly realized the red jackets had stopped and were in the company of Madam Coordinator who knowing this was my first attempt to Flora, waited for me at the turning towards the next stream, thanks guys!!!!!.
Next, a steep slope slowly edging to the man-made bridge. All I could pray for was that this was not one of those pipe bridges I have read horror stories about from the Swara fraternity. Mind racing, I was not sure what would be worse, climbing back the steep slope we had just descended upon or taking on a pipe!!!.
Glory be to God my acrobatic skills would not be tested, it was a rickety but solid cross-way. Across the bridge we went and soon my rescue team was on the running trail again. Keeping an eye on the red jackets, I continued my pace walking, enjoying the flora and fauna (come to think of it was this run strategically named to capture both the scenery and café or is it coincidence).
Victory, like an explorer on rough waters, I caught sight of coffee trees and knew the end was at hand. The distance to the finish line unfolded uneventful, just a blister threatening to breakout, I guess my shoes had to punish me for keeping them away from such adventure.
Two hours and counting, I arrived at Flora Café… refueled with a cup of tea and a mysteriously tasty Mandazi or was it the side effects of the run.
Verdict: I have come to understand why the club is appropriately called the Urban Swaras!!! There are no mammals fast, brave or is it insane enough to sprint across the grasslands of Urban Nairobi!!!!!!! I will keep my dosage to once a month… until July.