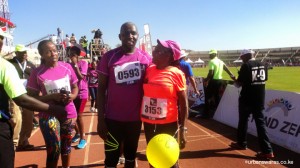 I registered for the First Lady's Half Marathon for Sunday 8th March, a week after running Kilimanjaro Half Marathon 2015. As members of the most well established running club in Nairobi, Lucy, Jael and I decided to try the pace setters balloons which we were not able to use during the Nairobi Standard Chartered Marathon 2014. Lucy worked very hard to make sure that we got the balloons on time. I tell you, Swaras are very passionate in doing and accomplishing a mission.
We woke up at 5.20am and prepared ourselves. On our way we passed to collect the balloons which had to be filled with lithium in the morning. We arrived at a certain Lady's house along Ngong road at 5.50am and were handed yellow balloons in 10mins. We then went to pick Jael and walked to the stadium. Lucy had to find a way of labeling the balloons with times for pace setting. We managed to get a few people who agreed to have them. We tried to persuade a few Swaras but they felt pressure to run for the 1st time with balloons and trying to run that pace. So we left to the starting assembly point. As we approached, we arrived about the same time with the 1st Lady Hon. Margaret Kenyatta, accompanied by a battery of security, medical personnel (Kariakim), Coach D. Wakiihuri, Elite runners e.g. Catherine Ndereva and Her training mates and P.A.
After a short address by the A.K. Chairman Isaiah Kiplangat and being the Swara paparazzi I managed to get a few photos of the 1st lady at the start line before the gun went off. I spent 5 mins taking photos while many runners ran past me. By the time I started, most people had gone. I got into the business again with Surinder and Francesca nearby. By that time, Jael and Joe had already taken off and I think they were already near the railway. I pushed and by the time I warmed up we were at the Nairobi Area traffic headquarters. After that, we rolled on Mbagathi road and as usual I am good downhill. I cruised until to my greatest surprise in life I caught up with elder son Edwin Mutinda who has never run while holding on one a hand a can of energy drink, and in the other hand a bottle of water, while a packet of embassy cigarette was in his pocket. We ran together until the Madaraka round about and he quit at the 10kms mark to the stadium. I continued running and met Abdi with his twin daughters waiting for us at the Lusaka round about where the girls cheered and encouraged me as the father took photos. At that point I started pushing and knowing that the turning point was at General Motors. I ran past a few people who were now getting tired. At Panari Hotel guess whom I caught with? The Deputy President Hon. William Ruto with his security. This time he was running and walking. I exchanged greetings and took photo of him and left to the turning point, which was marked 15kms, which we doubted according the people who had Garmin watches. Another surprise; I met Senator for Elgeyo Marakwet Hon. Murkomen. I ran with him all the way until the south C fly over which is about 2 kms to the finish; that's where I left him. I tell you there good MP's and Senators. Even though they don't run but I think they do Gym a lot and Kudos to them.
Lastly I met the 1st lady at the Shell station and her team followed by security cars, mobile toilet, ambulance etc and imagines after all these there were quite a number of runners running behind all that up to South C fly over. After all these I came face to face with the 10 kms walkers at the Abdi's total petrol station where we had mounted our banners for the swaras. At this point you run to the finishing because everyone was all over the road until the finishing line. There was no separation of the 10kms and 21 kms. It was chaotic. A few minutes after I finished Senator Murkomen came and we took photos with him congratulating each other. I remained in the stadium waiting for the arrival of 1st Lady, but after a while the President of the Republic of Kenya arrived to receive the 1st Lady; by this time the finishing clock was reading 3hrs. 25 mins. I managed to take some photos of the President, posted on the link at the end of this article. After that, I left and joined the party at Abdis Petrol Station where we had breakfast and had a chat.
About the balloons for pace setters, a lot of people thought they are just decors; only a few people and elite runners knew what they were. We need to be the club that will be pace setting in the coming marathons in the country. We will approach Nike to help us or train to become proper pace setters. So don't be embarrassed when we ask you to volunteer. I had gotten a balloon for 2hrs. 20mins but I think I ran below 2hrs.10 mins. Since it was a flat course although that is very wrong. I should have stuck to 2 hrs.20min.
I would like to thank all the Swaras who turned up for the event and even more those who ran Kilimanjaro Marathon, and after a week were on the road again; most of them improved on their time in Moshi eg. Niraj
Here are links to enjoy what I captured for you while you were away.
https://plus.google.com/116914116524377853806/posts/4uNebngPaao
https://plus.google.com/116914116524377853806/posts/CqU7d3ycyFj