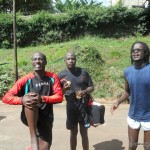 Date: July 16, 2011
This run was planned a week earlier on Saturday at Francesca's residence when we held a post Lewa party. Mutua very kindly agreed to host the run from his residence which was a farewell run for KEVIN KIBET, who is leaving Kenya in about a week's time.
On Saturday 16 July the core Swaras (with notable absentees Nadine, Francesca, …………………………….) gathered at Mutua's. Chairman Ajaa, with his late grand entry summoned us and discussed various distance routes and informed us that run was in honor of KIBET. Who is this Kibet as there was so much emphasis on Him? Well, as Mutua and Ajaa were discussing routes, another grand entry, by a tall RASTA FERRIAN with a pretty short young white lady. They stood silently and listened to the routes being announced by the Chairman. We all set our watches and BANG! We started the run.
MZEE KIJANA decided to be the pacer and lead the pack with RASTA. All this time MZEE was wondering who is this KIBET as a week earlier a lot of emails were flying out wishing him since he was leaving the country. MZEE had never met him. So as MZEE started the run with this RASTA very boldly asked him" HEY, DO YOU KNOW WHO IS THIS KIBET EVERY ONE IS TALKING ABOUT" and in very soft tone he replied" I AM KIBET". WAS MZEE EMBARRASED?  No way! He continued his conversation with him and extracted a lot of info from him once he learnt that KIBET was with Safaicom. They both kept running ahead of other Swaras and leading them at least for 1KM until the TWIN BROTHERS, could not take it that MZEE KIJANA was leading the pack. First they joined MZEE and KIBET, and then they just started flying of. WOW! Some speed they have! In all his modesty and being the eldest in the group, MZEE not only let them, but also all the SWARAS overtake him. Every one ran their desired distances and converged back at Mutua's. Nothing much to comment about the terrain as all the Swaras knew their routes.
MAN O MAN! What a reception at Mutua's! The dining table was laid with water, juices, brown bread, butter, peanut butter, thermoses full of hot water, hot milk, tea bags, coffee, and if that was not enough, hot mandazi, spring rolls (veggie and meat), samosas were emerging from the kitchen nonstop! EAT TO YOUR HEART'S FILL WAS MUTUA'S MOTTO!
Madam Coordinator, who has taken a forced voluntary leave for three months claiming an injury to her thigh muscles (thigh muscles? If it were toes, fingers, ankles, or ……………, would have understood), had joined the party whilst the Swaras were enjoying their run. She was busy enjoying herself with all the food and drinks and looked extremely comfortable. Didn't see her thigh(s) bandaged! Sorry she was in her usual famous tight blue jeans, so it was difficult.
Anyway, she set the ball rolling and invited each of the Swaras to say a few words or sentences to personally bid farewell to KIBET. The last from the group was Chairman Ajaa and finally KIBET responded. He introduced the pretty, short young lady (half his height), BETHANY as his life partner.
Kibet is proceeding to USA for three and half years for some specialized studies. Kibet, we the SWARAS wish you all the success in your career and hope that you will return to join us again.
The SWARAS extend their sincere appreciation to MUTUA AND HIS GOOD LADY SHIROO AND SON KEN, for hosting us to such a nice breakfast. THANK YOU FOR ALL YOUR WARM HOSPITALITY!
Rosemary, thanks for being the official photographer and having posted the same to SWARAS on email. Much appreciated.