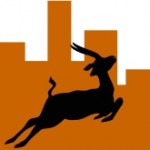 Date: April 1, 2013
I'm loving this feeling of aching thighs and ribs two days on from the Monday Run. How did it come about?
It was an unusual start to a week, but thanks to those who had provided us with multiple runs during the Easter Period, I was excited, and a little curious, about how it would unfold.
After picking Rajesh who I concluded later on, is another veteran of running, we made our way to the KEMRI Institute. Whilst I was unsure about whether I should have been coming or going along Mbagathi Road, I noticed the flashing lights on May's car and breathed a sigh of relief.
Once inside the KEMRI Compound, I was quite impressed with the naturally shaded parking, a Football Pitch, and a multitude of separate well kempt buildings. We got to talking, when Nduku called and informed me that she was already at what would become our starting point.
Once there Nduku introduced us to a gentleman called Theuri, whom she first ran together with in Lewa 2005. Nduku amazes me with the number of runners whom she has interacted and run with. This introduction led Nduku to offer us a vital piece of advice based on her experience. Never go to the Lewa Marathon without Sleeping Bags and Tents, especially if you are a busload without Sleeping Bags and Tents. Mattresses will not suffice. She was part of a group that did this in 2005, and really felt the chill at about 3pm.
Nancy and Mutua were next to arrive, followed by Lucy who helpfully also came with Bananas and Water. It may easily be assumed that these are part and parcel of a run, but they're a bonus. James from the U.N Team was there too, who would be taking us through our paces. Also there were two Gentlemen whose names I can't remember, but who made it more enjoyable.
We contemplated the idea of doing a small run outside of KEMRI, but decided to do laps inside instead, and my thighs and ribs tell me this was worthwhile.
We started off doing complete laps for the first 15 minutes after which James suggested that we should begin some Hill/Speed work. We made our way to the starting point for this which was located within the lap. A few nervous looks were exchanged as we waited for James's 3-2-1 Go!  Mutua seemed composed and unaffected by all this.
We were to do 4 repetitions of the Climb and Jog Down. My first attempt was more about trial and error and thereafter working on a Strategy. Mutua was consistently in front, with the rest of us through our own efforts keeping it relatively close.
With the repetitions done and me personally making no attempt to stop my lungs from sucking and releasing air, we made our way to warm down. The warm down included stretches, and good flexibility on show, generally.
We were glad to end the workout with well laid out and delicious Beverages, Mandazis and Samosas at the In-house Canteen. May's eyes reflected her instant liking for the Samosas, and she went looking for more.
Another bonus, was cutting of Nduku's Birthday cake, who on that day turned approximately 59 years and 23 days.
I personally recommend that we do more of this type of training.
Thank you Nduku, for playing your part in facilitating the Run.
Have a great remainder of the week all!!