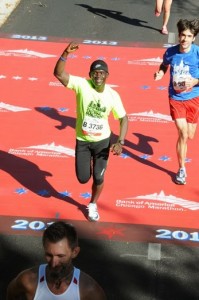 Finally, I get my ticket to Boston crossing the tape in Chicago in 3hrs 6min. It was a perfect day for running and what an awesome crowd!
One year ago I ran my first marathon in Lewa in 3hrs 41min which was a very painful experience; I promised myself I would never run a marathon again. Then I met the Swaras and running became a lifestyle with unlimited possibilities.
As others look forward to the golf course over the weekend, I am always excited about the new trails that the Swaras keep unleashing. Thanks Swaras for everything, couldn't have done this without your support. Chairman, I owe you big time, no doubt the Flourspar run did the magic for me.
Good luck to everyone doing Stanchart Nairobi marathon this year, and I can't believe I will be missing in action in the Naivasha relay! The Big Apple beckons.
It's possible, keep running!