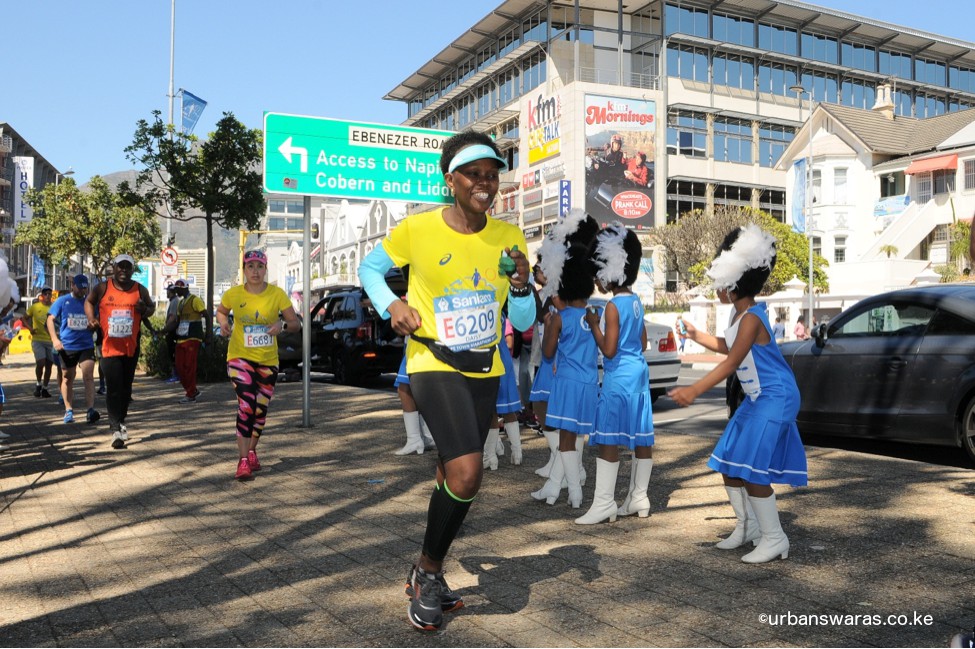 Date: September 17th, 2017
Venue: Cape Town, South Africa
One thing I have discovered with running is that it is a happy addiction. The wave of endorphins you get is better than any high. The crazy injection of energy at the end of the run, is just out there. This cannot be described until you done it. At 30 KM you curse yourself for doing the run, you doubt your sanity, your body is in pain, you can do better things, wondering what you have been doing on a strange road for the last 3 hours plus (that's for slomos like me) … at 42, you have this "feel good" feeling that you are good for another 10km.
As I start a rant about a second marathon in the year, there are a number of people who claimed I said I will never run a marathon again after the last one four months ago. I do not recall ever saying such a thing, and no screenshot will prove otherwise!! :).
Planning for the Run
I have never been a fast runner, and I doubt I am capable of running fast. The best I average is 6:20, this is a big improvement from 8mins that I started some years ago. I guess I enjoy running a lot, that I want to take my time doing it.
I happened to be scheduled to be "in the neighborhood" of Cape Town in September for official business. Entries had closed over one month earlier but being a peculiar Kenyan, I believe a slot is always available. Sure enough, after sending around 10 emails, a slot opened up and I had my confirmation in two days…
I got contacts of a Swara "we" imported and adopted, Cecilia. She is a very nice Tanzanian who stays in Cape Town and has run this race. Somehow Swaras imported her from Moshi during the Kilimanjaro marathon. She was very helpful in pointers and kind enough to pick my packet and drop at the hotel since I was arriving very late the night before the race (chronicles of bad ideas goes on…).
The Training
Now all I have is 3 weeks to train and one week to tapper (more ideas…),. They say each marathon is a new experience. For me, this is what I allowed to get into my head. Before the registration, I had clocked good mileage and not missed any Swara run, and if I did, did reasonable mileage at home on Saturday. But once I decided to do this run, I decided to follow a "programme". I doubt that was necessary. Luckily, my friend who is rolling in the majors, Avani, was doing the Berlin Marathon. We managed to sneak some run together, the best run being at Ngong, that I felt I was on my best form and unbeatable.
Things went awesome, I enjoyed my training. My form and speed were really good and I even planned to get some PB since it will be sea level. Two weeks down when exhaustion hit, my legs could barely move and I dragged myself on the Kiambu and Ruaka run, still not relenting. The week before the run, I stopped running and had some sessions with Kariakim which helped relieve the soreness, but heaviness persisted.
That coupled with my shoes experiment. I am very flat-footed and my shoe brand seem not to work for me anymore, so I decided to change brand, (wrong choices near a marathon) and left me with crazy shin splits. At one point I understood why flat footed are not allowed to join some militaries. On the shin splits, I was advised calf sleeves work, and this is the best invention ever, they even relieved my tired leg… see me rocking the sleeves below. My search for perfect shoes goes on…
Race Day
The alarm went off at 4 am on the race day, wondered the level of love I have for myself if any. As I had oatmeal for breakfast and craving my normal pre-run ugali breakfast, my mind was telling me not to take this run. Thought of maybe taking a trip to Robben Island, former Mandela Prison. I expressed this view to a friend who was strangely awake, and he told me if I want to tour a prison he will gladly take me to visit Kodiaga Prison in Kisumu, and ensure I stay there if I come back without a medal!!. I did not take that threat lightly. With that, I finished my oats, banana, and final hydration, before heading off the start line.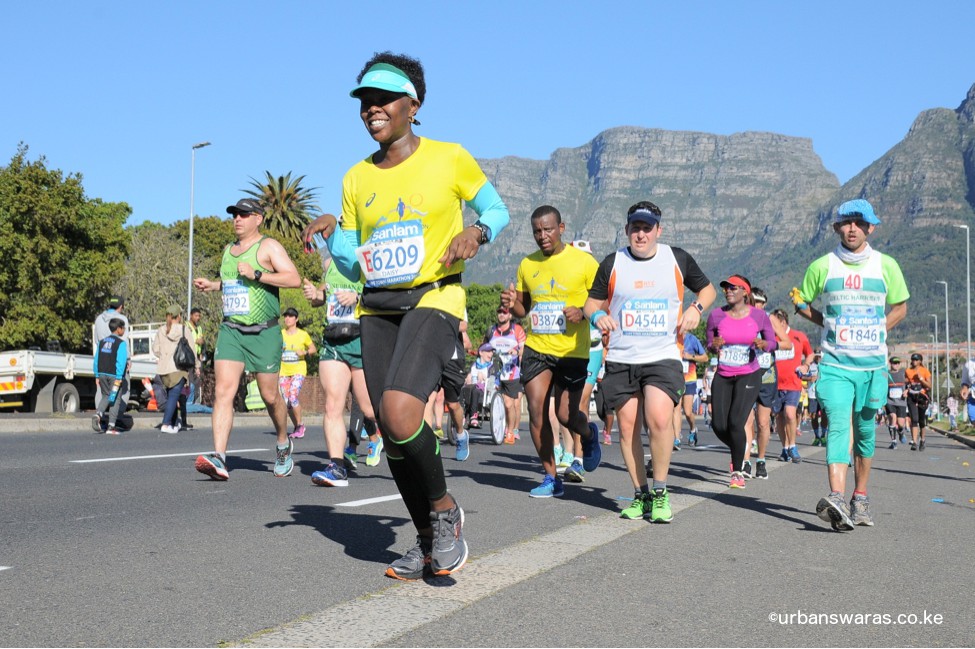 Reaching the venue, the high was back. I was already excited about the run. At the backdrop of the amazing Table Mountain, it was all upbeat about the run ahead. Looking at the strange shape of the mountain, even the idea of taking a hike after the run crossed my mind, by it was killed immediately, knowing how these things go
The gun went off and after 4 minutes' walk reached the actual start line, the sad bit of being a slow runner (sure the first lot were on their 3km)…. I was so upbeat even the heavy legs were easily ignored. The beauty about this run is that they print your name on your race number. So, as you run, feel like an elite guy cheering "go Daisy!!!", that is an amazing feeling and I understand how the elites feel, probably they are focused and no time to feed off their name being called, but for this mere mortal, it felt awesome. The run had amazing pacers and I managed to stay with the 4:30 pacers, past the half mark.
The speed was just normal knowing I was struggling with tired muscles. I managed to do half at 2:20, slower than what I did at Kili in high altitude, but felt great. This time I decided not to overhydrate. At 30kms, the legs just said enough is enough. Speed went down from 6:30 to around 8-10 per KM. I decided it's a tour and slowly took many selfies and photos of the town. I lost the pacers and the 4:55 pacers caught up. The last I heard was someone shouting "come on Daisy, this is the last sub 5 bus", well, I thought there were plenty more buses and they may as well continue.
The beauty about a slow run, you appreciate the beautiful scenery. I would recommend this run for anyone who knows they can kick some sea level behind or who just wants a beautiful scenery run. I had an "aha" moment realizing why it's called "two oceans". Planning a trip to the Cape? Just run it; ditch the tour buses.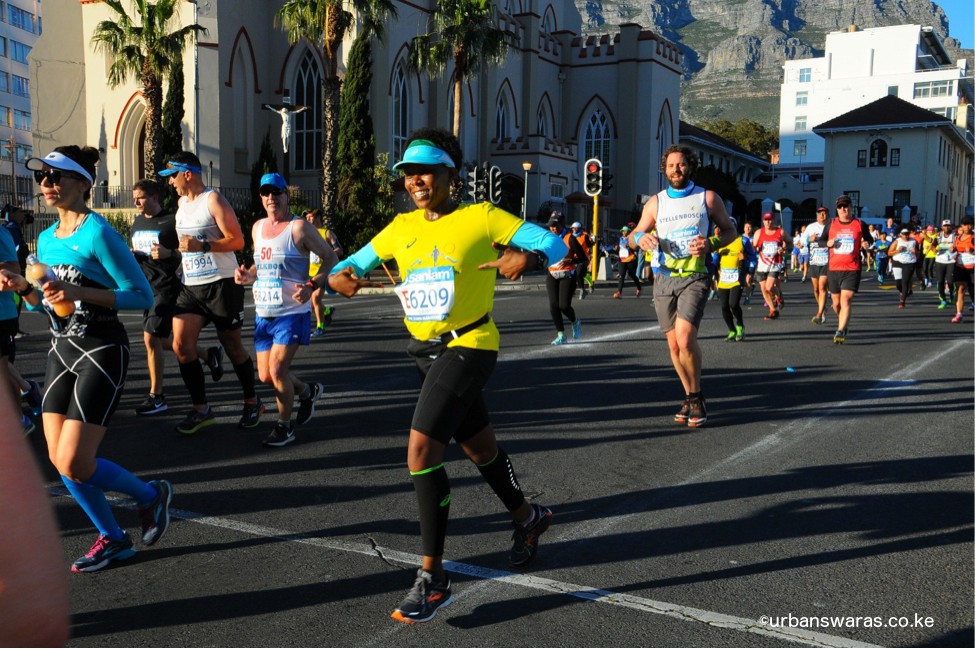 Strangely, the energy sneaked back at 40 kms (I am yet to understand how this marathon works) and I sprinted to the finish. Well, sort of; the feeling of finishing was just awesome, and your name being called individually as you finished just crowed it all.

Looking at the stats, I was so excited I managed to maintain an average of below 7 minutes per KM. The final stats I was also happy that I was not graded really badly among my peers.
Finally, I kicked another marathon behind. So now to the next, maybe an Ultra .. really no limit this time.