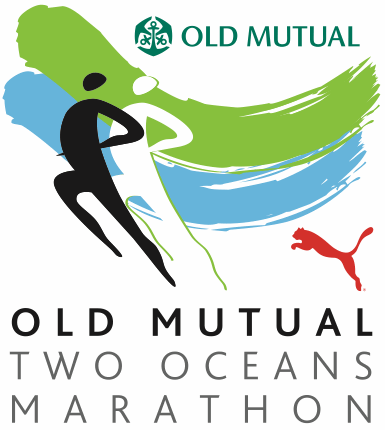 Great stuff Kimberly!  Congrats too go to Sean, Mitch and Aubrey. I am proud for you and I am sure that we shall see you in another Ultra some time soon. Indeed Cape Town 2014 experience was unforgettable and I hope you loved it as much as we did. My wife Nyakio (who doubles as my No.1 service crew) and I were there for 8 days until Wednesday and we enjoyed the race and the beauty of Cape Town.
And what a race we all had. I started off from the B pen and was therefore not far from the start line. At least I had a chance to catch a glimpse of the elite guys in A pen. I must agree at this point I felt like I was in the wrong starting place as I rubbed shoulders with these guys who looked so fit. This reminded me how far I had come in my running journey to now start off a race alongside such great runners. I told myself to calm down and stick to the race plan no matter what! One thing that mostly bothered me was whether my brand new Adidas shoes will hack this 56km tarmac course. I knew it was a big gamble to run with new shoes in such an important race but I think the running spirits must have convinced me not to worry about the new shoes after I used them for the 7.5km International Fun Run the previous morning. What I didn't want was to get blisters way before the finish line. After carefully comparing this new gear with my fully tested older Nike pair I concluded to do the unthinkable after just 7.5km of breaking into them. Off we went at 6.30am and after 1hr 38min I was at the 21km mark. On reaching 25 km mark some fans were dishing out baby potatoes and immediately I remembered my maternal grandma who had passed away at the age of 104yrs just less than 24hrs earlier. I remembered how much she loved potatoes and how her meals would not be complete without potatoes!  At that note I got a potato and chewed it in her great honor and loving memory. I also said a prayer for her soul at that point and asked her to forgive me as I was going to miss her funeral ceremony 2 days later.
Getting to the 28km mark was such a nice experience. I guess I eased up my pace after I reached here in 2hr 13min and realized that my target of 4hr 45min was certainly achievable. I got to the Marathon mark in 3hr 28min. After 3hr 53min of non stop running I reached the 46.3km mark (exactly at the peak of Constantia Nek) and guess what!? my Garmin device decided it had experienced enough of the ultra and it went off due to low battery charge. That didn't affect me much though since I knew I had only 10km to go. I then found myself at 50km in 4hr 16min and literary managed the last 6km with a smile knowing clearly that nothing could stop me from getting that Sainsbury silver medal I so cherished and had trained so hard for. I came home in 4hr 46min 10sec and excited to receive my Sainsbury silver medal. Amazing that I targeted 4hr 45min! My planning and training had worked out to precision. My only regret was that I didn't push hard in the 2 famous hills especially bearing in mind the amount of hill work I had thrown into my training. I opted for a more cautious pace when it came to the hills. After all, there is always another chance!
My running journey continues and cannot wait for the next challenge. But right now let's enjoy the achievement of finishing a 1st ultra unscathed and rest these bodies just for a while before pushing hard again.
Cheers n well done once again. Now I know even an ultra is achievable!
Guys, keep running. Running is living.