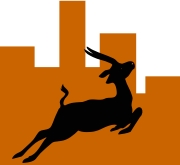 October 17th was the date and Brendan Molloy's house was the venue as he hosted the weekends Swara run. Any run hosted by a Swara seems to be very popular with other Swaras and this weekends was no different having attracted over 60 people, some from as far as Kitengela i.e. Tata Nduku.
That weekend we were also joined by kids and older runners from Kibera, where they are part of another running group both headed and formed, if i'm not mistaken, by our very own Swara Dennis Lopua. I hope we can do future runs together as well. A brilliant idea was formed by either someone or a group of people, that Swaras were to be requested to equip runners of that running club with spare running gear, which otherwise was always either folded or hung in respective wardrobes in their homes, or placed among their shoes. We had additionally been requested as a group to spare cash if we could, which would finance entries into the upcoming Stanchart marathon for some of their runners. A total of Kenya Shillings fifty thousand ended up being raised. Quite a phenomenal amount I think.
It had been raining on and off the night before, because of which I had accepted that the run wasn't going to be a totally dry affair regardless but remained enthusiastic, which as it turned out wasn't misplaced enthusiasm at all. Amongst the many that had turned up for the run were Joy (our nomadic swara and excellent writer), Ashok (one of those swaras who live life with a big spoon), Liz Kanini who is now seriously into the 42k bracket), and Ndungu (a quiet inspiration to many I suspect, including myself).
The success of the Chairman's pre-run briefing was a little iffy from where I was standing, caused by there having been a beehive of activity that had been taking place at the same time. One thing that pretty much everyone hears though and something that is an almost inescapable sound is the sound of the whistle that signals the start of the run and which didn't fail in its purpose that time either. Whilst we were being briefed, Otora was back on the trail, re-marking what had previously been washed off the night before. I find his work commendable.
After we had exited the gate, Swaras could still be seen driving to the venue. The numbers were well and truly swelling. Having begun in the direction of Peponi Road, we had taken a right turn away from Peponi Road. The latest journey of discovery had begun and my heart swelled at that realization. Knowing our respective cruising speeds, I was surprised to find myself in the company of Ndungu with the run having well and truly begun, but I later reasoned with information in the palm of my hands that he probably had his upcoming full marathon in mind when running that day. The same had been true with our biker Swara Brian who later confessed so to me. The run had consisted of both tarmacked surfaces and off-road trails, as well as a section where we went down some steps, crossed a metal bridge and up some after that. Nice addition of variety.
At one point during the trail sections of the run, I was approaching a group of kids standing by the side who were all smiles, whom as I ran passed them, began running with me whilst excitedly giggling and talking amongst themselves. Not only did it give me some extra oomph, but was very nice to witness as well. Running down Kirawa Road, I had been passed by Benjamin Chikani, one of those whose brilliant running exploits had resulted in a strong performance by the Swaras in the Naivasha Relay. I looked on in admiration until he was out of sight.
The penultimate section of the run for me was a section of Peponi Road which tests for agility and mental alertness as a runner, to an extent. The final stretch was the road we had begun on and the parked trail of swara cars was a welcome sight.
What awaited, and what I experienced was a wonderful breakfast that could rival any 5 five star hotel in my view. Not only that, but tents had been pitched up for us to sit under. Sue Wendot was also assisting in hosting us. All in all, it was a wonderful atmosphere.
Many thanks to Brian.
Regards and all the best at Stanchart everyone.