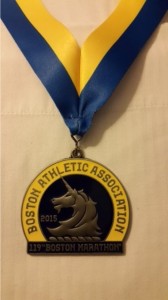 Ahem! Officer on deck! As you were…. I have always admired the brave men and women in uniforms. But for my dad's objection, I came so close to joining the air force while still a young lad. How pleasing then to acquire a new nickname; "Major" from my peeps after finally completing the six races of the World Marathon Majors in Boston.
Boston was a very emotional run for me being my last race of the Majors series. The experience was literally the same as sitting for the final paper in high school. Indeed there is only one Boston and despite the awful weather conditions, I pulled out all the stops to make a big exit, crossing the finish line in Boylston Street in 02.49.33.
The cold, windy and wet weather did not dampen the spirit of simply experiencing the much touted bliss of running the world's oldest road race and arguably the most prestigious marathon. And indeed the experience lived up to its billing with the camaraderie and fanfare along the course comparable to none, despite the skies opening up pretty much the whole race.
Boston city literally comes to standstill over the marathon weekend with the marathon being the party of the year for the beautiful city with a rich history. The highlight of the race has to be passing by Wellesley College around 20km into the race where one is met with deafening cheers from the college girls. It is a breath-taking experience like no other.
It's exactly 18 months since I began this journey basically doing an average of one major race every 3 months. I am still pinching myself for assurance that this is real. Some might be wondering how an average bloke like me can accomplish such a feat, but trust me it all started from very humble beginnings.
As a matter of fact, it all started right after running my first full marathon in Lewa about 3 years ago which truth be told, was neither by design nor desire. Not to be left behind for a road trip I had paid for, I ended up signing up for a full marathon unprepared after missing out a slot in Tito's DHL half marathon team.
My marathon debut is a story for another day though a defining moment of my running exploits. It basically taught me something new about the human will and that one can get pure pleasure out of sheer pain. That experience in Lewa made me become audacious and it was not long before I signed up for Paris Marathon which became a game changer in my young running life.
From Paris with love, I had tasted the famous runner's high courtesy of a sublime international race and as runners like to say, the running bug had bitten too deep. It is then that I threw down the gauntlet and made running all the 6 World Marathon Major races within 2 years, an item on my bucket list.
Though in the beginning a tall order, this ambitious target was the only way I could motivate myself to making running a lifestyle which by any stretch of imagination, requires some investment and sacrifice. From this high pedestal, failure was not an option.
I sort of remember eavesdropping Ajaa talking about Toby and his connection with the New York City Marathon way back in early 2013. I then intimated Ajaa how I was gonna try and enter that year's NYC marathon of which he was quick to dismiss because at that time, I was merely an average runner, hardly out of my running diapers with the Swaras.
It was right there that Saturday morning at Maanzoni lodge that I became resolute and decided it would be my core business to find a way of gaining entry into at least one of the major races that year. The rest as the say is history, with each of my major races well captured as running tales in the Urban Swaras website.
I know one will be tempted to ask which among the 6 races was a favorite. Well, each offered quite a different experience all together but although not my personal best, hats off to Berlin marathon. This is where I first ran under 3 hours, a big milestone by any standards to any recreational runner. The training preparation that came before this feat in Berlin was so insane and being there to witness the making of a new world record was simply priceless, just blew me away.
Special acknowledgement goes out to my immediate family. It's hard to believe we did it! I wouldn't have wanted to share the ride with anyone else. Thank you for taking my running selfishness in stride. I also take this opportunity to thank the entire Swara fraternity for the great support accorded to me during this journey.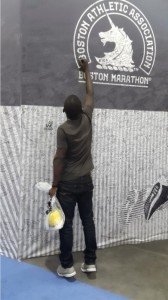 Special appreciation goes to Ajaa and by extension the entire CRE, for all those inspiring trails that made me fall in love with running. Otora for pushing me during the runs from day one and going an extra mile to ensure extra miles were available for me when needed. MK for throwing the sub 3hour challenge to me and continuous words of encouragement and motivation. Tata for being a role model and the priceless advice on becoming a better runner and avoiding injuries. And last but not least, the 3 "musketeers" of our able MCs Jael, Lucy and Sue for unwavering support and occasional light moments that reminded me that running need not be too serious an affair.
Through this journey, I became a better person in many ways. Through these races, I became a world citizen, met a lot of good people and made friends all over these amazing cities. Through the journey, I discovered that the world is indeed beautiful.
From right at home in our backyard, I travelled to places I could only dream of and realized that running need not be homework, but can indeed be leisure. Little wonder then that I feel so alive in my thirties more than I ever felt in my youthful 20's!
Well, as I wait out my 6 Star World Marathon Majors Finisher Certificate, it's tempting to ask what next? Well, move over marathons. It's now time to go long and easy. To the Ultra Marathon major-generals (Sean, Mitch, Ajaa, et al), Ahem! Officer reporting for duty, awaiting my orders, Sir!