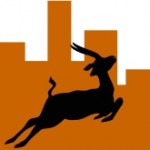 Last Saturday run from Ivangara ended with me screaming in the shower. And it is not what you think. Rather, it was the pain of water touching my raw wounds; while still on the first kilometer, right after crossing the road at James Gichuru, and waving thankfully to the driver who stopped to let us cross, I kissed the ground. Practically. I must have tripped on the protruding root of a tree, or something- I may never know. It seemed that everything went in slow motion and the next thing I knew was Avani et al helping me get up from the ground, serious concern written all over their faces.
There and then, I was faced with a momentous decision; to proceed, or to turn back: I hardly had time to think, for when I looked at my hands and saw blood, my mind told me to run. And so I did.
I must mention that every 15 minutes or so Avani kept asking me if I wanted to go back, or to shorten our distance. At one time it crossed my mind that Avani is the one who wanted to shorten the distance:-)
So, we ran, through a superbly marked route, sometimes downhill, but mostly uphill, as though we were training for a Mt.Kilimanjaro summit, instead of the Moshi marathon. As I zoomed through some section with long grass, feeling quite energized and whistling a tune in my mind, I was sobered up as soon as I came across a river to cross. Well, I may have
crossed many rivers in my rural Africa life, but never have I been faced with walking over a sewage pipe, with murky waters lurking sinisterly below, and absolutely no indication of how deep I might be sucked in.
In a matter of seconds, we found ourselves, a bunch of fine ladies, in great distress, by the rivers of ….(What is the name of that river?). We could have sat down and wailed, when we remembered several other routes antelope could have marked, were it not for the timely help of two valiant gentlemen.
Swaras, if anyone ever tells you that chivalry  is dead, please quote to them this story of the rescue that was done by Steve and Linus. I might mention here that we saw MK running high along the wall while looking down to the ladies steeped in the valley…..(That's another story)
Anyway, Linus and Steve, who had already crossed and run ahead turned back when they heard our cries of anguish and patiently made sure that all the ladies were safely across. And it was no easy feat since they sometimes literally had to carry some people from halfway the pipe (I am not naming names). Thank you Linus and Steve, but chairman, could we avoid the pipe next time?
Then there was that section of the by-pass with a hill that looked like Calvary because seriously, it was like crucifixion getting to the top. I had such a muscle pull at the top, and crossing over soon into the familiar territory that is Waiyaki way looked like we had just entered the promised land.
Thanks to chairman and the team for a grueling but fun run, though I am already starting to re-think the wisdom of trying 42km this year. I was so humbled on Saturday! More so when I witnessed the pain with which veterans like Ameet, MK, Ndichu et al arrived.
Thanks too to my partner (running partner) Avani for giving me the psyche.Finally my wounds have softened enough to allow me to document my experiences. A few people I have met the past few days think that my injuries are from battering and have politely and skilfully given me the address to FIDA. Maybe I should take chairman there.
Have a great week.