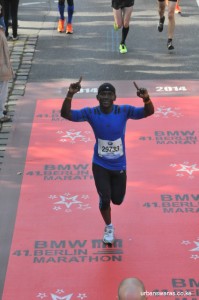 Folks, it had to be Berlin. After all, this is where world records are broken and as one went down on the very day, how fitting that I also outdid myself cruising home at an official time of 2.56.43, a personal best.
Guys', running a sub 3hrs marathon is the pinnacle of running achievement for most recreational runners and one would be hard pressed to find a more grandiose road race than Berlin to accomplish such a feat.
For folks like me with no natural talent or gait for running, a sub 3hrs marathon is really hard to accomplish, the holy grail of amateur running if you like. One has to be dedicated to a pretty all-encompassing training plan, literally training with same dedication as Wilson kipsang, but aside from the number 2 leading off your result time, there is no reward in waiting and yours is only a personal vendetta against the clock.
To give you a rough idea why joining this club isn't easy, only about 2% of runners who toe a marathon starting line will break 3 hours. Folks let me emphasize, running a marathon is hard. Doing it in less than 3 hours is really hard and I mean freaking hard!
My training involved an average of 115km per week and for an 8-5 employee like me; this meant that I had to run twice a day twice a week in order to log in at least 100km a week. I did progressive mileage build-up, plenty of running at a race pace of 4.1min per km and hill workouts every week. I Slept a lot more, ate my vegetables and my most difficult sacrifice was avoiding alcohol for 12 weeks!
After 9 weeks of hard training, I went to Mwea to test my speed which also marked the beginning of my taper to the big race. An effortless 1hr 22min in Mwea half marathon gave me all the confidence that I was ready to attack the ambitious 3hr mark.
And so after 12 weeks of training madness, I am so delighted that a sub 3hr marathon is in the bag. For that I am deeply grateful to Urban Swaras for the overwhelming support given through the whole journey.
I now totally agree with Oprah who opined that "Running is the greatest metaphor for life, because you get out of it what you put into it." And so was Muhammad Ali right when he quipped "The fight is won or lost far away from witnesses – behind the lines, in the gym and out there on the road, long before I dance under these lights."
Indeed what happens in a race is not about what happens on the race day but what has gone before. Let's face it, without the long weekend runs that I enjoy running with the Swa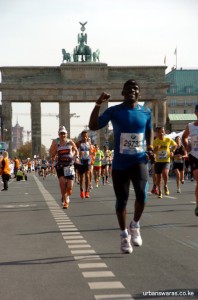 ras, it's unlikely that a fellow like me would even run and finish a marathon.
Berlin was a smooth ride and never before have I finished a marathon so comfortable with even energy to spare. They highlight of my trip was hanging out with the new world record holder at the marathon after-party.

Of course Kimetto instantly became a demigod after crossing the finish line and just getting close to him was always going to be a tall order. But for once, my very dark skin tone counted for something in Europe as I got an entry into the VIP deck by simply telling the bouncer that Dennis is my young bro!
And so as I sit down in my hotel room to finally pen down my Berlin experience, it gets a bit nostalgic thinking of where I have come from as a runner. 3 years ago I weighed 118kg and if you had asked me then to run a half a marathon, I would probably have said you must be out of your mind.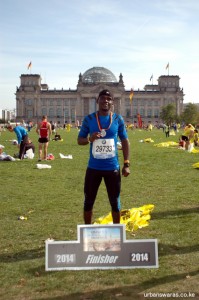 Then I met Tito and Jael who introduced me to running. It's tempting to say the rest is history and fast-forward to the Waliaula you now know. But the tipping point into my modest running accomplishments and more importantly a healthy lifestyle (now 72kg) was joining the Swaras.
As I look back down memory lane, I remember the simple days hanging out with Swaras; like Fran reminding me of the shuffle dance under the beautiful night skies of Lewa, watching Jael and Sue outdoing each other with Kanungo in the wilderness of Lewa or having a good laugh over a glass of wine with Wahome and Tata on the slopes of Kerio valley. Folks, these are the real days of my running life!
And as I sign out to catch my flight, you might be wondering what next for me? I guess my fast running days are now behind me now but eyes are still on the price with two more majors to go. The government is running east and who am I not to. Tokyo is calling………..