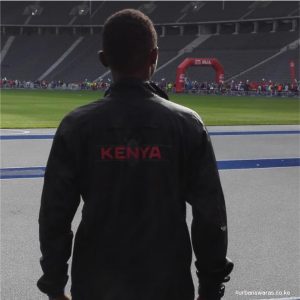 The Journey to Berlin started in 2016 as a journey to London. I balloted for the 2017 London Marathon, held my breath, was rejected, exhaled, and balloted for Berlin in the next breath. On 30th Nov 2016 I got the all-important email. I was in!
The Months Before
Berlin Marathon is a special race. Touted as the fastest World Record (WR) eligible course, it is the World Record (WR) and Personal Best (PB) destination of choice for elite runners and regular folks as well. I too was keen to make Berlin worth its while, sub 3 was my goal, a project my mind neatly christened 'breaking the sound barrier'.
With a PB of 3.04, I needed to knock off 5 minutes; not too hard, not too easy. In 2016, had transformed into a decent running machine, training back to back for three marathons; Kilimanjaro Marathon in February, Victoria Falls Marathon in July, and Stanchart Nairobi Marathon in October, dropping PBs by 10 minutes each time. But I was flat lining. To improve my shape would mean digging much deeper. I had lots of time; 10 months, or so I thought.
And so as 10 months whittled away, I put in some good long runs, deferred those essential but painful speed works, picked up a knee injury 3 months to race day, dropped the knee injury a month to race day and immediately embarked on the fool's errand of making up for lost mileage. I figured I could as well be in top mental shape if I couldn't be in 100% physical shape, and so when three weeks to race day I registered my highest weekly mileage of 137km, my mental preparedness was up in the clouds.
And We Have a Quorum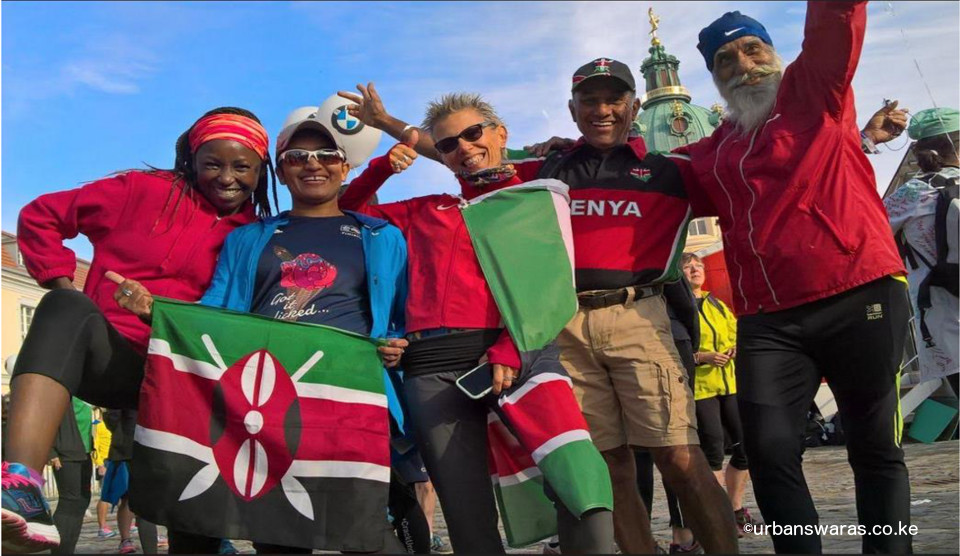 As the battle for miles raged, life was going on in the sidelines. Avani rounded up the Berlin bound Swaras into a WhatsApp fold which ended up holding what proved to be a first rate group; Avani Patel, Barbara Napoli, Felicita Kagwanja, Rebecca Mbithi, Anthony Mwai, Edward Mungai, and the default head of mission El Patron…. oh, in the group was an external observer, Shem; who'd occasionally cough or throw in a thumb lest we overlooked his presence.
The group morphed into a resource center on race matters, everyone throwing in valuable info; and I'll allow myself to single out Barbara and Avani, the two took a solemn oath to make the rest of us look extremely lazy; between them digging up and sharing accommodation options, flight options, setting up several rendezvous; a 'compare notes' lunch in Nairobi, a touch base at the expo, hosting a pasta dinner on marathon eve… the list goes on.
Where We Hit the Expo and Breakfast Run
Blink blink and 10 months is 2 days to D-day. I landed in Berlin, found myself at the business end of a looong queue snaking into the expo. I'm soon at the entrance, frantically searching for my predictably forgotten entry pass… thank heavens for good souls, marathon officials facilitate a pass. I collect the bib and other goodies, meet a few swaras at a Barbara meet point, we hear Patron had some unfortunate flight glitch, fortunately he still made it to the marathon.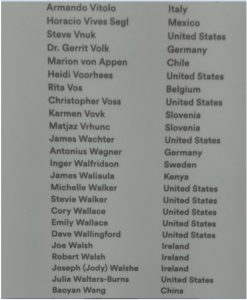 And then as I sweep the expo, I happen on this wall; it has a list of many names. Turns out it's the 6 star finishers; humans who've run the six marathons making up the Abbott World Marathon Majors- Berlin, Boston, Chicago, London, New York and Tokyo. My interest is instantly piqued and I carefully browse the list. I know what I'm looking for; there, James Waliaula, our decorated six star General sits solidly on the wall of Fame. Against the names are the participants' countries. I browse the countries; nope, no other Kenyan, and so James blazes the trail as the pioneer Kenyan 6 star finisher. I pick out SA and Zimbabwe as the other African countries represented on the wall.
The Majors fever seems to be doing rounds in the Swara ranks, some going for the six stars, others just to experience a major or two. Jack Ndegwa gets to be a 4 star in November and could well be the second Swara (Kenyan?) on the wall. Of the Berliners, Barbara, Avani, Felicita, and Edward are already multi-starred. Mwai, who seems to train very easy, is on his way too.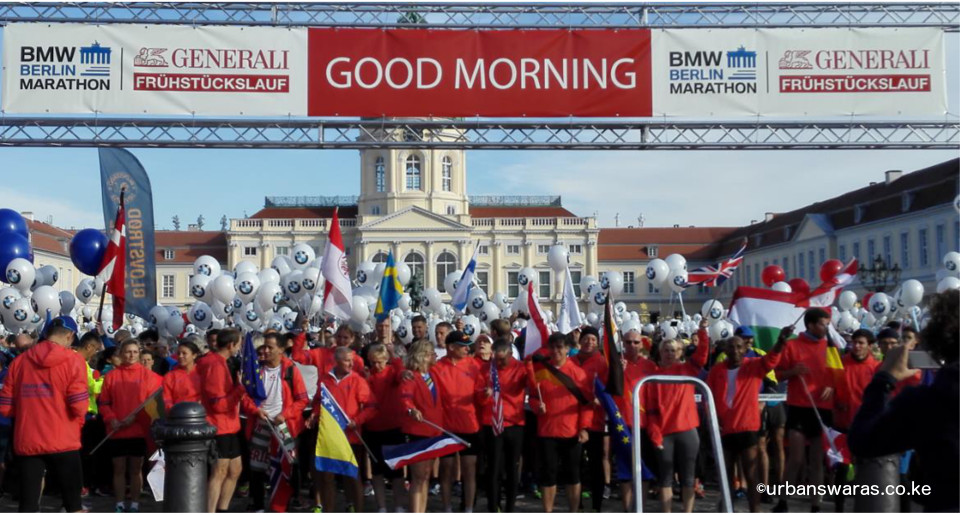 Berlin has the traditional Generali Breakfast run on marathon eve; a 6km run ending inside the historic Olympiastadion that hosted the infamous 1936 Olympics. I don my Kenya jacket and join the estimated 11,000 odd runners. As I leisurely jog, lost in the marathon spirit, someone falls in stride alongside me speaking Swahili. Meet Rose, a Kenyan living in the United States. She's running Berlin the second time back to back. She's going for 11 marathons this year, and is on her 8th! She'll hit Chicago in two weeks; she's odd, like most of you runners are. Felicita pulls up and we make a Kenyan trio at the electric finish inside the stadium.
Day ends with a Swara pasta dinner and by the time I get back to base, the Garmin on my wrist says my restless legs have covered 23kms, nothing a solid 9 hr sleep couldn't make right.
Day-D
Marathon is to start at 9.30. At 8.00 am I leave base, train station, meet nice Mozambican gentleman, hop onto train. Nice Mozambican has stories; he's been in Germany for 32yrs, somewhere between how frequently he visits native Mozambique and how best to live in Germany, he tells me "if you were to live in Germany" he says," you're better off getting a local girlfriend, trust him". Pity I couldn't pick his brains further on the matter, pity I have zero opinion on the matter, and sub-zero intention of living in Europe…
You don't want to hear my personal race details but allow me to bore you with a paragraph or two.
Finally, time of reckoning is here. Based on my interrupted training schedule, I have shaky confidence in my endurance. My plan is simple; go out at a blistering pace of 4.00min/km for the first 21km, and then let the race unfold. I presumed I could handle that pace given that I'd averaged a 4.11/km pace at muddy Mwea half marathon in July, and my shape had slightly improved since then.
Gun goes off, my 4.00 pace holds for a massive 2km, then it laughs in my face; too fast, I slow down to a more humanly pace. Nothing much to report until around 20k when the mid-race demons strike, the 3.00 hr pacers glide past with their many disciples in tow (the so called bus). From then on, my main occupation turns to keeping the 3.00 hr bus in sight, surging once in a while as they threatened to open too wide a gap. We get to 36 km and miraculously my body undergoes a revival. I somehow pull a 3:52 min 36th km and with the pacers back in sight check my speed. Body now feels fresh; with renewed confidence I cruise the last 5K, proudest moment being able to pull a 3.29 minute last km, very fast by my standards, to decisively break the sound barrier. 2.58.27 is the official chip time.
Trust the entire Swara team to do very well for themselves and it was good vibes all round.
My main takeout for the run is on the watch, final Garmin data shows a distance 43.22 km (strava compares at 42.9km) – a result of weaving in and out of the crowds and mostly running on the outside. With that distance, the Garmin average pace is 4:08 /km. The 4.08 ish pace fooled me until the 3hr pacers flew past, then I smelt trouble. I then had to pay more attention to the distance markers, then I had to (groan) engage my non-mathematical brain to estimate finish times. I bet a good number of runners marginally miss out on their targets for exclusively relying on their gadgets. I remember telling a fellow runner that the pacers were going too fast- before I saw the light.
I won't mention the much hyped rain, I didn't mind it…its only nuisance was messing up my bib.
The post-race massage was perfect, not least because I landed on a spot manned by two nice smiley ladies who while massaging my tired legs asked me to point out any particular pain points for their attention; well my knee injury had come alive, and my groin was beat on account of the strides…I directed them to the knee.
Some Stats
| | |
| --- | --- |
| Total Finishers | 39,214 (female 11,062, male; 28,152) |
| Sub 3 Finishers (don't people run fast) | 1,766 (female 89, male 1677) |
| Cheruiyot's placement | 1,535 |
Source; http://results.scc-events.com/2017/
And then there was the evening party, a proper way to recover by meeting the elites and have a recovery dance for the lovers of dance floor. I hit the party with our newfound Amerikenyan friend, the rest of the Swaras deciding to give their legs a well-deserved rest.
It's impossible being a non-elite Kenyan in such a forum; especially when the other six Kenyans are elites, so I soon got tired of explaining that I was regular folk. My kenyanness got to pay off as I strode into the VIP lounge with no entry pass and no questions asked, where I finally got to hang out with most importantly the legendary Kipchoge and also Kipsang, the pacers and the rest of the elites.
And that was Berlin.