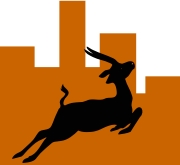 As is required for the Chairman's Run, we were on the road in the wee hours of the morning already having branched off Langata Road before 6. There was drizzle in the air but I thought that was the last we would see of it, imagining a hot and sunny Magadi Road awaited. As sometimes happens we were the first to get there, however I was in no doubt that cars would be streaming in very shortly. Annabel would have made it sooner had she not been driving her Subaru up and down that murram road until she found the place, presumably by seeing other cars at the gate from a distance.
Appearing that day amongst others was Ferrah; one of the next Swaras who'll be doing the 56k in Cape Town next year, Waliula; whose running exploits are well known and someone who I feel a tingle every time I meet, Linus who I met later on and whose mileage I've heard has taken a sharp turn upwards- Watch him go I say; Ndungu whose both running and storytelling packs a punch and Wahome; both an excellent host and an admired runner with wise counsel.
Peter realized in an instant that he had left his keys in his cars ignition and the doors locked. His saving grace though was that his shoes were at hand, and wouldn't even have to entertain the thought of doing the run in the slippers he was wearing. I quick call to Lina, perhaps waking her up and help was on its way with the spare key… mini crisis over for Peter.
A short deliberation and head scratching later, we managed to get people into cars with Ajaa having paired us together. In reality he could have had a piece of cake whilst doing so as it came out flawless. Still cool and overcast as we drove toward the start I continued hoping it would remain that way, but resigned at that point. It was going to be a challenge regardless. Minutes from the start point, there was the now familiar figure of Katwa coming from the opposite direction. His determination to run and unorthodox means cannot be imitated I don't think. Don't recall seeing him again that day.
So we got to the first drop off point which was a very approximate 35k distance, and the numbers lining up were breathtaking. Amongst others in that group was Raoul, Leif, Ferrah, Samuel and Ndungu. It did little for me apart from amaze me, so I wasn't going to start from there. I had initially thought of doing a 20k distance but adjusted to 25k which was our next stop. I forgot to mention it was drizzling at the start, something I never expected. Ajaa might have been in communication with the weather gods and asked them to go easy on us.
Doing the 25k's from what I can remember was Lilian whose slow and steady approach takes a lot of grit and determination, Buddies Alix and Eugenie, and Ashok; yet another inspiration in terms of the age he has taken up running and the progress he continues to make. A short while into my run, I heard voices from behind and then felt footsteps getting closer. I would soon discover they were Annabel's. I didn't know at what point she started, but she began pulling away steadily as I had expected. About 10 minutes later, there was a climbs distance between us and then some.
I wondered to myself, "Does she realize this is Magadi?," and then left it at that steadily moving on myself. One climb later, I remembered Loise gasping at the climb just before we get to Kisame's and thought that was it. But Kisame's was nowhere to be seen as I reached a plateau, so I prepared myself for more to come with a bit of dread. Amongst others on Patrol was Chairman whom I was surprised to see not running but sacrificing himself, and on another hotter day I would have gleefully gobbled up his fruit offering. A bit later approached Linus and Mugambi, with Linus telling me he'd already done his distance. His maturity as a runner may be growing.
It's past Olepolos I think that a snaking but relatively flat terrain comes, before the final climb, which sometimes feels like two or three put together. All in all a definite test of endurance is the Magadi Run. I decided to power walk that, and was glad I did so, as a kilometer later, I was able to break into a running stride again to the finish.
Mentions go to Alix who said she was determined not to walk her 25k's and managed it and Lina who took up the responsibility of collecting and recording payments.
The usual hospitality followed back at the Home, after which we left at leisure.
As we were leaving, the 35kears were beginning to arrive, Raoul first I think, Ndungu was almost there despite his pull or something as I recall reading about, and Amai, who'd stopped meters short of the gate and seemed to be having a jolly conversation with the occupants of the car. Well done to all.
Have a great week all, and see you on Saturday.