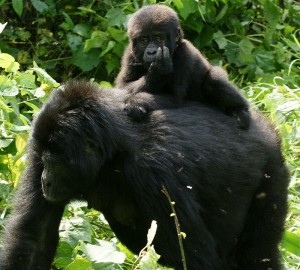 Jimmy and I left for Kigali late on Thursday 21st May 2015 with our flight having been scheduled to take off at 23:25 Kenyan time and arrive at five past midnight Rwandan time. Things went largely according to schedule and a cool breeze welcomed us in Kigali as we stepped off the plane.
From what I remember, we got to the Hotel shortly before 1 a.m . in the morning and had been told to be ready by 4 a.m. the same morning in order to go for a Gorilla Safari. My wish was to go to sleep as soon as possible once inside the room. However, just as things rarely work with wishful thinking, that wasn't happening. I had resigned myself to getting very little sleep on the eve of a forest trek. We had been told that we would be going in a Land Cruiser, the significance of which is coming up.
The reason that became significant as far as I was concerned was that even before my alarm had gone off to get ready, I heard what I had been certain was the sound of a Land Cruiser's engine being switched off. Our vehicle is here, I reasoned and hurriedly got out of bed and did as quickly as possible the minimum, which included putting on clothes for the trek. When I got down, all the lights were still off and there wasn't a sign of any Land Cruiser. What followed was a half hour wait for the car in the lobby as I tried to get some shut eye, but didn't manage another wink.
On the trip to see the Gorrila's, passengers in the car were Jimmy, Myself and Lilian Onduko. The first few minutes of our drive were filled with chatter and laughter, which soon turned to quiet, bar the music coming from the speakers, as one by one we all decided to catch up on sleep. I had half a mind on the possible struggles our driver may have been having to stay awake at the wheel on the smooth roads, considering he too had woken in the early hours of the morning. However, the urge to sleep overpowered any intention to keep the driver company as we drove to the place.
Our first stop as we reached the vicinity of where the gorillas were was the registration point for visitors where we were offered complimentary tea or coffee for those who take theirs without milk. I indulged in a cup but struggled to finish as it became stronger as I got to the contents at the bottom. It was at the registration point that all those that were there to visit were put in separate groups depending on how long they wanted their trek to be. In our group which was a one hour trek inside the forest, there was amongst others a Gap Year Student from Leicester England, who was spending that year touring Africa's wilderness amongst other things. There was also a Spanish Couple and a Gentleman from America. Great diversity I thought, within a split second of meeting each other.
Also at the point we were, there were three countries within close proximity of each other. We were in Rwanda obviously, to one side was the DRC, and to the other side was Uganda. That was quite a phenomenon in itself I thought. We began with a walk in the direction of the forest where we would be meeting the Gorillas prior to which we walked by some farm land where some kids who were already up were standing in little groups as we walked past and who waved and smiled at us. I began running at some point, not used to hiking, but had stopped mere moments after that. This was going to be a different experience I told myself.
Before we got in the much more dense area of the Forest, we had been told to leave any backpacks on support sticks in a clearing to be picked up later on our way out. Good idea I thought, not wise to show Gorrilas in the wild what could be perceived as aggression on our part. My first sight of any Gorrila as we made our way through the forest was high up on some vegetation, and that brought about the first sense of excitement, but we were told that was nothing compared to what we would be seeing moments from then. The first close up image I recall seeing was that of a fully grown male gorilla sitting on the ground, arms and legs crossed, and looking perhaps annoyed at something. I peered into its eyes but it never changed the direction of where it was looking which was right in front. I had stood there for a few seconds before moving on, taking in the different world that it seemed we had stepped into.
Our next two sightings were a groups of gorillas all grouped together, some of whom were displaying human tendencies (we were told some interesting facts about Gorillas; one that they are not colour blind and can see all colours and secondly that the Human-Gorilla DNA is at a whopping 97%!)
Some of the behaviors we saw of the Gorillas were one of them lying on its back trying desperately hard to feel some sun on its skin eyes closed tightly, another one had climbed on its mothers shoulder and did a slide along its chest and stomach headfirst, another one had stood up stretched its arms wide and fell back the way one might onto a bed. There was also some playful fighting going on between the baby gorillas and a thumping of chests. These were interrupted every now and then by one of the male gorillas using a grunting sound, as an elder might do to bring calm and peace to a situation. They would stop momentarily before resuming again, cue another grunt. We watched these and other behaviors for about an hour before we were told it was time to head back.
It was back at the Hotel later on in the day when I came across other Swaras, including Susan Amoko and Shem. Some clubbing followed as we sampled some of the Kigali nightlife which was thoroughly enjoyable, with Jimmy blending in very well with a couple of ladies we saw whilst in there.
It was on Day two that I saw more Swaras, namely Ashok and Shiku, the former who we saw at the stadium registering for the following day's marathon. I had taken a brief walk outside our Hotel the evening before when as I walked past another hotel, I was able to see into the lobby of the hotel, and sitting there were what looked like football players. Me mentioning that to the others led us to inquire whether there was a Football match that was going to be taking place, and we were told that there was indeed one, that very same afternoon and it was going to be between the Uganda U23 Men and their Rwandese counterparts.
A decision was quickly made to add the match to our trip itinerary. What an unexpected surprise! We had found ourselves standing on the running track inside the stadium that same morning after registration and as we continued standing though not short of things to talk about, I suggested to Ashok that we should do a lap of the running track, by the end of which I was panting out of breath and my attention switched to the marathon the day after, and I silently changed my expectations of what time I was hoping to accomplish in the half.
It was also agreed that same morning to have as many Swaras converge as possible for lunch that day at an agreed venue, after which communication was sent out to all those we knew were in Kigali. Shiku had been joined by her sister Consolata, with whom there's rarely a dull moment. Where we had agreed to meet, we found ourselves waiting for over an hour to be served food, after which we were told the kitchen did not have any supplies and that an employee had gone shopping as we were sitting. That was the final straw, so we paid the bill for a pizza, the only food we had had, and went in search of greener pastures. A grassy field appeared moments after we had begun our search, in the form of an African Restaurant with a ready Buffet. From despair moments earlier there was now relief as we tucked into the food. Part of the buffet food included Peanut Sauce which became a focal topic of conversation as we ate, in terms of its ability to boost sexual performance in males. The creative lot we are, so many angles were produced on that topic alone, which carried on even as we got to the stadium gate to watch the match.
Conso was not completely enthused about the idea of watching a football match but came along as it happened, and it didn't take her long to warm to the match once it had started. For some reason she was one of those who chose to support the Ugandan Team, and after the goal ahead, her and Shiku came up with a chant in support of their adopted team for the match. It went "We Want Another One, Just like The Other One" Repeat. That was followed by giggles from both of them. The Rwandans came from behind to equalize before conceding once more, with the final outcome having been a narrow away victory for the Ugandans, much to the delight of the visiting Ugandan Fans in the Stands, and in contrast to Rwandan mood, none more so perhaps than a young fan we met outside the stadium afterwards who was saying something in relation to the football to Shiku, with watery eyes and trembling lips.
Dinner that night for some of us, especially those staying in the same hotel was a lovely Italian restaurant that Susan had suggested, but my personal experience eating wise was a little unexpected. As most of the writing appeared to be in Italian, I had opted for what sounded like a Fillet of Fish and was looking forward to it, but not as much after it was presented to me. I wasn't expecting to see a whole fish, so I pecked away at the accompanying potatoes instead whilst some others on the table indulged in the Fish.
The following day was the day of the marathon and on our way to the Stadium there were two large groups of runners warming up quite intensely, but interestingly none of them were wearing bibs, about half an hour to the start. As it turned out, they wouldn't be participating in the marathon itself but would be doing their own run. I had never seen that before considering there was a marathon taking place as well in the same morning. As we waited to start in what was a designated warm up area, we met some of the Kenyan Elites competing to win and took a photo with them. Another unexpected surprise!
The starting numbers were perhaps fewer than what you might get at StanChart for example but still large enough I thought to make it feel like an official half marathon. The gun went and we were off punctually, which is always nice, and under clear skies. There were some large snaking hills, good crowd support and a pleasant breeze most of the way. During the marathon I saw Zipo, who had initially begun training for the full marathon but had to abort and so was doing the half instead. As had been earlier mentioned, water stops were few and far between, so perhaps that is an area of improvement for the organizers and I was hoping that those doing the full marathon would be given sufficient aid, considering we were running on a hot and sunny day and they had begun after us at 8.30 a.m.
Entertainment during the run was provided by roller skaters skating along the course. I pushed and pushed during the final stages myself and was delighted to post a sub 2 hr time. Davis did an impressive 2 hrs 40 min for the half and Susan Amoko gave a testimony of Davis's marathon by commenting that he was almost flying when it came to the downhill's. Lilian also shared a story with us; as she was about to enter the Stadium Gate's, there was a kid standing on the side who had an outstretched hand with a sweet in it and was offering it to her. Bon Bon? Bon Bon? he enquired when he saw her. She politely declined. On my way out of the Stadium I also saw Conso about to enter who was urging the watching crowd to clap for those competing, which they did, and which she thanked them for.
A little later that morning, Jimmy and I decided that a massage wouldn't go amiss and were directed to a Hotel nearby with a Spa. It was there where further surprises awaited, as far as I was concerned at least. I was shown the door to the Men's Changing Room, and once in there, there were no lockers as I had been expecting, but people's clothes hung on the wall one next to the other, I was able to also spot people wallets in the trouser pockets. Secondly, outside the Changing Rooms, men and women roamed freely only wrapped in towels. That was different. Coming back after my massage, all monies were intact. Impressive honesty!
That night was the mother of all night outs as far as our time in Kigali was concerned. Shiku, Conso and Jimmy had earlier identified and spent time in this Kenyan Establishment called Car Wash and we all went back there later for food and drink and basically to get on the dance floor. Everybody was in full flow. Waiters and Waitresses had joined in. Jimmy had shed some clothing as the night wore on and for a brief moment gave us the impression he was going to strip right down, but that was just teasing it turned out. The Mugithi took place as well, to cap off a fine night.
Though Lilian stayed on until the early hours of the morning, she was taking a very early flight the same morning back to Nairobi and into a business meeting. If I remember correctly, her plan was to go back to where she was staying, pack her bags and head to the airport. I don't know how she would have made it through the next day in that case.
Most of us left at some point, with only Shiku and Conso having remained, Conso with a Big Bottle Of Beer in her hand which she said was her last drink. I'm not sure whether it turned out that way though.
We were to leave the next day but still had enough time to visit the Genocide Museum which was an important part of our visit to Kigali. Also a mention about where we stayed i.e. the Hotel Five To Five. I would highly recommend it to anyone, in all aspects and is only a 5 minute walk to the stadium. I personally plan to make it an annual visit. The bug is inside the body I think.
Our flight back was through Bujumbura which included a wavy takeoff from there. Wonders never cease.