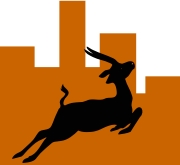 Last Saturdays run took place from the Classic Villa Resort. Living not far from there, I set off at a more relaxed hour but found myself unable to resist the open roads at the time, so I ended up arriving about 35 minutes to the start. The car never felt so warm and it never felt so cold outside when I left the house, so I decided to stay sitting for as long as I could, until the inevitable pull of the Swaras would get me out of the car. What a fantastic herd (pardon the irresistible urge) to hang out with.
The next Swara to arrive as I recall was MC herself, who's running in earnest in preparation for her first full marathon in October. She's also a great socialite and incredibly fast driver. Perhaps she should try her hand at Motor Sports if she hasn't already done so. Also there was Lucy, without whom perhaps we might never have run where we did last Saturday. It was a testing and great experience. There too, was Theo, perhaps one of the highest participating triathletes amongst the Swaras. The next one beckons in September for him.
Not everyone was at the run briefing, as Jael for example was still driving to the venue. The whistle went and in a daze perhaps I started off in a direction, with a few Swaras I think following me. We'd done half a k as it turned out, when we heard Ajaa's vhistle. It was time to turn back and I tried not to think about it, not wanting to look those I'd led astray in the eye. That extra kilometer as it turned out was quite significant as it enabled me to do a full 20k, like I'd set out to do.
Starved of football talk, I was eager to catch up with Theo, though was wary about going too fast as he might not have been able to understand my contribution under my heavy breathing, which it would have been had I raced to get to him. We trio were a trio of conversationalists which included Marcel, with Theo having asked to keep an eye out for the 15k turn. I was doing it for myself too, as I wasn't completely set on doing the 20km at that point.
The route was a combination of gradual ups and gradual downs amongst the rural houses and a few drops and climbs into wooded areas. It had been a while since we had done that, with all the benefits it brings including a massive structure of concrete steps and a metal bridge. It was a sight to behold, whilst adding extra variety to the run. No run in the rural areas is complete without the excited kids awake at 8-8.30 a.m on a Saturday morning, and its even better when they decide to run along with you, even if it's for a few steps, as it happened. I was careful though not to bump into the excited kids running along ahead of me, lest I cause a fall.
The final stretch was down, UP Lower Kabete Road and a testing stretch. Those who did longer distances I imagine got a good work out. Back at the resort and enjoying the breakfast buffet, a sweat soaked Mutua and Jael arrived, with Jael enquiring whether they had a Swimming Pool. Wouldn't have been a bad idea. We also heard that Ashok had been conducting warm-down stretches outside. I'm putting my hand up for a slot in the next class happening when I'm there.
It was a good buffet under pleasant skies, and a run I recommend we do over and over again.
People left at leisure.
Have a good week all.