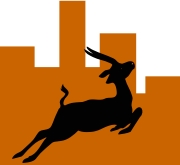 26th October was the date for the 12th edition of the Nairobi Standard Chartered Marathon. I would be picking up Jimmy before we made our way to Ajaa's, who had kindly agreed to take Jimmy and me with him. My lateness in picking up Jimmy was compounded by him being slightly late in coming out. I was thinking of the possible repercussions of this as an excited Jimmy opened the car door, closed it shut and said a hello within a matter of seconds.
There was no time to waste on the road and I didn't shy away from acute maneuvering between cars on Waiyaki Way. Jimmy was thinking something but I never found out what it was. As I approached Ajaa's gate I found it fully open to my immediate surprise and no one in the immediate vicinity to suggest it had only just been opened. The car was still there though looking like it had been parked ready to leave, at least we were still in time, I sighed. By now I had a fairly good idea where Ajaa would have wanted me to park, so I drove off the circular path and onto a small part of the garden under a tree.
I was about to knock when I saw the door was already open, so I pushed through. All weird. Inevitably entering his sitting room, Ajaa was having a casual lie down, he casually greeted us and his eyes met the television screen once again. Make yourself at home for the next five minutes till we leave was the impression I got. A couple of minutes later we were on our way. Ajaa and his niece in front whom he predicts is capable of doing a half marathon in around 1.45 minutes but who needs to fight off discouragement to run where she lives, Jimmy, myself and another gentleman at the back. There was no space to move the thighs about which I normally do when I'm anxious.
Within a few minutes we were driving down Mbagathi Way when Ajaa spotted M.C perhaps warming up on Mbagathi Way or rushing to the start. Whatever the case, myself and Jimmy at least were amazed he was able to spot her. Getting there I made my way through the stadium and into the supermarket for a final loo call, I hoped. Next I waited at the starting point ready to begin. I had already seen Zippy, which was a lovely surprise; we miss her prose as well her company. Those doing the half marathon were on one side of the highway whilst those doing the full were on the other side, which was taking place simultaneously then. I spotted Susan M.C and Linus just as the gun had gone off, the start of 42k's where the temperatures were only going to rise and the sun was out. The mindset of those doing a 42 at the start and those doing 21 is quite different.
They were off and half an hour later, so were the 21's. It hadn't felt like half an hour. We had been told to keep on the tarmac and stay off the pavement, but James either hadn't heard or wasn't conforming. No big deal I thought. Our first venture into the C.B.D and I heard a voice call out from behind. It was Farah! I suppose the Nairobi Marathon brings everyone out of the shells, even those non-runners who walk the entire distance; amazing in itself. I saw Kevin behind me and wondered if I had taken a shortcut somewhere, leading me to almost trip (not true, but I just wanted to include that).
It was solely on the overpass where i caught a glimpse of some of our full marathoners, Susan MC, Ashok, Eugenie and Nancy who I overheard resisted the urge to quit for whatever reason on several occasions and finished the marathon. Fast-forward to about 19k's in and I saw Amai amongst others almost to the entrance of the Nyayo Stadium compound, smiling at me. He had good reason to smile I suppose, being about 200 m to the finish. Well done Amai on your performance. Less than five seconds later, I heard some personal encouragement and looked to the left and saw Fran there standing on the side. I think she had intended to do the run, but had gotten an injury during our run on Saturday. I don't think anybody can question Fran's appetite for supporting and encouraging those running. It was welcome encouragement and I managed to pick up the pace to the finish clocking in under 2hrs, which is always nice.
I later made my way to the Swara base complete with a rather nice looking banner, which you couldn't miss going past. Amongst others who were already there and tucking in was Abdi, who I am so thankful to, for hosting us in such a fantastic way. It's an ideal spot and great hospitality. Lucy was there too who had made it her goal to do a sub 2 at next year's Stanchart. Go Lucy, a sports enthusiast and not just from the armchair. Whilst we were still getting up to stand by the road, Ndungu caught us off guard by already going past. We let a cheer but some mouths were still stuffed with food so it came out a bit muffled. He may not have heard too much, but then again he was probably in the zone.
Numbers of us made our way to the turning point and Lucy volunteered a couple of times and moved the metal barrier for a police pick up to pass. Never seen an ordinary citizen do that before. My earliest memory of those doing the full amongst the Swaras running up the slight incline to the turn was Loice Mbogo, accompanied by Ajaa who had run about 5k back down the track to accompany her to the finish. Others included Linus, a full marathon debutant who was looking very impressive even at that late stage, Eugenie, another Swara who did very well on her debut, Wahome, whom Fran had noticed had been running much faster earlier as compared to his normal consistent pace, Liz Kanini who has now done multiple full marathons, and the very experienced Raoul who dedicated this marathon to his 16 yr old nephew who passed away recently.
The Swaras were also doing a very good job of encouraging other full marathoners, not least Nduku, though one of them may have thought she was taking it too far, as she perhaps unknowingly stood right in middle of the turning space, and an already irritated looking runner asked her what she was doing.
I felt Susan and Ashok warranted a separate paragraph for their exploits, Susan because she has made great strides and did a sub 5 on her first full marathon, and also because she very recently lost her brother. Sorry Susan and well done. I think it was James Waliula who met her further down the route and accompanied to the stadium. Amongst those who met her on the final climb was Teejay her son who ran alongside her. Great moment to witness. Also there was Josh and David. As she made her way to the turn where the other Swaras were, the applause was quite something and very well deserved. She pushed even further to the finish to record an impressive sub 5 time. I think her determination means even greater things now.
It was great to see Surinder back on the marathon trail again and we wish him well. His full marathon awaits and I'm confident he'll take it up. Others that I can remember finished inside two hours were Jael and Farah.
Lots of Swaras converged at the Swara Tent and it was a great ending to a great morning.
Well done to all and look forward to it next year.