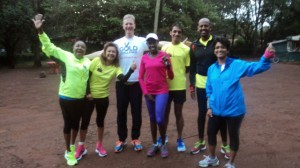 Friday morning was unusual in that it was a working day, but Swaras still came together to run. It was associated with a gentleman called Dan's Kenyan leg of a worldwide journey of running that he has embarked on.
I can't recall exactly (perhaps shamefully) but it was either his wife or his mum who passed away last year from Cancer, after which he decided to embark on a worldwide journey covering 240 countries, intending to run 10k's in each country. Today was his 41st country that he was visiting and he intends to complete his mission by 2020 at the Olympic Stadium in Tokyo. His next destination is Malawi after which he will be flying to Tanzania i.e. tomorrow. Another 10k awaits him in Malawi today.
So, to the run…..
It was a bone dry, cool morning which has its advantages of course. Swaras who made it today were Avani, myself, Fran (ankle heavily taped up but determined to show up and try and run), Lucy, Tata Nduku, Abdi, Mercy, Jael, Nancy, I saw Benjamin Chikani there, and Carol. Quite a decent turnout I thought for a Friday morning.
The passionate runner that Nduku is and passionate about wanting to know stuff too, she had questions for Dan and his work. I found both her questions and his answers compelling. Nduku pulled out her camera, the one I presume that took all those lovely shots during the Karatina Run, and was preparing to use it once again. Something went awry though, so I think we used Abdi's instead plus some others.
A couple of snaps later and we were off. As we were about to complete a lap of the arboretum to head towards the tarmac, Mercy was already there waiting for us having decided to use the other route to get there. It reminded me of a story that she once told us of how during one of the Sotokoto editions she was waiting outside the KWS to join the rest who had begun from inside the premises.
The run itself was extremely well marked, Dan made it a point to talk to everyone in the run as far as I could tell, and it was a lovely feeling to run early on a Friday morning. If the idea takes off, I think it would be fantastic to have runs on some weekday mornings as well.
All in all I felt very privileged to be in the company of such a person.
Back at the arboretum, Nduku was in the mood for more photos; she wanted to take one of us stretching, but I was on another planet metaphorically speaking as my stretch was the odd one out. The others were doing lunges I think, whilst I was doing something else. It was very nice to see Nduku smiling after an 11k run, considering the injury problems she's had, and I also wish Fran the quickest recovery.