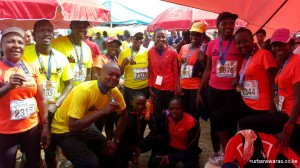 I'll keep this short, Bryan has already told the story way better than I could (what a write up!).
This was my maiden Moshi Marathon too, although I have been here several times, mostly on sorties either up or down Mt Kilimanjaro. Unlike Bryan I have no in-laws in the area, so I could possibly tank incognito. But, knowing some Swaras, I would probably never hear the end of it. So failure is not an option.
As some of you know by now, no marathon would be complete for me without some drama. Kilimanjaro did not disappoint. It was the night before and Jael had given clear instructions.
"Be here before 5.30 am, the bus will be ready to take the 42km runners to the venue for a 6.30am start."
So you think I was listening? Think again.
Next morning I stroll to the Lutheran restaurant at 5.45 am. Davis and I are casually taking selfies and making plans for breakfast. I have filled a cup with over sugared African tea to the brim and I am making a beeline for the mandazi when Githenya spoils the party.
"Were you not supposed to leave at 5.30?" he asks, in that polite, understated way, that sometimes makes me wonder whether he and Wahome are really related. "I think the bus has already left."
"It has! Was I…I mean, I was?" Suddenly I am in full panic mode.
Breakfast is forgotten; I hand my bag to the nice lady at the reception and madly dash out towards the main road.
5.45 am is total darkness in Moshi and I can barely see. There is traffic on the road this early but I am the only human on foot. I try to flag down a Boda boda. But, every time a driver sees this wild looking, semi naked fellow (I am in singlet and shorts) he quickly speeds off. I can't say I blame them.
So I end up hoofing it to the venue. Here I meet Hector who has completed his pre run rituals. He looks very cool in comparison to my sweaty, huffing self. He even takes the time to explain the run elevation to me.
"What time are you shooting for?" I have asked him, to which he proffers this deep, philosophical Koan.
"There will be a hilly 10K from the start, then another hilly 10K in the middle," he tells me. "So I plan to pace myself accordingly."
Needless to say, this Zen-like advice goes in through my left ear and straight out the right. But I was to remember his words when I hit the wall after 31K, on a downhill stretch to boot!
Soon the run starts. As usual I start slow, 6 minute K's. We head out of the stadium and start on a downhill stretch before the road curves up, exactly as Hector had ordained. From my tail end vantage point I have a good view of the proceedings far ahead.
The elite have, as usual, taken off like the devil is after them. They run in a swift bunch. I see them reach the first hill and accelerate. At the top they seem to slow down a bit, then change gear and rapidly disappear into the horizon. I am thinking it must be an optical illusion. It is not, as I discover when I reach the top of that hill. There I find a traffic sign written, 'slow down, speed limit 50Km per hour.' No wonder.
We get to the 5K mark and I am beginning to get tired of the 6K splits. I decide to add some juice and soon overtake quite a few people. At some point I meet Hector, Munyao and another Swara on the return stretch. They are looking very good. I am feeling good too.
I am at the 10K turning point. It is downhill from here, all the way back to the start. But I didn't really know this. In any case I am having fun, the weather is great and the crowds are simply wonderful. I decide to throw caution to the wind and start doing sub 5 minute K's.
And then we get to the 21K, exactly where we started and I realize I have made the blunder of the year. The mother of all hills begins here. I start to mentally berate myself. 'I should have conserved my energy. Heck, I should have listened to Hector.' But it is too late. The hill is here and I am dying. The next 10K are the longest, most painful that I have run recently.
The only thing that keeps me going is pride and the mantra I have been chanting to myself since the start. You see, I am training for the two Oceans Ultra Marathon where the will to endure will count over any tactics. This morning I told myself, my run will start at 30K, at which point I will need my body and mind to simply suck it up and get into an Ultra Marathon survival mode. I under estimated my point of suffering by a whole 10K.
When we reach the 31K point the road turns and the terrain is now downhill. I should have been cruising this sector, as I am told Tata Nduku was, but I am too tired to take full advantage of the downhill.
The rest is a familiar narrative of pain, thirst, depleted energy and simply hanging on to the finish. The cheering by the Swaras, who I meet coming from their 21K outing, makes all the difference. I finish in 4.06, not one of my best Marathon outings, but I'll take it. This is Kilimanjaro after all.