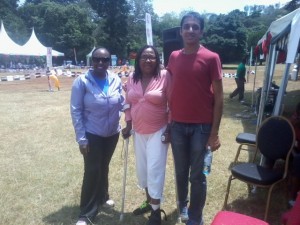 Although it's been a week after the dust settled from the experiences people had during and after the 2015 Nairobi Standard Chartered Marathon. I would like to narrate my story. Three years ago (2012) I sustained an injury while running a full marathon in Moshi. I did not recover until It resulted with a surgery of my Achilles in January 2014, it kept me out of running and especially full marathon for 3 consecutive years except trying here and there to run Half marathons last year in Nairobi Marathon, Kilimanjaro Marathon 2015, First Lady half marathon, Ndakaini Half Marathon in September 2015, and lastly the Mulleys Machakos Half Marathon in Oct 2015. It has not been easy for me watching people training for various races while I sat at home.
Crazy 6 weeks training programme ahead of the Nairobi Marathon
My decision to give full marathon running a try was made when I registered and completed Ndakaini Half marathon. 2 days before the run which was 10th October, I had gone to collect my running gear from Jael. Then we agreed if I run Ndakaini and I do not have any pains then I should go ahead and register for the full marathon. By then it was exactly 6 weeks to the Nairobi Marathon. I thought it was a tall order to run a full marathon while the last time I ran this year was during 1st Lady Half marathon in March. Somehow she convinced me and we drew a quick training program. I personally doubted I could pull it off. I told those who saw me at Ndakaini that I had gone there for mwinjoyo (colloquial for fun run). I got Davis Gitari's big camera. When people saw me with it they doubted whether I could run with it. I did it and took several photos for both runners and the scenery of Ndakaini water dam. After completing without any pains, I decided the following week to train and register for full marathon. Please do not copy my experience; it was just a trial.
The week after Ndakaini, I went to Ngong and did the Police station to Kahara route with Surinder and Lucy; 26kms. Then on 26th September, we went to the famous Flourspar where I attempted and did 35kms. The week after on 1st October, I returned to Ngong Police Station, this time with James Wahome joining us, and managed to do 30kms towards Corner Baridi and back to the police station. On Sunday 4th October, I ran the Mulleys Half marathon in Machakos with Davis Gitari. On 8thOctober, I ran 18kms by myself, then the following week on 15th October, I had the accident of a thorn prick while in my shamba, just a week to the marathon and 2 days to Brendan's Run. It was a small thorn, which was removed by my house help. While at Brendan's house, I met so many new runners I had never run with before. They were familiar faces but I couldn't remember their names. I was so happy to bond with them. I later learned that quite a number of them had registered to run the full marathon. Of course some of them were running their maiden marathon while others were seeking personal bests like me; I was trying to run and qualify for Boston next year or so. I needed to run sub 4.25hrs for my age category 60-64 years. I ran 16kms with a lot of discomfort/pain; although I finished I was limping after that.
On Sunday October 17th, my leg was swollen and I couldn't run, so I was given treatment of painkillers and 3days dose of anti-biotic. By Thursday October 21st, I had not improved, so I sought another treatment which was intravenous pain killer and anti-biotic injection. It made me remember those Kids who were given anti-biotic injection treatment at a government facility in Busia, which left 25 of them paralyzed. I cautioned the doctor doing it to be careful not to inject my muscle or nerves. On Saturday October 24th, the story was the same.
The whole week passed and I did not even attempt to run 2kms, and skipped going for the warm up at Jeffery's where everyone was getting tips on how to tackle the beast, whether it was 21kms or 42kms. That Saturday, I decided to try my last different treatment of pain killers after all others had failed, then I travelled to Nairobi later just to see whether by Sunday morning I would be ok. This is when my miracle started working and I tried to fit in 3 different running shoes, which would be comfortable. After spending the night, then come morning, I woke up at 5am and took breakfast and I was pain free. After breakfast in Upper Hill, I jogged to Nyayo stadium where I found a few Swaras; the rest had gone to their various starting points. We took a photo and off we ran with Samuel Nyingi warming up to the starting point for the full marathon. Some of the Swaras were surprised to see me at the starting point for the full since I had not given out my name for those who were running.
The full started at 7am and off we went. It was one of the best weather conditions I have ever run in during Nairobi marathon in recent times. I ran quite well with Ottoson, whom I admit is a very consistent runner, while seeing Brendan on the other side of loop. In a short while, we met the 21kms runners along Forest Road and I saw most of the Swaras. We chatted and continued. After a few minutes I was overtaken by our own Elite and the most celebrated Swara in long distance running who have achieved so much in short time somewhere along Uhuru Highway to the finish. The rest of 21kms, I did not see them until the end.
At around Boulevard Hotel my leg started paining and I started reminding myself the quotes by Ashok that this is not true, and if it is, let me reach the next Medical Tent at Uhuru Park. I talked to my inner self and I reached the tent. Unfortunately when I stopped and asked for painkillers, they were disorganized. So I thought I can push to the next one. I consulted with my inner self again and I managed to reach the Medical Tent opposite Abdi's. I stopped there and was treated with painkillers (bruffen). Ottoson had just managed to overtake me while I was at the tent.
Soon after, the men were separated from the boys after the 21kms turn off. The runners became few; that is where the marathon starts going towards Mombasa road for the 1st loop. I met Mugambi just after the start of the Mombasa road loop where he was supporting the Swaras. I asked him whether he could help me to run the 2nd loop after 35kms so that he could push me. He agreed and I started the long stretch to the turning point at General Motors. Before the turn off at the Oil Libya I met our Swaras Support Crew who were doing a fabulous job of re-fuelling; KUDOS. I got my sip for Gatorade mixture and continued.
I met the lead car for the elite runners going to finish while I was at 26kms. I managed to run a steady pace and by now my pain had gone. As I turned after 1st loop, Samuel Nyingi and Otora caught up with me and Nyingi asked me to pray for him to achieve his dream of a sub 3hrs. Although I was running, I promised him I would do so, but wondered when I would remember to say the prayer for someone else while I was in the same situation. Anyway he was running quite fast, followed closely by Otora and Obonyo as they all vanished in the tarmac. On the opposite side after turning, I started seeing the other Swaras who were behind me and those ahead of me like Brian. I ran until at around 30kms mark before turning into my 2nd loop. Mugambi joined me then and ran the remaining 12.1kms to the Stadium.
At Oil Libya, I passed MK doing his 1st loop and now you could see fatigue on most of the runners. I continued with Mugambi and he took all my re-hydration gels and water and carried them until the finish line at the stadium. When we reached GM I saw Brian walking in front of me and I knew something was wrong. I caught up with him, encouraged him, and left Mugambi behind for a while just to ensure all is well and later learned that he said he will manage. After that, I caught up with Brendan who had slowed down, and Ottoson just behind him. The other Swaras were across, Wahome, Loice, Liz, Kanini, Eugene, Marion, Kiptoon trio, the other men Swaras who's names I don't know (sorry guys), and of course cheerful Ashok. You won't believe this man who runs a marathon cheerfully and encourages each of us, while we can hardly talk. I think Ashok has a special gift which we have to explore. Thanks Ashok for showing us the way to talk to our inner self when things are tough.
At Oil Libya, I re-fueled for the final push and at the south C flyover, I met Ndungu who was now struggling with an injury. After 500metres, I met our cheering squad of Avani, Niraj and Ndinda who encouraged me to push to the finish point. At that time, the City Clock read 11.05am (Am waiting for official times). At that point, Mugambi asked me to push and he started clearing people who were just idling at the entry point to the Stadium; thanks Mugambi. I got the final energy to push to the finishing point for 42kms. My garmin read 11.11am, then came down the curtain for me for the 2015 Nairobi Standard Chartered Marathon the 13th edition having started it in 2nd edition in 2004.
I went to the medical tent for massage and later had an interview with the People daily. I then collected my medal and proceeded to the deafening cheering squad of the Swaras at Abdi's place. Thanks Abdi; I met him twice while he was taking shots of almost every one. It's not easy but he tried. I should also not forget to mention our hero, James Waliaula who finished his half marathon and cycled the 2 loops ensuring that we were well rehydrated and encouraging each one of us. Thanks for pushing me. Lastly to the organizers and the entire crew and each Swara who participated, Jael and Lucy who encouraged and had confidence in me that I could do it. There are those who did not run and came from home just to celebrate with us. To the Physiotherapists (Kariakim and his team & Steve, Collins), they have always ensured we are sorted out before the marathon, we say a big thank you. I tell you we have made a difference in people's lives through running and supporting charity runs in the country.