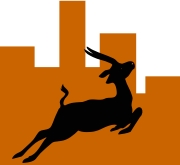 Having done this run last year, I was upbeat to take a revenge on the long (7km) but not too steep hill which Munyao beat me to last year. I'm really thankful to have met Munyao at the Mulley's Machakos Half Marathon last year because without him, I would not have joined the Swaras and probably would not have written this article. Going by the route map, which I insisted to be given as I registered for this run, the course was pretty much the same as last year save for the start and finishing points which were moved from the main Machakos Stadium to the Machakos Peoples Park.
At 7:30am we arrive at Machakos Peoples Park with Tata and my Son on board and I am worried we are too early (last year the 21km run started at around 10:00am). However, my worries diminish when a few minutes later the Public Address System announces the 10 km runners to assemble at the starting point. Going by this efficiency, we decide it's best we get ready as the organizers had not shared when the other races (3km and 21km run) would begin. As we remove our Jackets we notice the weather is chilly and we almost want to put them back on. Tata comments on how the weather is favorable for a run, which I concur.
The 10km run is flagged off at 7:45am and I anticipate the 3km run is next. However, that is not the case to be, when the MC announces the 21km runners to assemble at the start point. Yes, very confusing to me too. I immediately, ask my son to join a group of other kids preparing for the 3km and we agree when and where to meet when I finish.
The start of the half marathon run is slightly delayed, as the organizers realize the elite runners for the 10km are soon approaching back where they had started. We are asked to give way as they pass where we had assembled. We are later flagged off 8:30am and I mutter to myself "not bad, what an improvement from last year". I notice Tata ahead of me and friend of mine called Mwenda who are all running at a very fast pace. With no plans on how fast or slow I should tackle this run, Tata and Mwenda's distance starts to increase. I'm still debating how I should cover the run (fast or slow). I could not make up my quickly because the previous day I had done an unexpected 18km run with some "wannabie" swaras in my neighborhood. However, that distance was covered at a very slow pace and the weekend before that, I had done 43km (or the infamous tarmac to Tarmac) at Kerio Valley. With these runs and others done during the week I thought I would be fatigued for this run. However, since I did the Kajiado run (what was that!) I've always questioned instincts on what is the worst thing that can happen, if I push myself to the limits?
With that in mind, and the fact that I'm working on reducing my time in my second full marathon in three weeks time, I gently increased my pace. I must have caught up with Tata after 0.5km from the start and we exchanged words, "we meet at the finish". At this point let me digress, and point out that Tata is a strong runner at her age and I was very impressed at her pace. She is a source of inspiration to many. I must add she completed the run in 2 hours.
After about 1km we turn off to the main road that leads to Machakos town and I notice my pace is unusually faster. "If only I can maintain the same pace all through", I tell myself. As we approach the first water point, I notice my friend Mwenda does not pick a bottle of water. Well, if I had not joined the Sawars probably I would not have known the importance of hydrating from the start. I get to the water point and without slowing down I grab the bottle of water and sip it as I try not to maintain the same pace. By this time I have now caught up with Mwenda and I'm impressed with myself, because last year I caught up with him at 18km this year at 2km.
At 3km we are almost at the centre of Machakos town and we turn left, and I know the challenge is fast approaching in the next 2km. I am prepared psychologically, and I plan to continue with the same pace which was at this time averaging 4:20 per km. As we leave the main Machokos town and continue heading West the climb gets steeper and steeper but manageable. After 8km onto my run I notice the first batch of elite runners coming from the opposite directions and you can't fail to be mesmerized by their speed.
At 10km, I get to the turning point where one has to dip his hands into some bucket containing paint. As I turn and run back the same direction we came from, I don't take note of the time as my aim is to run faster. The remaining course is more of downhill and flat. It's only when going back to town I notice the distance covered off town was quite lengthy. I guess my expectation was to get back to town as quickly as possible. My pace has not changed much and a few locals can see how I am struggling to catch up with the few runners ahead of me. One lady, who I guess was on her way to church shouts "Ubarikiwe Kabisa na Jehova" (Be Blessed by Jesus Christ to the fullest) I softly say Amen to myself.
By now, I realize the last water point was at the point we dipped our hands in paint. I take notice of the next water point at the next turning as we near the town centre. With nothing much happening in town, I'm impressed as motorists obey the Police to allow the runners to pass. Having run the last 5km on my own I catch up with a few other runners in town. By this time, I am exhausted.
The last leg was off town and my energy levels have considerably been depleted. One last hill I tell myself, before we branch left onto the Machakos People Park turn-off. We get onto the meandering road leading to the park and the distance to the park seems one hell of a long stretch. The sun makes it worse as we get closer to the 21km mark. However, I tell myself this is not the point to give up. At 19km my app tells me I have done it in 1hr 19mins. I'm surprised with myself, "this could be my personal best". The next two Kms were one of the longest. At 21km the all too familiar voice of Nike plus App tells me I have done it in 1hr 30mins. I'm not sure if I should stop and jump up to jubilation or cover the remaining distance by walking to the finish point. I kept going to the finish point, which was an extra 1.8km.
What a fantastic run, save for the last 1.8km done inside the park.