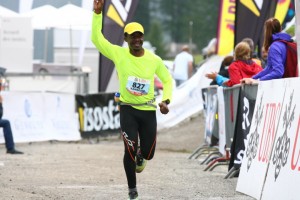 I had the privilege to run the Sierre Zinal race last Sunday in Switzerland. It was an amazing experience.
The run redefined my notion of hilly. Magadi, Masai Echo Lodge, Wahome run, these are just kid stuff, "my mama with knee arthritis" promenade.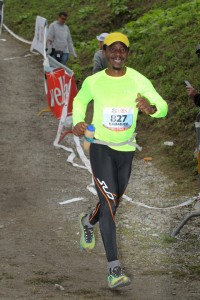 The organization of the run is amazing. Get out of the train in Sierre (a train you board from Geneva Airport) – pick your bib number at the City hall opposite the train station – walk to the gymnasium, choose you sleeping spot (if you registered for full board) – attend the pasta dinner – go to bed – wake up and board the bus to the starting line – cross the finish line and go straight to the shower – attend the final lunch cocktail. This is what I called Swiss watch precision
The beauty of the landscape, to snowy tops, the crowd cheering and showing ancient traditions were just a bliss to see.
For the first 10 K, you will hardly run, the slopes are just too stiff. Then you reach the top. This is the part where you seat to enjoy the view. I did just that. I felt like sitting on the roof of the world; the feeling of being alive was just overwhelming.  Training for the race was difficult because I had no idea what to expect. Now I know. For my next Sierre Zinal, I will focus more on the running and less on the scenery.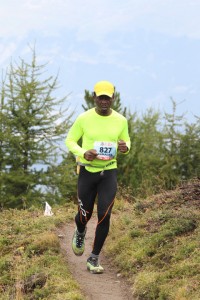 The Spaniard mythical Spaniard Killian Jornet won the race and completed the distance in 2:31 mn. Murigi Lucy Wambui from Kenya won in the women category in 2:56. It took me 5:41 to complete the 31 K. This is what happen when you got taken up by the beauty of the landscape and pause to take pictures, breath and enjoy some of the local delicacies. I was registered in the race under Kenya; So I officially apologize to my Kenyan friend for embarrassing them; 5:42 under Kenya in a 31 K run is unheard off and can be a matter of national credibility when all the Kenyan present completed the race below 2:56.
I will run again next year and invite other Swaras to join me. With advanced planning, it can be cheap, since the ticket with Emirates cost me just around $600. Include in a round trip train ticket to Sierre from Geneva airport and you can cover everything for less than $800. If you are not planning on buying chocolates or drink extra beer, 1000$ will be a comfortable budget to put in.
Keep running.